Estimated reading time: 6 minutes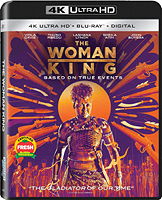 The Woman King is director Gina Prince-Bythewood's alternate history take on the real-life 19th Century Western African kingdom of Dahomey.
The new young ruler of Dahomey, King Gheza (John Boyega), is faced with a difficult decision. He can either continue to fill his nation's coffers selling his people to European slavers or transition to trading in resources like palm oil. General Nanisca (Viola Davis), the leader of the Agojie, his elite army of female warriors, wants Dahomey to stop trading in slaves. With the neighboring Oyo kingdom stealing their people and territory to sell slaves to the Europeans, Nanisca decides the time is right for her to cut her own path to save her people. New stubborn Agojie recruit Mawi (Thuso Mbedu) joins and becomes one of her primary warriors along with her trusted warrior sisters Izogie (Lashana Lynch) and Amenza (Sheila Atim).
Prince-Bythewood's film may not stick to the facts of Dahomey, but her handling of the screenplay Dana Stevens and Maria Bello is riveting, nonetheless. Her direction transforms this story into an African epic that at times feels like one of the Marvel superhero movies. Despite the obvious questions about how exactly some of these small women would take down muscular male warriors twice their size, the action is deftly managed.
Tying it all together are the spectacular cinematography and visual effects. There is hardly a scene in The Woman King not filled with a gorgeous long shot, a marvelous play of shadows, the glistening of light off the dark skin of the actors or the intricate period costumes. In the end we have a powerful statement about overcoming adversity, being able to change, and about female power.
The Video
The Woman King was shot on the Arri Alexa 65 and Arri Alexa Mini LF in 6.5K and 4.5K respectively. The master utilizes a 4K digital intermediate and comes to 4K Ultra HD in a 2.40:1 HEVC 2160p (4K UHD) Dolby Vision encodement. HDR10 metadata reads a MaxLL of 410 nits and MaxFALL of 266 nits.
This is a pristine looking image with oodles of detail. The Dolby Vision grading is, in short astonishing. The specular highlights add a glorious sheen to the dark-skinned actors as the moonlight and flames reflect off their skin. Colors have good vibrancy as well because of the wide color gamut. One can look at the red earth, which has more of a burnt sienna look on the 4K disc, to see the effects. Shadow detail is also flawless, with no crush.
The Audio
There is a well-balanced and engulfing English Dolby Atmos audio mix included on the 4K Ultra HD disc. Low end is beefy therefore it helps underpin the action and percussive score. Height awareness is strong as well, with the sounds of the African wildlife and general din of village life filling the all the channels.
The Supplements
Sony includes a few feel-good featurettes that offer interviews with the cast and crew speaking about working on the film and the history behind the story. In addition, there is an obligatory filmmaker commentary that also adds some more detail.
Movies Anywhere digital code
Blu-ray with feature film and bonus features
A Caterpillar's Destruction: Viola Davis on Set (1080p; DV; 00:09:48)
Woman/Warrior (1080p; DV; 00:11:40)
Storytellers (1080p; DV; 00:10:19)
Commentary with Director Gina Prince-Bythewood and Editor Terilyn A. Shropshire
Representation Matters (1080p; DV; 00:09:59)
Thuso Mbedu – Auditions (1080p; DV; 00:06:34)
The Final Assessment
This is one of the best historical epics to hit the screens in recent years moreover it is one of the best non-catalogue 4K Ultra HD releases. This is an enjoyable film and a reference quality disc. Highly recommended.
The Woman King is out on 4K Ultra HD Combo Pack December 13, 2022, from Sony Pictures Home Entertainment
---
Rating Certificate: PG-13 for sequences of strong violence, some disturbing material, thematic content, brief language and partial nudity.
Studios & Distributors: TriStar Pictures | Eone Entertainment | TSG Entertainment | JuVee Productions | Welle Entertainment | Department of Trade and Industry of South Africa | Investment Incentives for the Irish Film Industry Provided by the Government of Ireland | Jack Blue Productions | TriStar Pictures | Sony Pictures Home Entertainment
Director: Gina Prince-Bythewood
Written By: Dana Stevens (screenplay by) | Maria Bello (story by)
Run Time: 135 Mins.
Street Date: 13 December 2022
Aspect Ratio: 2.40:1
Video Format: HEVC 2160p (4K UHD)
HDR Format: Dolby Vision (HDR10 Compatible)
HDR10 Metadata:

MaxLL: 410 nits
MaxFALL: 266 nits

Primary Audio: English Dolby Atmos
Secondary Audio: English Audio Descriptive Service | Portuguese DTS-HD MA 5.1 | Spanish DTS-HD MA 5.1
Subtitles: English | English SDH | Spanish