The Wonderland is a coming-of-age fantasy adventure anime film directed by Hara Keiichi. Based on the 1988 children's story Chikashitru Kara no Fushigi na Tabi (Strange Journey from the Basement) by Kashiwaba Sachiko, the film features illustrations and character designs by Russian illustrator Ilya Kuvshinov.
The story follows Akane, a teenager lacking self-confidence who is coming up on her birthday. Right before her birthday, Akane's mother sends her to her friend Chii's place to pick up her birthday gift. There, she places her hand in a hand mold that fits her perfectly and her hand gets stuck. It results in the emergence of a mysterious alchemist named Hippocrates and his tiny, figurine-sized student Pipo who whisk Akane and Chii away to an alternate world. Hippocrates says Akane is the Goddess of the Green Wind, destined to help save this fantastical world, which, despite its fantastical outward appearances, is suffering a great crisis that Hippocrates says is called Zan-Gu. The world is running out of water and only Akane can help bring the water back.
The Wonderland is a beautiful film with fantastic direction from Hara who certainly knows how to build a beautiful world and the use of Russian illustrator Ilya Kuvshinov for illustrations and character designs was certainly a strong move, giving the film just right amount of a different sort of look from the usual Miyazaki-influenced anime feature film, while not being too radical a departure.
Apart from those strengths, however, The Wonderland does suffer from being too much of just a Miyazaki imitation, while never providing the emotional depth for the beautifully drawn characters. There's plenty here visually and many individual moments that are jaw-dropping and make for good moviemaking, like swimming with giant koi or our characters surviving a sandstorm. But these moments are not strung together, they are set pieces without much else to help us care about the individuals other than wanting to see what other visual splendor Hara will deliver.
Even though the film only delivers on a shallow basis the kind of splendor we get from a Miyazki film, it's still a good pastime for family viewing.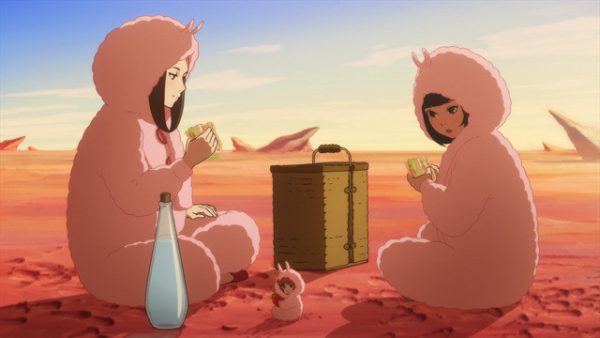 The Video
The AVC 1080p encodement of The Wonderland, framed at 1.78:1, presents the film's digital animation beautifully. There are no detectible flaws here, no color banding, no video or compression noise, no motion artifacts, fine detail, and vibrant colors without a sense of oversaturation.
The Audio
The Wonderland includes a fantastic DTS-HD Master Audio 5.1 lossless mix of the original Japanese-language audio as well as the same for an English dub. Unless you actually hate reading subtitles, avoid the somewhat flat sounding dub cast and stick with the Japanese cast. The sound quality is superb for either one, with lavish ambience, excellent balance and clarity, deep extension in the low frequencies, and airy high frequencies, solid movement of sounds through the surround channels and an expansive soundstage.
The Supplements
The on-disc special features aren't plentiful, but are solid, with interviews with the Japanese voice cast and an audio commentary with the character designer. There is also a beautiful booklet featuring artwork and an interview with the director.
Audio commentary with character designer & concept artist Ilya Kuvshinov and Eleven Arts' Chris Platt and Amelie Khuat
"Our Wonderland" Cast Interview (Japanese) (1080i; 00:23:26)
"Mayu Matsuoka's Amazing Adventure" (Japanese) (1080i; 00:16:58)
Exclusive art & interview booklet
DVD with feature film in standard definition
The Final Assessment
This is a beautifully animated and directed film that is like the anime version of Alice in Wonderland and The Lion, the Witch, and the Wardrobe wrapped into one. This is a fantastical film and Blu-ray that makes for a wonderful home theater experience and family friendly viewing.
The Wonderland is out on Blu-ray Combo Pack October 6, 2020 from Shout! Factory & Eleven Arts
---
The Story: 2.0/5
The Animation: 5/5
The Video: 5/5
The Audio: 5/5
The Dub: 2.5/5
The Supplements: 3.0/5
Animation Studio: Warner Bros. Japan | Aniplex
Distributor: Eleven Arts | Shout! Factory
Director: Hara Keiichi
Written By: Maruo Miho
Run Time: 116 Mins.
Street Date: 6 October 2020
Aspect Ratio: 1.78:1
Video Format: AVC 1080p
Primary Audio: Japanese DTS-HD MA 5.1
Secondary Audio: English DTS-HD MA 5.1
Subtitles: English for Original Language | English SDH