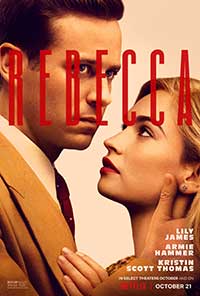 Alfred Hitchcock's first American film, Rebecca, the 1940 screen adaptation of Daphne du Maurier's exploration of the dark recesses of her characters' minds, netted him two Oscars. Eighty years later, Netflix has trotted out this film's fourth remake, this time directed by Ben Wheatley (High-Rise) with a script by Jane Goldman (The Woman in Black), Joe Shrapnel and Anna Waterhouse.
After a whirlwind romance in Monte Carlo, wealthy widower Maximillian "Maxim" de Winter (Armie Hammer) weds a pretty young thing (Lily James) and carries her off to Manderley, his family's centuries-old estate near the windblown coast of Cornwall.  Once the newlyweds arrive, it is obvious that Maxim (who is much older than his pretty bride) is still haunted by the painful memories of his late wife Rebecca.
Maxim's sister Beatrice (Keely Hawes) tries to ease the young woman's transition into her new role in the de Winter family but the arrival of Jack Favell (Sam Riley), Rebecca's first cousin and, as we discover later, one of her many lovers adds to Mrs. de Winter's discomfiture. The Manderley's housekeeper Mrs. Danvers (Kristen Scott Thomas) had been Rebecca's maid since she was a child (and possibly her lesbian lover later in life). "Danny" maintains an obsession with the dead woman that extends to keeping her rooms, wardrobes, and personal possessions in shrine-like condition. The new Mrs. de Winter senses that Danvers is trying to undermine her at every turn, and this  puts further strains on her shaky marriage. The startling discovery of a wrecked boat just off the coast that contains Rebecca's body could prove quite damaging to Maxim unless his young wife turn into a detective and find a way to clear him from possible homicide allegations.
[envira-album id="125653″]
While this new version of Rebecca is a fairly faithful adaptation of the du Maurier novel, Wheatley and company convey very little of the Gothic horror that made the original film so completely chilling.  Instead of the psychological tension that should have propelled the three principal characters forward, we mostly get Mrs. de Winter's gaffes and nightmares, Maxim's occasional bouts of somnambulism, and Mrs. Danvers's petty nastiness.  What little chemistry existed between Maxim and his new wife while they were romancing in Monte Carlo gets pretty much swept under the table once the couple arrives at Manderley. This Rebecca does feature some truly stunning visuals: the opulence of the two historic English mansions that stood in for Manderley, the sweeping panoramas of the Cornwall coast, and the gorgeous 1930s period costumes and classic cars. But this Rebecca is also a prime example of style over substance and is undermined by a mediocre script given to a cast that does not remotely approach Hitchcock's stellar trio of Sir Laurence Olivier, Joan Fontaine, and Dame Judith Anderson.  As the two hours' running time concluded, I was left wondering why Netflix decided to dust off a classic and give viewers this underachieving cinematic knockoff. For those wanting to catch the real deal, I can heartily recommend the remastered original currently available as a Criterion Collection disc.
Rebecca is streaming now on Netflix
[youtube https://www.youtube.com/watch?v=LFVhB54UqvQ&w=894&h=503]
---
The Film: 3.0/5
Studios & Distributors: Netflix | Working Title Films
Rating Certificate: PG-13 (for some sexual content, partial nudity, thematic elements and smoking)
Country: UK | USA
Language: English
Run Time: 121 Mins.
Aspect Ratio: 2.39:1
Director: Ben Wheatley
Written By: Jane Goldman (screenplay by) | Joe Shrapnel (screenplay by) | Anna Waterhouse (screenplay by) | Daphne Du Maurier (based on the novel by)
Release Date: 21 October 2020 (USA)