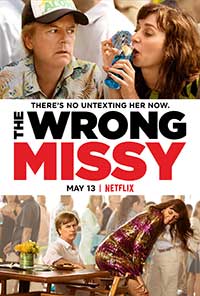 As the COVID-19 pandemic rages on, we are all in need of some big laughs and The Wrong Missy will deliver them in abundance. This film's basic premise uses the venerable trope of mistaken identity to catapult our hapless hero Tim Morris (David Spade) into a seemingly endless vortex of mishaps all thanks to an inadvertent texting error.
Tim's former fiancée Julia (Sarah Chalke) has recently been taken away by Rich, a co-worker (Chris Witaske) at the Credit of America banking company. As Tim seeks to re-enter the singles game, he uses a dating service and gets fixed up with Melissa AKA "Missy" (Lauren Lapkus) who turns out to be a freaking disaster. Months later, he prepares to fly out of Portland and literally collides with a beautiful woman also named Melissa AKA "Missy" at the airport. After missing their respective flights, they go to the bar and find that they have a lot in common– unfaithful partners, teetotaling, and reading the same novel. After a streamy embrace in a janitor's closet, Missy and Tim exchange phone numbers and get on their respective flights.
Best friend/company HR director Nate (Nick Swardson) tells Tim that he and the office "Barracuda" Jess Shepherd (Jackie Sandler) will be vying for the newly opened position of President of Sales. They will also be competing at a talent show during the company's weekend retreat in Hawaii. Tim sees this as the perfect opportunity to impress his new boss Jack Winstone (Geoff Pierson) and he sends a text to Missy inviting her to accompany him. Much to Tim's chagrin, the Melissa that joins him in the vacant first-class seat is, you guessed it, "the wrong" Missy.
[envira-album id="123716″]
What ensues is a proverbial comedy of errors as Missy proceeds to embarrass Tim by getting sloppy drunk and then miraculously surviving a header off a cliff. Next, she nearly gets Jack killed by a great white shark attack after barfing chum into the shark tank that he and Tim are sharing. Missy then delivers sex advice to her hotel suite neighbor Barbara (Arlene Newman) who turns out to be Mrs. Winstone. This "advice" threatens the Winstones' shaky marriage until Missy gives Jack a post-hypnotic suggestion that smooths everything over.  When "the right" Missy eventually shows up at the hotel, following Jess's invitation, there is a major storyline shift, and, this being a rom-com, you most likely know how it will end.
The Wrong Missy is a typical Adam Sandler-type movie produced by his Happy Madison Production company minus Mr. Sandler but gives us instead his lovely wife Jackie as the ball-busting "Barracuda."  This basic ensemble comedy is laced with heavy doses of frat-boy humor mostly delivered by Nick Swardson, a nice cameo turn by Rob Schneider as nutty boat captain Komante, and some really awkward sex scenes.  The main reason to catch this B-film is the over-the-top performance by Lauren Lapkus who literally eats up every scene while towering over her diminutive straight man, David Spade.  While the script crafted by Chris Pappas and Kevin Barnett is formulaic to a tee, sometimes you just have to chuck your critical faculties out the window, chill with your favorite libation, and just prepare to laugh out loud. This film will definitely tickle your funny bone and may be just what the doctor ordered to take our minds off the ongoing plague outside.
The Wrong Missy is streaming now on Netflix
[youtube https://www.youtube.com/watch?v=2Cwaneq2w-4&w=640&h=360]
---
The Film: 3.0/5
Happy Madison Productions | Netflix
Rating Certificate: TV-MA
Country: USA
Language: English
Run Time: 90 Mins.
Aspect Ratio: 2.35:1
Director: Tyler Spindell
Writers: Chris Pappas | Kevin Barnett
13 March 2020