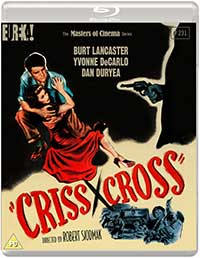 Criss Cross is a masterpiece of classic film noir pulp from director Robert Siodmak (The Killers).
When Steve Thompson (Burt Lancaster) arrives back in his hometown of Los Angeles after being away for a few years, to move back in with his family, and pick up his old job again as an armored car driver, it isn't long until he starts falling back into some of his old bad habits and one of his old childhood friends, Pete Ramirez (Stephen McNally), now a Lieutenant on the LAPD, is constantly around to keep an eye on him. But Steve can't stay away from one bad habit – his ex-wife, the sultry and seductive Anna (Yvonne De Carlo), who in the intervening years married notorious criminal Slim Dundee (Dan Duryea).
Steve and Anna end up having a tryst and are discovered by Slim. In order to cover up for their affair and save their lives, Steve comes up with the excuse that their meeting was only so he could get in touch with Slim in order to convince him to help out with a heist to rob his own armored truck. Slim goes along with the ruse and plot is devised, ultimately leading to a shockingly violent series of events and even unexpected deaths.
While Criss Cross has all the elements that make it a delicious crime drama in the classic film noir style, from the hardboiled dialogue and the seductive femme fatale in Yvonne De Carlo to the high-contrast chiaroscuro lighting and angular cinematography, the film from a technical standpoint is hardly the most stylish entry in this genre. Siodmak and cinematographer Franz Planer don't push the boundaries of the style here, but they certainly nestle comfortably and lavishly in the style.
Of course, the chemistry between Lancaster and De Carlo is the centerpiece in Criss Cross and despite the often-overwrought melodrama of their romance, which only fits in with this style and drama, their overall performances are what help to elevate this film and its twists to classic levels.
[envira-album id="123700″]
The Video
The 1.37:1 AVC 1080p encodement from Eureka Entertainment's Masters of Cinema imprint is taken from a brand new 4K restoration of the film. Apart from some frames here and there that have heightened grain and softness likely due to the differences in the source they were taken from or the in-camera special effects dupe process in some cases, this transfer and restoration looks gorgeous, with a clean source, organic film grain and lots of detail. Contrast is excellent, offering up inky blacks and bright whites that push close to clipping, but not quite.
The Audio
The monaural soundtrack is provided in LPCM 2.0 and despite the obvious limitations of the technologies of the time, it sounds good here, with clear enough dialogue and effects. The dynamic range is as narrow as one would expect, however. There's also an isolated music and effects track, also in LPCM 2.0 mono, that sounds a bit muffled in comparison to the main track.
The Supplements
Both of the audio commentaries should be given a listen, especially the first one which has some cameos. The essays in the collector's booklet are well informed and a good read, as usual.
Audio commentary by Lee Gambin & Rutanya Alda
Audio commentary by Adrian Martin
Isolated Music & Effects Track
Radio Adaptation
Theatrical Trailer
Collector's booklet featuring new writing by film historian Kat Ellinger; an essay by Adam Betty; archival writing and imagery.
The Final Assessment
A classic film noir that should be added to every film lover's watch list. This Masters of Cinema release is a fantastic way to watch it given the gorgeous 4K restoration and HD transfer offered up here for the first time ever on Blu-ray in the UK with a fine selection of bonus features.
Criss Cross (Masters of Cinema) is out on Blu-ray 22 June 2020 in the UK from Eureka Entertainment
---
The Creative Content: 4.5/5
The Video: 4.5/5
The Audio: 4.0/5
The Supplements: 3.5/5
Rating Certificate: UK: PG
Studios & Distributors: Universal International Pictures | Eureka Entertainment
Director: Robert Siodmak
Writers: Daniel Fuchs (screenplay) | Don Tracy (novel)
Run Time: 88 Mins.
RRP: £19.99
Street Date: 22 June 2020
Aspect Ratio: 1.37:1
Video Format: AVC 1080p
Primary Audio: English LPCM 2.0 Mono
Subtitles: English SDH