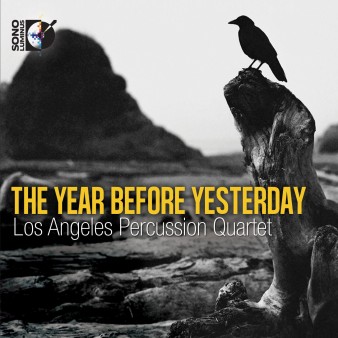 – –
The Album
[Rating:4/5]
Following Rupa-Khandha, a 2012 Grammy-nominated Sono Luminus release, the Los Angeles Percussion Quartet reprises their successful debut with The Year Before Yesterday, another collection of original pieces, some of which were dedicated to the Los Angeles Percussion Quartet. For the record, the ensemble consists of Justin Dehart, Matt Cook, Cory Hills, and Nicholas Terry. The playlist includes six new pieces by a widely varied group of composers who embrace the writing of music for percussionists:
Fore (William Kraft) (12:45): The three movements of this rather eclectic piece reflect a play on words and reveal their origins in Bebop Jazz, Charles Ives, and Bela Bartok.
The Year Before Yesterday (Shaun Naidoo) (9:16): A piece that became the valedictory of a South African composer who died shortly after this work was completed and that reveals a brief candle that would have surely given us much more music.
Give Us This Day (Erik Griswold) (21:00): A five-movement work that varies the mood and tempos of a very original view of live.
Mallet Quartet (Joseph Pereira) (8:23): This piece is a virtuoso work for percussion ensemble that exploits the potential of the instruments employed in performance.
Blindnesses (Isaac Schankler) (8:07): The tactile quality of vibraphones is brought to the fore in this evocative exercise.
Lullaby 5 (Nicholas Deyoe) (12:52): An introspective piece like its title that characterizes the gentler side of the percussion ensemble to perfection.
Virtuosity, regardless of instrumental form, is a thing of wonder, and this recital by the Los Angeles Percussion Quartet epitomizes this quality. For newcomers to the world of percussion, this program will be a revelation.
Audio Quality
[Rating:5/5]
In the two highest resolution versions of this Pure Audio Blu-ray™ that I evaluated (192kHz/24-bit) both DTS-HD Master Audio 5.1 and LPCM 2.0 were simply stunning. Each drum, vibraphone, chime, and remaining struck instrument stood out loud and clear with a presence that literally put the player in the listening room. I did not essay the DTS-HD Master Audio 7.1 (96kHz/24-bit) version but judging from the other surround version (the one most likely to be auditioned) it should also be a knock out.
Supplemental Materials
[Rating:4/5]
Sono Luminus includes an excellent standard resolution CD that is certainly no slouch and there are MP3 and FLAC downloads for listening on a computer or NAS. The program booklet features biographies of the composers and their own takes on their respective compositions. The Los Angeles Percussion Quartet personnel also receive brief biosketches. Track listing and recording credits fill out the remainder of the booklet.
The Definitive Word
Overall:
[Rating:4.5/5]
Being a former percussionist and, as such, being attuned to these instruments, I fully well appreciated the skill exercised by each soloist and the care employed in the modulation of their respective instruments. While an hour-plus of percussion-only music might seem excessive to some, these pieces differ enough so that this program could readily be taken in during one listening session. The Year Before Yesterday further solidifies the position of the LAPQ as one of America's premier percussion ensembles.
[amazon-product region="uk" tracking_id="bluraydefinit-21″]B00MBVLCCQ[/amazon-product]
[amazon-product region="ca" tracking_id="bluraydefinit-20″]B00MBVLCCQ[/amazon-product]
[amazon-product]B00MBVLCCQ[/amazon-product]