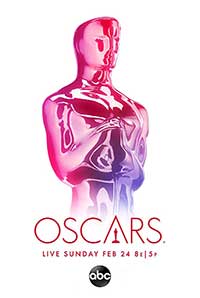 Sunday, February 24, 2019. For the first time in three decades, ABC televised a host-free Academy Awards ceremony and, after yielding to considerably pressure, finally decided to air each winner live to the home audience rather than relegating some to the commercial breaks.  Prior to the opening fanfare, there had been considerable buzz about Roma, the first film nominated for best picture and best foreign-language picture. Technically, the 2012 winner, French-produced The Artist, does not count since it was a silent film.
The Oscars got off to a rocking start when Adam Lambert, new front man for the surviving members of Queen, brought the audience to its feet with a medley of the anthems "We Will Rock You," and "We Are The Champions."  So far, so good until a trio of film comediennes –Maya Rudolph, Tina Fey, and Amy Poehler– tried to out-cute each other. I could almost feel the collective groans of those assembled in LA's Dolby Theater. Not to worry as the ship got righted fairly quickly and the awardees, following their marching—or rather sprinting—orders reached the stage briskly, delivered their acceptance speeches and hustled off into the wings. Just for you scorekeepers, Roma and Bohemian Rhapsody each took home four awards, Black Panther and Green Book followed with three, while The Favourite, nominated for ten Oscars, managed only one golden statuette.
While many of the winners like Alfonso Cuarón's Best Director award (Roma) were pre-show favorites, there were still some "surprises" that might have only been surprises to those academy voters who slept through these award recipients. Frankly, I thought that Glenn Close was a lock for Best Actress (The Wife), one of my only two wrong picks, but Olivia Colman's portrayal of the flawed English monarch (The Favourite) was aided by her being in the stronger film. The suspense mounted throughout the evening when the most audible gasp occurred as Green Book took home the Best Picture Oscar, although many had dissed this film for being a racist biopic. For the record, I thought that this was the best contender that I saw all year and one that accurately depicted the era in which it was set.
A few of this award ceremony's numerous highlights:
Moving acceptance speeches by Regina King (Best Supporting Actress, If Beale Street Could Talk), Rami Malek (Best Actor, Bohemian Rhapsody), Ruth E. Carter (Best Costume Design, Black Panther), and Lady Gaga (Best Original Song, A Star is Born).
Lady Gaga and Bradley Cooper performing an emotional duet version of "Shallow" in advance of the song receiving its Oscar.
Helen Mirren and Jason Momoa, both clad in pink outfits, presenting the award for Best Documentary Film.
Melissa McCarthy donning a rabbit-clustered gown and holding a feral bunny puppet in homage to The Favourite's Queen Anne as she and Brian Tyree Henry handed the statuette for Best Costume Design to Ruth E. Carter.
David Rawlings and Gillian Welch in matching western-garb singing "When A Cowboy Trades His Spurs for Wings" from The Ballad of Buster Scruggs.
Mike Myers's heart-warming Wayne's World on-stage reunion with former co-star Dana Carvey
As happens in many previous Oscar broadcasts, there were several misfires including:
Keegan-Michael Key's hokey Mary Poppins umbrella-toting descent with possible political overtones when he failed to close this prop.
Bette Midler's atrocious rendition of the nominated song "The Place Where Lost Things Go" (Mary Poppins Returns).
Vice's Greg Cannon, Kate Biscoe, and Patricia Dehaney giving disjointed acceptance speeches for Best Hairstyling and Makeup Oscar.
Peter Farrelly's failure to acknowledge pianist Don Shirley on receiving his Oscar for Green Book.
A noticeably truncated in Memoriam segment.
Overall Assessment: As the curtain dropped on the 91st Oscar extravaganza, the absence of a wise-cracking host might have just set a great precedent for the show's future productions. Doling out the bevy of little golden guys in just over three hours reflected not only an efficient use of time but also signaled a possible return to the Academy Awards traditional past. Compared with previous awards ceremonies, political/social commentary was relatively sparse; we already get enough of that stuff on the cable news programs. Diversity in the motion picture industry definitely received its due and, hopefully, this trend will continue. Finally, there were two conspicuous snubs: seven-time nominee Glenn Close and six-time nominee Amy Adams both of whom still have vacant shelves waiting for their first Oscar. Better luck next year!