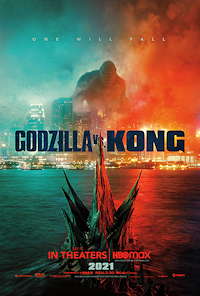 Minutes after I started watching Adam Wingard's sequel to Godzilla: King of the Monsters and Kong: Skull Island, Godzilla vs. Kong, even though I knew where this film was eventually going, the getting there seemed to get detoured by a storyline, at best described as Byzantine and, at worst, as just plain nonsensical.
As the film opens, Kong is temporarily being held by the Monarch group in a huge dome on Skull Island where he is befriended by Jia (Kaylee Hottle), a deaf girl and the lone surviving Iwi. Jia has been adopted by Dr. Ilene Andrews (Rebecca Hall) a Monarch anthropologist and she teaches Kong sign language.  Godzilla, the reigning monster, suddenly attacks the Apex Cybernetics facility in Pensacola, nearly taking out Bernie Hayes (Brian Tyree Hayes). Bernie, an Apex employee and part-time podcaster believes that the company is up to no good.  Madison Russell (Millie Bobbie Brown) and her friend Josh Valentine (Julian Dennison) join up with Bernie to investigate Apex.
Walter Simmons (Demian Bichir), Apex CEO, has convinced Nathan Lind (Alexander Skarsgard), a Monarch geologist and Hollow Earth expert, to lead a group including Simmons's daughter Maya (Eiza Gonzalez), and other members of an Apex team to travel to Antarctica to find the Hollow Earth entrance. Once there, they hope to discover the source of Titan power that will subdue Godzilla.  Kong's help will be needed since his ancestors came from Hollow Earth. Kong is sedated and chained to large carrier, escorted by a US Navy fleet that narrowly avoids being destroyed by Godzilla. Meanwhile, Apex scientist Ren Serizawa (Shun Ogri) is developing Mechagodzilla, a robotic version of Godzilla that will use Hollow Earth's huge energy sources to grant it superpowers and destroy the real Godzilla.
Although the Hollow Earth mission appears to succeed and Kong finds a magical axe that he will use on Godzilla when they next meet, it does not take the latter very long to invade their space, kill the Apex team and defeat the giant ape.  Mechagodzilla gets activated and goes on a rampage in Hong Kong where there will be a battle royale between the real and synthetic Titans to decide the fate of the world.
While I have tried to summarize some of this film's highlights, trust me, you will frequently get sidetracked by a number of dramatic sidebars that you will encounter along the way.  This is a monster film that could have benefitted from more straight lines and fewer tangents as it lumbers its way toward an all-too-predictable finale.  As in all of the modern-day Godzilla and King Kong films, CGI effects rule the roost and trump what little dialogue is actually exchanged.  Speaking of dialogue, there seemed to be noticeable sound balance problems between the center or dialogue channel and the remaining channels in this Dolby Atmos soundtrack. This audio anomaly was present in all of the streaming devices that I checked out—Apple TV, Roku Ultra, and Nvidia Shield Pro—and resulted in noticeably lower volume in this channel.
The fights between the monsters are the huge spectacles that we have come to expect from Legendary's MonsterVerse and will probably satisfy this franchise's many fans around the world. Those checking out a MonsterVerse film for the first time may become as confused as I was by the Eric Pearson and Max Borenstein hot mess of a screenplay that, like Godzilla's fiery breath, seemed to subjugate any semblance of dramatic coherence to graphic death and destruction scenes.  I did appreciate how a strong cast tried valiantly to grapple with the script they were given and could only imagine what they would have done with a better one.  My favorite moment in this film, albeit a very brief one, was the bonding between the tiny Jia and the massive ape as they signed together.  If you have seen either of the preceding MonsterVerse films, you would be best advised to quit while you are still ahead.
---
If you found this article useful please consider clicking the button below and donating to help keep TheaterByte funded, which will allow us to continue posting great content.
---
Godzilla vs. Kong is now in theaters and streaming through April 30 exclusively on HBO Max
---
Rating Certificate: PG-13 (for intense sequences of creature violence/destruction and brief language)
Studios & Distributors: Legendary Entertainment | Warner Bros. | HBO Max
Country: USA | Australia | India | Canada
Language: English
Run Time: 113 Mins.
Aspect Ratio: 2.39:1
Director: Adam Wingard
Written By: Eric Pearson | Max Borenstein
Release Date: 31 March 2021