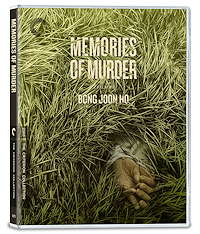 Memories of Murder is the 2003 Korean crime drama from director Bong Joon Ho that was based on the true story of what was thought to be the first known serial killer in South Korean history.
Set in 1986, a killer and sexual predator is on the loose. The murders started in 1986 in Hwaseong, a small village south of Seoul, continued for several years against an unstable political backdrop in South Korea as the country was making a hard shift into the democracy we know now. Park Doo-man (Song Kang-ho, Sympathy for Mr. Vengeance) is assigned to investigate the murders along with his partner Detective Cho Yong-koo (Kim Rwe-ha), whose uses violent interrogation methods. The partners find a suspect (Park Noh-shik), but a young detective from Seoul, Seo Tae-yoon (Kim Sang-kyung of Turning Gate) who volunteers to help on the case, is not so convinced they have the right person. They go through a series of suspects before homing in on someone who more closely fits a new profile, even as they come under heavy scrutiny for their harsh treatment of their suspects.
The brilliance of the film is how Bong Joon Ho walks the fine line between the brutality of the crimes themselves and the dark toll the crimes take on the psyche and personal lives of the people investigating them. The backdrop of the story, the uncertain direction the country was moving in emerging from its authoritarian military past and into a more open democratic society, feeds into the undercurrent of bubbling fear and violence. Ho also uses his camera brilliantly feeding us so many gorgeous shots, switching between some deep focus, wide lens shots through the tall grass fields or the shaky handhelds of an awkward fight between two detectives.
Memories of Murder won several awards at the 2003 San Sebastián Film Festival and was shown at the 2004 New York Korean Film Festival.


Memories of Murder (2003)
The Video
The is a new 4K digital restoration by CJ Entertainment overseen by original cinematographer Kim Hyung Ku and director Bong Hoon Jo. The film is presented in its original 1.85:1 aspect ratio on Blu-ray in an AVC 1080p encodement. There has definitely been a lot of coloration added to this new restoration. There's a teal tint, giving the film a greenish/green-blue hue over previous releases. The level of this tint seems to vary, becoming heaviest in outdoor scenes in the fields or nighttime, and warming a bit indoors, but still remaining. Some may not like this at all, but it does not take away from the overall detail and clean look and contrast that is inherent in the film. One's eyes do normalize to this look after a while and it is the intent of the cinematographer and director who oversaw and approved this restoration and transfer, so I take that into account judging the overall quality. This release definitely looks good and organic with a natural, thin layer of grain from its 35mm source while there are only a few deep shots that look a little soft but those are more due to production than the transfer.
The Audio
The original Korean-language mix is offered in DTS-HD Master Audio 5.1. This is a dialogue-driven track but there are very specific uses of discrete sound in the surrounds such as some rainfall and other things. This is a well-done soundscape, all things considered. Dialogue is clean and dynamics excellent and natural. The score is delicately balanced and airy in the mix, but don't listen for deep low-end extension, that's not what this mix is about.
The Supplements
Criterion Collection delivers the goods with this release of Memories of Murder, including three audio commentaries that include two from 2003 with the director and a new 2020 commentary by Tony Rayns. There's a new interview with the director, a new featurette from Guillermo del Toro who breaks down a lot about the film, and more.
Commentary by director and crew from 2003 featuring director Bong Joon Ho, cinematographer Kim Hyung Ku, and production designer Ryu Sung Hee.
Commentary by director and cast from 2003 featuring director Bong Joon Ho and actors Song Kang Ho, Kim Sang Kyung, and Park No Shik.
NEW Commentary by film critic Tony Rayns recorded for the Criterion Collection in 2020.
NEW Perfect Cinema (1080p; 00:14:08) – Produced by the Criterion Collection in 2020, this program features filmmaker Guillermo del Toro discussing Memories of Murder and its director, Bong Joon Ho.
Deleted Scenes with Optional Commentary by director Bong Joon Ho (1080i):

Inspector Jo
A Pervert
On the Hill
Hairless
Female Officer
Release
Departure/Scarecrow

Teaser (1080i)
Trailer (1080i)
TV Spot (1080i)
NEW Imagination vs. Reality (1080p; 00:10:45) – In this 2020 Criterion Collection program, director Bong Joon Ho and film critic and translator Darcy Paquet converse about Lee Chun-jae, the real-life serial killer who inspired Memories of Murder.
Making Memories of Murder (1080i; 02:38:22) – Made in 2004, this extensive documentary – featuring director Bong Joon Ho, actors Song Kang Ho, and Kim Sang Kyung, cinematographer Kim Hyung Ku, production designer Ryu Sung Hee, composer Taro Iwashiro, and others – chronicles the production and release of Memories of Murder.
NEW Sonic Precision with Introduction by Bong Joon Ho (1080p; 00:20:38) – In this interview, conducted in 2020 by the Criterion Collection, film scholar Jeff Smith analyzes director Bong Joon Ho's use of sound.
Incoherence – Restored in 4K resolution by the Korean Film Archive in 2019, this short film was made by Bong Joon Ho in 1994, while attending the Korean Academy of Film Arts.
Essay by film critic and novelist Ed park
The Final Assessment
Criterion Collection provides a feature-rich edition of this stunning crime drama from Bong Joon Ho. The new restoration is good on detail and organic film grain structure, but the 'teal shift' that is admittedly something done as the artistic intent of the cinematographer and director may be off-putting to some who prefer the previous look of the film.
---
If you found this article useful please consider clicking the button below and donating to help keep TheaterByte funded, which will allow us to continue posting great content.
---
Memories of Murder is out on Blu-ray April 20, 2021 from the Criterion Collection
---
Studios & Distributors: CJ Entertainment | Muhan Investment | Sidus | The Criterion Collection
Director: Bong Joon Ho
Written By: Bong Joon Ho (writer) | Kwang-rim Kim (play) | Sung-bo Shim (writer)
Run Time: 131 Mins.
Street Date: 20 April 2021
Aspect Ratio: 1.85:1
Video Format: AVC 1080p
Primary Audio: Korean DTS-HD MA 5.1
Subtitles: English