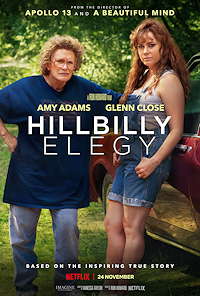 Only a month ago, I reviewed The Devil All the Time a film set on the border between Ohio and West Virginia that exposed the thin line separating Northern townsfolk from their "hillbilly" counterparts.  Also set in Ohio but this time on the border with Kentucky, Hillbilly Elegy is based on a memoir by J. D. Vance of one man's cross-generational journey from poor white trash to successful lawyer in a world that his grandparents and parents had never known.
Through sheer dint of effort and aided by his grandmother "Mamaw" Vance (Glenn Close) J.D. (Gabriel Basso) has finally become a third-year law student at Yale University. J.D. is applying for interviews that can provide a pathway to a job in a prestigious law firm.  He is blessed with a supportive, caring girlfriend Usha (Frieda Pinto) and gets ready to climb the next rung on his career ladder.  During a recruiting dinner, J.D. gets a frantic call from his sister Lindsay (Haley Bennett) informing him that their mother Beverly "Bev" Vance (Amy Adams) has just been admitted to the hospital for another opioid overdose.
Bev's backstory emerges through flashbacks in this Ron Howard-directed film as we see her trying to raise two young children, J.D. (Owen Asztalos) and Lindsay on her own.  Bev is very intelligent, has bootstrapped her way through nursing school, and now works at a local hospital. This job leads to Bev's downfall as she becomes addicted to opiates pilfered from patients' trays.  After Bev gets high on the job, the hospital cans her and she now must depend on Mamaw and Papaw Vance (Bo Hopkins) as she struggles with sobriety. When Papaw is found dead at home it is up to Mamaw to help raise J.D. with the tough love that his mother cannot give him.
Returning to the present, Lindsay is married with three young children and asks for J.D.'s help in getting their mother into a rehab facility.  J.D. has an upcoming important interview, and, after driving all night, he finds a belligerent Bev who is about to be dismissed from the hospital.  Knowing that he has a short timeline for placing his mother who refuses the expensive rehab unit that he has paid for, J.D. must tag-team with Lindsay to get Bev temporary lodgings so that he can drive back for the law firm interview.  Tension mounts as the loyal Usha stays on the phone with J.D. to keep him awake during his rush to get back in time.
Hillbilly Elegy is frequently difficult to watch, particularly when Bev has one of her frequent out-of-control moments with J.D., but staying with this film has its own rewards thanks to a great screen adaptation by Vanessa Taylor, the co-scriptwriter with Guillermo del Toro on The Shape of Water. Ron Howard has a deft touch with very personal films like A Beautiful Mind and Cinderella Man and this serves him well with a homespun tale of a poor boy who overcomes the odds to make good. The film also successfully tackles the poignant problems of single parenthood and drug addiction. As an aside, I have never seen Glenn Close or Amy Adams look so scruffy, but this simply adds to the credibility of a story that is very much worth seeing. For those unfamiliar with how Hillbilly Elegy plays out, the end credits give us reason to applaud Netflix for making this small masterpiece available to those of us who are still sequestered at home. Highly recommended.
---
If you found this review useful please consider clicking the button below and donating to help keep TheaterByte funded and to allow us to continue posting great content.
---
Hillbilly Elegy is available for streaming on Netflix
---
Studios & Distributors: Imagine Entertainment | Netflix
Rating Certificate: R (for language throughout, drug content and some violence)
Country: USA
Language: English
Run Time: 116 Mins.
Aspect Ratio: 2.39:1
Director: Ron Howard
Written By: J.D. Vance | Vanessa Taylor
Release Date: 24 November 2020