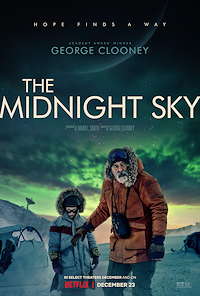 I have seen plenty of films based on the premise that climate change will have dire consequences for our planet. With The Midnight Sky, actor-director George Clooney now gives us a script by Mark L. Smith (The Revenant) that opens in an Arctic observation station that is being evacuated by everyone except for astronomer Augustine Lofthouse (Clooney). It is now 2049 and Earth is experiencing a toxic atmosphere that is forcing its population to go underground in order to survive. Three decades earlier, a young Augustine (Ethan Peck) discovered Jupiter's moon K-23 that appears to be capable of supporting human life. He also had a brief affair with pretty Jean Sullivan (Sophie Rundle) the consequence of which will have a significant role in this story.
All of Earth's spacecraft have been decommissioned except for the Aether that has just explored K-23, confirmed Lofthouse's earlier findings and is now returning to Earth, unaware of the disastrous conditions on the planet.  Its crew consists of Commander Adewole (David Oyelowo), his pregnant significant other Dr. Iris "Sully" Sullivan (Felicity Jones), Sanchez (Demia Bichir), Mitchell (Kyle Chandler), and Maya (Tiffany Boone). Back in the Arctic, Augustine realizes that he must contact the Aether and warn its crew that returning to Earth will be impossible. To accomplish this, he must reach the abandoned Lake Hazen site with its much more powerful antenna. Complicating this mission is his need for daily hemodialysis and the sudden discovery of a mute girl (Caoilinn Springall) who was apparently left behind during the evacuation of the observation station. The pair pack up a snow mobile and set off for Lake Hazen through a driving blizzard, prowling wolves, and near zero visibility.
Meanwhile, the Aether is beset with problems of its own starting with a grease fire in the galley followed by a meteor storm that takes down the craft's radar and communication system.  Adewole, Sully and Maya go on a spacewalk and successfully repair the damage but Maya is hit by meteor fragments and bleeds to death. Lofthouse and the little girl who finally identifies herself as Iris (hint: get the connection?) surmount a series of challenges, reach the Hazen base, and eventually make contact with the Aether creating a dilemma for its remaining crew members like Mitchell who has a wife and children back on Earth and Sanchez who feels obligated to return Maya's body to her family.
The Midnight Sky is a very slow-moving space opera (think Ad Astra pacing) that uses well-worn sci-fi plot devices several of which were most recently seen in Netflix's Away series. What we never see is the apparent effects of death and destruction on our planet—probably a good thing because this scenario has been used countless times and perhaps to its best advantage in the film adaptation of Neville Shute's classic On the Beach. Dialogue is sparse to nonexistent on the terrestrial side of this drama while that exchanged on the Aether is mostly forgettable.  My favorite highlight—of which there are precious few—is the "Sweet Caroline" duet between Chandler and Bichir during the spacewalk. Even Alexander Desplat's emotion-laden score does little to get this film to launch.  I suppose that I was expecting much more than I received given The Midnight Sky's talented cast.  This is now the third sci-fi film (Solaris, Gravity) in George Clooney's long film career. The third time was definitely not the charm and, perhaps, it is high time for him to bid this film genre farewell.
The Midnight Sky is streaming now on Netflix
---
Rating Certificate: PG-13 (some bloody images and brief strong language)
Studios & Distributors: Anonymous Content | Netflix | Smokehouse Pictures | Syndicate Entertainment | Truenorth Productions
Country: USA
Language: English
Run Time: 118 Mins.
Aspect Ratio: 2.11:1
Director: George Clooney
Written By: Lily Brooks-Dalton | Mark L. Smith
Release Date: 25 December 2020