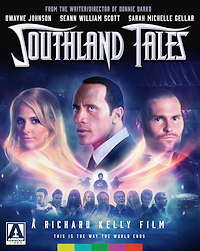 Writer/director Richard Kelly shot to fame with his cult hit Donnie Darko (2001) and returned with his first film after that, Southland Tales (2006), a sprawling and ambitious blend of dystopian science fiction, dark comedy, social commentary, and mystery.
Set in the then near future of 2005, a nuclear blast has wiped out huge parts of Texas and led to World War III. In response, the United States government has turned into a far-right police state that controls nearly every aspect of its citizen's lives and has taken complete control of the internet to control the flow of content and information. An important election is coming up and in California, the last stronghold of the left-leaning, an underground Marxist resistance group launches a plan to violently overthrow the government by any means. Meanwhile, with the instability in the Middle East, gasoline is scarce, but a group of German scientists turn up with a new technology that can produce unlimited electricity from the ocean, something that multiple parties do not want to happen.
The plot revolves around the stories of a few people. Boxer Santaros (Dwayne "The Rock" Johnson) an action film star with ties to a top Republican politician. Boxer goes missing but turns up suffering amnesia and living with porn-star turned TV political pundit Krysta Now (Sarah Michelle Gellar) who hosts a show tackling topics such as abortion, war, and teenage horniness, amongst her other endeavors such as an energy drink and a new screenplay she's trying to sell and inveigled Boxer into co-writing with her. There's also Roland Taverner (Seann William Scott) a police officer in Los Angeles roped into a far-fetched scheme by the Marxist underground to expose the violence and racism of the government, but Roland isn't who he thinks he is.
Southland Tales is a disappointment coming after Donnie Darko. Where the former was a brilliantly dark and surreal journey into madness and the metaphysical, the latter is like a poorly arranged retread that got away from Kelly. There are too many big themes addressed in here, first of all, like war, sex, drug abuse, neo-Marxism, neo-fascism, neo-liberalism, terrorism, racism, and it's all wrapped up in an annoying, Biblical, apocalyptic narration by Justin Timberlake that is too obviously intended to give a sense of gravitas. But that gravitas never appears given Kelly's heavy handed comedic tone. The tone is set not only by the screenplay and direction, but by the casting choices. Nora Dunn, Janeane Garofalo, Jon Lovitz, Mandy Moore, Dwayne Johnson, Seann William Scott and Wallace Shawn are just some of the comedic and B-level casting choices that keep this film mired in a sense of surreal farce rather than a serious commentary on anything leading to the end of the world. Probably the funniest moment in the film comes when Dwayne Johnson flees the scene of a police shooting and he looks more like a junkie badly in need of his next fix, hands shaking in front of his lips, eyes bugging out and running away hunched over, than someone genuinely frightened.
Though there is a lot in this film to like, such as the visual style and some moments that standout. The Theatrical Cut makes the film more concise, but also removes some background on characters and musical interludes, perhaps even slightly confuses the timeline a little on some of the subplots, such as the energy technology, moving certain scenes further back in the film rather than in the beginning. Some other changes in the Cannes cut that don't add much to the story are there are some spots where music from Moby is used but it is removed from the Theatrical Cut.

The Video
Southland Tales comes with a new 2K restoration from Arrow Films, approved by director Richard Kelly and director of photography Steven Poster. Both the 145-min Theatrical Cut and original 160-min "Cannes Cut" are provided on their own Blu-ray Disc in an AVC 1080p encodement framed at 2.35:1. The film looks excellent in both versions with natural film grain, natural colors, and nuanced shadows. I'm sure this is probably a stretch, but this is a title that would have also benefited nicely from the 4K treatment, but the 2K restoration, though not quite as crisp looking as 4K restorations, even in their Blu-ray transfers, looks solid and up to the usual Arrow standards.
The Audio
Southland Tales is brought to Blu-ray with lossless DTS-HD Master Audio 5.1 and DTS-HD Master Audio 2.0 stereo mixes. The 5.1 mix is really good, placing a lot of discrete sounds around the room in the surround channels and far off to the sides, providing wide stereo panning, following dialogue around and sound effects like televisions and radio broadcasts. The score and musical soundtrack are balanced into the mix well, offering as much a sense of tension as possible.
The Supplements
While this isn't one of the most packed Arrow Video releases in the supplements department, there is plenty enough here to sink one's teeth into, including a great audio commentary from the Richard Kelly and a new multi-part retrospective making-of.
Audio Commentary by Richard Kelly.
It's a Madcap World: The Making of an Unfinished Film (1080p) – An all-new, multi-part retrospective on the making of Southland Tales, featuring contributions by writer/director Richard Kelly and members of the original crew.

Through the Looking Glass (00:18:46)
This is the Way the World Ends (00:21:31)
Have a Nice Apocalypse (00:10:36)

USIDent TV: Surveilling the Southland (1080i; 00:33:48) – Archival featurette in the making of the film, featuring interviews with the cast and crew.
This is the Way the World Ends (1080p; 00:09:11) – Archival animated short set in the Southland Tales
Theatrical Trailer (1080p)
Image Gallery (1080p)
Reversible sleeve featuring original and newly commissioned artwork by Jacey.
Limited Edition collector's booklet featuring new writing by Peter Tonguette and Simon Ward.
The Final Assessment
This is a very ambitious film that had so much potential but seems like it got away from Richard Kelly. That said, this Arrow Video release is a perfect way to watch it and reassess the film in its entirety and to see both cuts.
---
If you found this review useful please consider clicking the button below and donating to help keep TheaterByte funded and to allow us to continue posting great content.
---
Southland Tales (2-Disc Limited Edition) is out on Blu-ray January 26, 2020 from Arrow Video

---
Rating Certificate: R (for language, violence, sexual material and some drug content)
Studios & Distributors: Universal Pictures | Cherry Road Films | Darko Entertainment | MHF Zweite Academy Film | Eden Roc Productions | Persistent Entertainment | Academy Film | Destination Films | Inferno Distribution | Wild Bunch | Arrow Video
Director: Richard Kelly
Written By: Richard Kelly
Run Time: 145 Mins. (Theatrical Cut) | 160 Mins (Cannes Cut)
Original MSRP: $39.99
Street Date: 26 January 2020
Aspect Ratio: 2.35:1
Video Format: AVC 1080p
Primary Audio: English DTS-HD MA 5.1
Secondary Audio: English DTS-HD MA 2.0 Stereo
Subtitles: English SDH