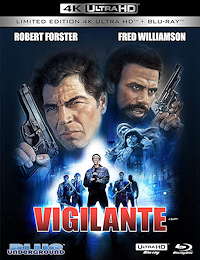 In 1982, from William Lustig, the director that gave us gore horror like Maniac, came this even bloodier, working class urban crime drama. Vigilante is sort of the grittier answer to 1974's Death Wish and tells a similar tale.
Steelworks employee Eddie Marino's wife and son are brutalized by Rico (Willie Colón) and his gang of neighborhood thugs, then let off during trial with a light, suspended sentence due to a corrupt defense attorney and a buffoon of a trial judge, which causes a violent outburst in court by Eddie who ends up getting himself sent away to prison for thirty days on charges of contempt of court. Upon released, Eddie, still fuming, turns to his pals from work who have been running their own gang of vigilante justice to combat the hoodlums, drug dealers, and murderers infiltrating their neighborhoods and to stand up against what they see as a feckless justice system. Nick (Fred Williamson) the de facto leader of the group, hadn't been able to convince Eddie before to join them, but now that he has gone through his own trauma, he's onboard.
Like with Maniac, Lustig does not hold back with the violence, such as when he allows the gloriously unhinged Willie Colón to kill a pre-adolescent child with a shotgun blast, instantly touching one of the third rails of entertainment that still holds to this day. And Lustig doesn't stop there. Vigilante could have played like a paint by numbers action flick ticking all the boxes of what you need to see: prison fight scene, car chase, street fight, sex scene with naked woman, etc. But even though you sort of know he's ticking all the boxes, Lustig manages to mix them all up in just the right way to keep you entertained.
It doesn't hurt that the cast all do an excellent job in their rolls. Forster is perfect as the working-class hero pushed over the edge as is Fred Williamson as the working-class guy who's wholly lost trust in the system and now ready to take the law into his own hands.
Vigilante is a visceral, quick paced and gritty urban exploitation crime drama that keeps viewers on the edge of the seat and takes them on a rollicking ridge of gore, violence, and over-the-top characters that helped to foretell the genre for the rest of the decade.

The Video
Vigilante is a new restoration presented by Blue Underground scanned in 4K 16-bit from the original 35mm camera negative, with Dolby Vision HDR encoded on 4K Ultra HD Blu-ray in HEVC 2160p. It is yet another amazing, reference quality release from this imprint. Right from the opening scene monologue by Fred Williamson who comes out of an inky black background with just a hint of light on him, once can tell this is going to be a great visual experience and it holds up straight through on my LG CX OLED. The colors look brilliant without looking oversaturated and there is just enough 'pop' in the highlights without it looking gimmicky. This release compares very favorably to another recent Blue Underground 4K release I had a chance to watch, Daughters of Darkness, which also looked quite good in my opinion, but not quite as good as this one.
The Audio
Blue Underground provides a Dolby Atmos mix as well as DTS-HD Master Audio 5.1 and 2.0 stereo mixes and French, German, and Italian Dolby Digital stereo dubs. The Atmos mix sounds spacious, clean, and provides am natural sense of dynamics, but there is very little obvious difference between the Atmos and 5.1 mixes. The DTS-HD stereo mix loses some clarity and some dynamics, but also has good width to its stereo imaging.
The Supplements
Blue Underground packages this release with a lot of excellent collectibles and interesting features. The three audio commentaries plus the interviews offer a lot of information on the film, and it's certainly great to see the late Robert Forster.
Collectible Booklet with essay by Michael Gingold
Reversible Sleeve
3D Lenticular Slipcover
Blu-ray with Feature in HD
Audio commentary with co-producer/director William Lustig and co-producer Andrew Garroni
Audio commentary with co-producer/director William Lustig and stars Robert Forster, Fred Williamson, and Frank Pesce
Audio commentary with film historians Troy Howarth and Nathaniel Thompson
Featurettes:

Blue Collar Death Wish (1080p; 00:24:40) – Interviews with writer Richard Vetere, star Rutanya Alda, associate producer/first A.D./actor Randy Jurgensen, and others
Urban Western (1080p; 00:25:07) – Interview with composer Jay Chatthaway

Theatrical Trailers (2160p Dolby Vision; 00:01:40):

S. Trailer
International Trailer
British Trailer #1
British Trailer #2
German Trailer
Italian Trailer
French Trailer

TV Spots (1080p; 00:01:50):

TV Spot #1 (0:30)
TV Spot #2 (0:30)
TV Spot #3 (0:30)
TV Spot #4 (0:10)

Radio Spot (0:30)
Promotional Reel (1080p; 00:03:13)
Poster & Still Galleries:

Poster & Still Gallery #1
Poster & Still Gallery #2
The Final Assessment
Blue Underground comes through once again with one of the iconic genre films in a reference quality 4K restoration in this feature-packed limited edition. This is a must for genre fans.
---
If you found this review useful please consider clicking the button below and donating to help keep TheaterByte funded and to allow us to continue posting great content.
---
Vigilante (Limited Edition) is out on 4K Ultra HD Combo December 15, 2020 from Blue Underground
---
Rating Certificate: R
Studios & Distributors: Magnum Motion Pictures | Blue Underground
Director: William Lustig
Written By: Richard Vetere
Run Time: 89 Mins.
Street Date: 15 December 2020
Aspect Ratio: 2.40:1
Video Format: HEVC 2160p (4K UHD)
HDR Format: Dolby Vision (compatible w/HDR10)
Primary Audio: English Dolby Atmos
Secondary Audio: English DTS-HD MA 5.1 | DTS-HD MA 2.0 Stereo | French DD 2.0 Stereo | Italian DD 2.0 Stereo | German DD 2.0 Stereo
Subtitles: English SDH | French | Portuguese | Spanish