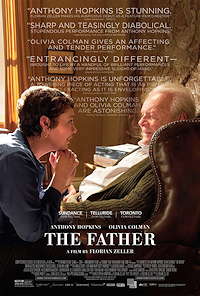 Writer-director Florian Zeller's new film, The Father, based on his award-winning play Le Père, will surely hit home to those with elderly parents who are gradually losing their personal battles with dementia.
The Father opens in the flat that Anthony (Anthony Hopkins) calls home. His daughter Anne (Olivia Colman) pays him a visit. It is clear that Anthony's brain is beginning to desert him as he continues to forget important events and where he has left his watch, the only item that keeps him connected to time. Anne informs her father that she plans to move to Paris to live with her new lover only to find Anthony believing that she is still married to Paul (Rufus Sewell) whom she divorced five years ago.
We soon begin to enter Anthony's world of delusions beginning with his seeing a strange Paul (Mark Gatiss) apparently living in his flat. A different Anne (Olivia Williams) enters with a chicken that she will prepare for their dinner. This Anne schedules an interview for a new caretaker, Laura (Imogen Poots), to replace the one that Anthony has driven off.  Although something about Laura reminds Anthony of his younger daughter Lucy who he hasn't seen in months, he maintains that he is perfectly capable of caring for himself. Laura has now been hired as Anthony's caretaker and makes sure that he takes his medication. As Anthony's mind declines, we find out that he had been living in Anne and Paul's flat for quite some time and the tension that he created between his daughter and son-in-law eventually led to their divorce. As Anthony's dementia worsens, we continue to get his increasingly imagined take on the world around him populated by people whom he once knew but who are now becoming strangers.


Those who have experienced the frustration of living with or caring for a demented loved one will completely understand the profound sadness of The Father. Watching Anthony Hopkins's amazing performance as a father who becomes unable to comprehend what is happening to him will certainly strike a resounding chord with such people. Much to Hopkins's credit, he makes what could have been a rather maudlin character into one that elicits our sympathy, knowing that he once must have been a strong, self-sufficient man.  Olivia Colman, the other half of what is basically a two-character film, is perfect as the long-suffering daughter who is her father's sole support. Colman does a great job in depicting her character's basic conflict between valiantly trying to keep her father out of a nursing home and having a life of her own.
It is often an advantage to have a playwright help to adapt his own work to the screen and also direct his characters and that is certainly true in the case of The Father. The relatively economical running time of 97 minutes is also an advantage here since there is only so much depressing material that an audience can take on in a single sitting. That said, this film handles its subject matter as skillfully and caringly as some of its predecessors like Away From Her and The Notebook. Definitely one of the best films that I have seen this past year and one that richly deserves its Oscar nominations. Highly recommended.
---
If you found this article useful please consider clicking the button below and donating to help keep TheaterByte funded, which will allow us to continue posting great content.
---
The Father is available for viewing now on various streaming and VOD services
---
Rating Certificate: PG-13 (for some strong language, and thematic material)
Studios & Distributors: Trademark Films | Cine@ | F Comme Film | Film4 | Viewfinder
Country: UK | France
Language: English
Run Time: 97 Mins.
Aspect Ratio: 2.39:1
Director: Florian Zeller
Written By: Christopher Hampton | Florian Zeller
Release Date: 26 February 2021 (USA)