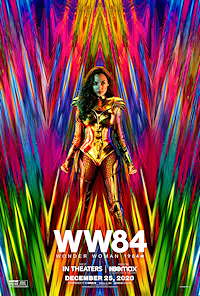 Three years ago, director Patty Jenkins hit the beaches of Themyscira running with the first movie in the franchise for this popular female superhero, a massive silver screen success. With the star power of Gal Gadot in the title role and an edge-of-your-seat storyline, this was one of the breakout movies of 2017. Now she returns with Wonder Woman 1984.
This sequel opens again in Themyscira with a young Diana (Lilly Aspell) competing against much older Amazons only to be disqualified by her Aunt Antiope (Robin Wright) for taking a shortcut on the course. The story quickly shifts to 1984 Washington, D.C. where Diana Prince (Gadot) is an anthropologist studying ancient civilizations at the Smithsonian Institute. A co-worker, meek geologist Barbara Ann Minerva (Kristen Wiig), is impressed by and envies Diana's beauty and self-confidence. The FBI engage Barbara to identify some ancient relics recovered from a botched robbery, one of which is the legendary "Dreamstone." Enter Maxwell "Max" Lord (Pedro Pascal), a con artist whose failing oil company might be saved if he can get his hands on this magic artifact. Diana and Barbara examine the Dreamstone and both express secret wishes that this relic immediately grants them: Diana gets her lover Steve Trevor (Chris Pine) back from the dead in another man's body (Kristoffer Pohala) while Barbara obtains superpowers like those of Diana.
At a Smithsonian gala hosted by Max, the oilman makes a move on Barbara in her office and "borrows" the stone that will allow him to grant wishes to anyone whom he touches. As Max gains power and influence, his health begins to deteriorate.  As he continues to  make wishes come true for throngs of needy people, Max becomes estranged from his young son Alistair (Lucian Perez). Diana and Steve heat things up and Barbara starts unleashing her newly acquired powers.
The fate of the world is threatened when a clearly unhinged Max convinces the US President (Stuart Milligan) that, in exchange for enabling numerous installations of US nuclear weapons, he will be given access to a satellite system that will allow the granting of wishes to everyone in the world. The only way to stop this megalomaniac is for Diana, who has renounced her wish to keep Steve with her, to get Max to do the same for his wish to rule the planet. This becomes an against-all-odds mission as Max has constructed an impenetrable "firewall" around himself.
This sequel gets off to a strong start, but the wheels come off the storyline's vehicle, almost as soon as it leaves Themyscira. Some spectacular CGI effects notwithstanding like Steve and Diana doing a flyover of D.C.'s Fourth of July celebration, the muddled script that director Jenkins, Geoff Johns and Dave Callaham give the cast proves that, in this case, three heads are not better than one. Gadot tries her best to carry this show but Kristen Wiig never looks comfortable as a newly minted superhero and poor Pedro Pascal gets a one-dimensional character whose continual manic outbursts quickly become tiresome. An even bigger problem is a recurring lack of clarity. How did Diana end up in 1984? How does Max discover the existence of the Dreamstone? How does Diana get deluded into seeing her dead lover in the form of the handsome stranger? How are wishes granted to people whose hands Maxwell does not actually touch? What is Maxwell's mysterious malady? There are many other questions that remain unanswered. Unlike its predecessor, WW84 soon establishes and then maintains a mostly torpid pace, making it seem far longer than its two-and-a-half hour running time. Even a surprise appearance by Lynda Carter during the end credits cannot save the day for this disappointing second installment in the Wonder Woman saga.*
*Editor's Note: Warner Bros. Announced December 27th they were fast-tracking development on Wonder Woman 3, with Patty Jenkins and Gal Gadot both onboard. 
---
If you found this review useful please consider clicking the button below and donating to help keep TheaterByte funded and to allow us to continue posting great content.
---
Wonder Woman 1984 is playing in theaters worldwide and streaming on HBO Max
---
Rating Certificate: PG-13 (sequences of action and violence)
Studios & Distributors: Atlas Entertainment | DC Comics | DC Entertainment | The Stone Quarry | Warner Brothers
Country: USA
Language: English
Run Time: 151 Mins.
Aspect Ratio: 2.39:1
Director: Patty Jenkins
Written By: Patty Jenkins
Release Date: 25 December 2020