The Freshman is probably one of the most forgotten comedies from the late 1980s/early 1990s, which is remarkable given the lineup of actors like Marlon Brando, Maximilian Schell, Matthew Broderick, and Penelope Ann Miller.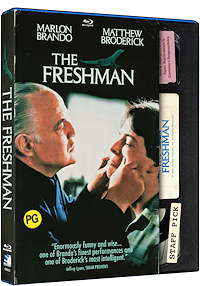 This farcical 1990 comedy from writer/director Andrew Bergman (It Could Happen to You, Honeymoon in Vegas) finds Matthew Broderick (Election, Ferris Bueller's Day Off) playing naïve and hapless freshman NYU film student Clark Kellogg who arrives in Manhattan and is robbed within nineteen minutes by Victor Ray (Bruno Kirby), a low-level con artist who steals his bags with his clothes and his money to buy his expensive college textbooks. A few days later when Clark tracks Victor down and demands his money back, Victor has already lost it all betting on a horse race. But he has a solution for Clark, a job working for his uncle Carmine Sabatini (Marlon Brando, Apocalypse Now, The Godfather) who bears a striking resemblance to the famous Godfather from the film. Clark's job turns out to be picking up a suspicious package from the airport. The package turns out to be a contraband Komodo dragon in a scene that yields one of the film's funniest moments as the lizard gets loose and wreaks havoc in a shopping mall.
A comedy of errors and insinuation, The Freshman heavily relies on Brando's legacy and his famous role as Don Corleone, which is played up to good effect for many tongue-in-cheek lines and wink-wink moments. At times the in jokes are a bit too much and it's a shame to see Maximilian Schell so underused. Penelope Ann Miller plays the daughter of Carmine Sabatini and the somewhat flighty love interest of Clark. She's excellent as a ditz, but it isn't exactly a strong female role. Andrew Bergman does keep the action rolling here, the pace never lapses, and the story manages to hold together even as the plot approaches the absurd. Overall, The Freshman provides good laughs, good performances and is an underrated comedy from the era.


The Video
Mill Creek is a budget distributor so one should not pick up one of their titles expecting the last word in picture quality and The Freshman certainly is not that. It has not been restored or remastered in any, basically it looks like they have just taken whatever old master Sony had sitting around and transferred that to Blu-ray. It's watchable and certainly in keeping with the kitschy retro VHS packaging. The 1080p AVC encodement framed at 1.85:1 looks a bit rough with some source damage, coarse grain and some posterization in places as well as very soft midrange shots. That said, if you don't mind the rough edges and would like this film on Blu-ray at a decent price, it offers an upgrade over the actual VHS copy that's probably weighing down a shelf in your closet somewhere.
The Audio
The Freshman on Blu-ray from Mill Creek Entertainment gets an English DTS-HD Master Audio 2.0 stereo mix that has decently wide stereo imaging for the music though the high frequencies sound a little edgy. Dialogue is clear and the overall dynamic range is wide enough.
The Supplements
There are no supplements on this barebones budget disc beyond the retro VHS slipcover packaging.
The Final Assessment
Mill Creek Entertainment rolls out a retro VHS packaged Blu-ray of this pleasant 1990 star-studded comedy. It's well worth watching.
---
If you found this review useful please consider clicking the button below and donating to help keep TheaterByte funded and to allow us to continue posting great content.
---
The Freshman (Retro VHS Packaging) is out on Blu-ray January 12, 2020 from Mill Creek Entertainment
---
Rating Certificate: PG
Studios & Distributors: TriStar Pictures | Mill Creek Entertainment
Director: Andrew Bergman
Written By: Andrew Bergman
Run Time: 102 Mins.
Original MSRP: $14.99
Street Date: 12 January 2020
Aspect Ratio: 1.85:1
Video Format: AVC 1080p
Primary Audio: English DTS-HD MA 2.0 Stereo
Subtitles: English SDH