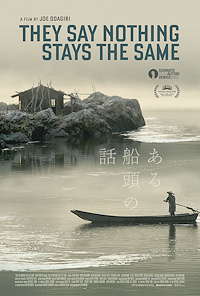 They Say Nothing Stays the Same is a 2019 Japanese drama, which has to do with the life of an elderly ferryman named Toichi who will be left jobless after the construction of a bridge.
Toichi is a good natured and selfless man who works as a ferryman in a remote village in Japan. He really likes to help people by giving them the chance to cross the river with his boat and generally he sees the positive aspect of everything, but for some people's bad manners. A young man named Genzo who maybe is a teenager, as he looks childlike, is his only friend and they spend some quality time together. Toichi always stays calm and patient and is a kind human being. However, he finds himself having some bad thoughts with the start of the construction of a bridge next to the river, that make him hate himself, feeling like he is a selfish and mean person. Meanwhile, one night he finds a girl floating on the river, whom he immediately takes home and takes care of her wounds. Some days later he learns that there was a family massacre at a village close to them and a girl is missing. The girl barely speaks at the beginning, but they end up staying together.
The more time passes, the more Toichi's psychological state worsens, and the film gives some food for thought concerning the need for the protection of the environment, as we see the protagonist mentioning that since the start of the bridge construction, there are no fireflies anymore. Generally environmentally friendly values and lifestyle are recurring themes throughout movie. There are a lot of traditional references and the presence of supernatural element; we have the presence of a ghost, we have a festival and some mentions of reincarnation, while the girl's name alludes to the presence of a divine entity assisting Toichi, like a wind helps a ferryman.
They Say Nothing Stays the Same (2019)
Director and writer Joe Odagiri did a very good job introducing us to another world, and making us appreciate nature even more. Watching this film made me feel as if I were on vacation and the atmosphere is so serene and relaxing. Also, the elements of folklore add a lot of suspense to an already mysterious concept since there are many details that are left drifting about the main characters that make the film more appealing. I really enjoyed the cinematography and the use of water throughout the movie. I believe that even viewers who do not really like nature would be captivated by the visual aspect and calming effect it has, which in fact helps with the film's slow pace and long run time.
Akira Emoto delivers an amazing performance as Toichi and he successfully conveys to us the inner thoughts and emotions of a ferryman experiencing a crisis. He realizes that he will not be useful to other people anymore because of the new bridge. Ririka Kawashima was very good at playing the mysterious girl, even though her character does not have a lot of dialogue. Nijirô Murakami and Masatoshi Nagase are also very convincing in their roles playing Genzo and Nihei (Toichi's acquaintance) respectively.
As far as the ending is concerned, I have mixed feelings. On the one hand it is very vague, and ambiguous endings are not always my favorite, but on the other hand I cannot think of a better way for the movie to end.
They Say Nothing Stays the Same will be released on DVD & Digital February 15, 2022 from Film Movement
---
Rating Certificate: NR
Studios & Distributors: Kinoshita Group | Kino Films | Kino Films International Sales | Film Movement
Country: Japan
Language: Japanese
Run Time: 137 Mins.
Aspect Ratio: 2.35:1
Director: Joe Odagiri
Written By: Joe Odagiri