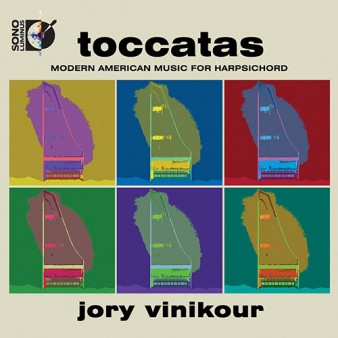 – –

The Album
[Rating:4/5]
Many classical music fans would consider the harpsichord as primarily suited for the Baroque-era compositions that were dedicated to this instrument. It will come then as quite a surprise that a number of the leading composers of the 20th century had renewed interest in writing for the harpsichord. Even better news is that this solo recital comes from Jory Vinikour, one of the most acclaimed harpsichordists gracing today's stages.
Appropriately titled Toccatas, this hour-long program contains several works specifically written for Vinikour by Stephen Blumberg, Harold Meltzer, and Patricia Morehead. As stated in the performer's excellent liner notes,  "During my years of study, first as a pianist, later as a harpsichordist, I always felt compelled to perform new works written by my peers and my professors. The impetus for this recording is derived from this curiosity. In 2010, my friend Stephen Blumberg invited me to present a recital of 20th century American harpsichord recital at the New American Music Festival in Sacramento. This rare opportunity provided me the occasion to immerse myself in the preparation of fascinating repertoire by important composers."
The program consists of nineteen brief compositions, none lasting much more than eleven minutes:
Recitative and Toccata Percosa (Mel Powell): 7:46
Ostinato (Henry Cowell): 2:24
Sonata in 3 movements (Samuel Adler): 11:09
Profiles, two movements (Robert Muczynski): 4:14
Three Movements: Semi-Suite (Thomas Benjamin): 6:31
Saraband (Robert Moevs): 4:53
Gyre (Stephen Blumberg): 7: 26
Tourbillon Galaxy(Patricia Morehead): 3:10
Five Toccatas (Harold Meltzer): 11:29
As a musical term, a toccata is intended to show off a performer's virtuosity by using a free style typified by chords, elaborate runs and tricky harmonies. In this respect, these works all adhere to the original meaning of this term. It is clear from hearing Vinikour's extraordinary musicianship that he meets the technical challenges posed by each toccata.
Audio Quality
[Rating:4.5/5]
The 2005 double manual French harpsichord built by Thomas and Barbra Wolf is modeled after an early 18th-century instrument constructed by famed French harpsichord maker Nicolas Dumont. The lossless DTS-HD-Master Audio 5.1 version (192kHz/24-bit resolution) is very closely recorded and produces a very large sound image with truly extraordinary dynamics. For those wishing a slightly smaller, more centrally focused version, the two-channel alternative would fill that bill perfectly. The 7.1 channel (96kHz/24-bit) was not evaluated.
Supplemental Materials
[Rating:4/5]
There is the usual bonus CD of this fine program and what I consider extraordinary liner notes by the performer (as previously noted), brief bios of the composers, and for many of selections, performance notes by the composers themselves.
The Definitive Word
Overall:
[Rating:4/5]
This Blu-ray Audio disc, like nearly all of the Sono Luminus recordings that I have had the pleasure of reviewing, exhibits extremely high production values. That said, this is a program that would be better sampled then listened in one continuous session. I am making this  recommendation as there is a certain similarity among many of the compositions that would run the risk of monotony, particularly for listeners who are new to harpsichord recitals.  Conversely, listeners who are experienced harpsichord fans and think that they will be getting  J.S. Bach, J.P. Rameau or D. Scarlatti may not take to the obviously modern idiom of these works. For my part, I found the program to be continually fascinating and was frequently stunned by Vinikour's expert negotiation of some truly challenging and rewarding works.
[amazon-product]B00F9KCVUS[/amazon-product]