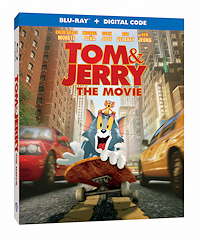 Director Tim Story (Fantastic Four, Barber Shop) brings Tom and Jerry the Movie to the big (and little) screen. This is one of the Warner Bros. films that premiered day-and-date both in theaters and for a 30-day period on HBO Max. The classic Hannah-Barbera characters are in tip-top form in this feature film that mixes their animated world with live action in a slapstick comedy adventure that takes place in an alternative universe, you know, the kind the series always seemed to be in, where physics was defied, talking animals mingle with humans, and, oh yeah, all of the animals are animated, and no one seems to notice.
The perennially feuding duo make their way to the big city – New York City to be exact – where they end up at the ritzy Royal Gate Hotel, just before New York socialites Ben (Colin Jost) and Preeta (Pallavi Sharda) are to hold their big wedding. Jerry Mouse takes up residence in the hotel and Tom Cat, trying everything he can to get in fails multiple times until eventually making his way in to get at his nemesis. Meanwhile, Jerry has been spotted and caused a major stir – a mouse in the hotel! Newly hired temp worker Kayla (Chloë Grace Moretz) hires Tom to catch Jerry before the big wedding and chaos ensues.
The typical topsy-turvy, kinetic energy of a Tom and Jerry short is infused into this feature and cast, which also includes Michael Peña and Jordan Bolger, are fantastic at playing this whole thing so light and tongue-in-cheek. The animation and live action blend together brilliantly showing how far this sort of technology has come since the days of Mary Poppins or even Who Framed Roger Rabbit. The only downside to this film is there really no story arc here. It's like a very lengthy episode of Tom and Jerry. The series was fun in its small doses, but that lack of a strong script or feeling of an actual point to everything can begin to get tiring.

The Video
Tom and Jerry was shot in 6K on the Sony VENICE camera with Panavision Primo 70 and Primo Artiste lenses and used a 4K DI. It arrives on Blu-ray in a beautiful, flawless 1.85:1 AVC 1080p encodement that has a clean crisp appearance, looks wonderfully cinematic, and has excellent vibrance in the animated colors. The live-action parts have natural colors and nuanced shadows with bright white levels.
The Audio
Tom and Jerry comes with an English Dolby Atmos mix on Blu-ray that is impressive for this sort of comedy. There is plenty of 'height awareness' in the mix, very good depth in the low-end, and full clean dialogue. We get a lot of strong stereo panning to follow action across the screen. The musical soundtrack also sounds very robust and spacious, balanced nicely into the mix. The Indian wedding scene offers some of the most opportunities to show off all of the channels at work in this mix. This is definitely reference material.
The Supplements
The bonus features included on the Blu-ray are all lighthearted fare, some of them maintaining the fictional, alternate universe of the world of Tom and Jerry, which may be fun for some older kids to watch. The gag reel is silly fun as well and the deleted scenes are interesting. Some of the brief 'making of' features, like Bringing Tom & Jerry to Life, are also cool.
Movies Anywhere Digital Code
Deleted Scenes (1080p; 00:13:34):

Home Destroyed
Job Hopper Task in Park
Tom Hit by a Truck
Kayla's at Sadie's Apartment
Tom on Stilts
Kayla Shown Hotel Room
Tom Dream
Terence in the Car on the Phone to London Hotel
NY Tour/Tom and Jerry Street Portrait
Jackie and Kayla at Cake

Gag Reel (1080p; 00:03:01)
Bringing Tom & Jerry to Life (1080p; 00:14:11)
Tom & Jerry's World (1080p; 00:04:17)
The Feud: #TeamTom vs. #TeamJerry (1080p; 00:04:15)
Jerry's "A House for a Mouse" (1080p; 00:03:58)
The Tom & Jerry Guide to New York City Wildlife (1080p; 00:04:52)
Inside the Wedding of Ben and Preeta (1080p; 00:05:24)
A Scene Comes to Life:

Scene #1 – Ben and Preeta's Wedding (1080p; 00:05:11)
Scene #2 – Animal Lockup (1080p; 00:03:54)
The Final Assessment
It's like the classic series never went away and since are beloved cat and mouse never spoke, they're not even ruined by voice actors that sound similar but not quite like the originals. This is good fun and a great Blu-ray.
---
If you found this article useful please consider clicking the button below and donating to help keep TheaterByte funded, which will allow us to continue posting great content.
---
Tom and Jerry the Movie is out on Blu-ray+Digital 18 May 2021 from Warner Bros. Home Entertainment

---
Rating Certificate: PG (for cartoon violence, rude humor and brief language)
Studios & Distributors: Warner Animation Group | Hanna-Barbera Productions | Keylight Productions | Lin Pictures | The Story Company | Turner Entertainment | Warner Bros. Animation | HBO Max | Warner Bros. Home Entertainment
Director: Tim Story
Written By: William Hanna (based on characters created by) | Joseph Barbera (based on characters created by) | Kevin Costello (written by)
Run Time: 101 Mins.
Street Date: 18 May 2021
Aspect Ratio: 1.85:1
Video Format: AVC 1080p
Primary Audio: English Dolby Atmos
Secondary Audio: English DD 5.1| English Descriptive Audio | French DD 5.1 | Spanish DD 5.1 | Portuguese DD 5.1
Subtitles: English SDH | French | Spanish | Portuguese