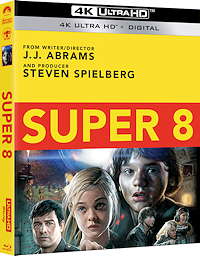 This is what I like to think of as a spectacular rebirth of Steven Spielberg's E.T. for a new generation, ironically set in 1979, only this time the aliens aren't as friendly, the special effects are way cooler, and the kids are just a little edgier. Written and directed by J.J. Abrams (TV's Fringe, TV's LOST, Armageddon) with Steven Spielberg (TV's The Pacific and Band of Brothers) on board as producer, Super 8 is an action-packed sci-fi thrill ride packed with energy from beginning to end.
A group of kids in Ohio (Joel Courtney, Riley Griffiths, Ryan Lee, Gabriel Basso, Zach Mills, and Elle Fanning) who like to make zombie movies on Super 8mm film around their small town capture a major train wreck one night as they are filming. When they realize that the crash was caused on purpose, the kids set out to discover the reason behind it. Not long afterwards, the Air Force moves into the town and strange things start occurring, like all the town's dogs running away, car engines disappearing, and power outages. Soon, the kids are embroiled in something they could never have imagined, and one of them (Fanning) must be rescued from a terrible unseen creature all in the middle of what has become something resembling a war zone.
Super 8 is spectacular and will have you at the edge of your seat with your heart racing, your fists pumping, and your hairs standing. Each of the kids in this film does a wonderful job. They have that wide-eyed sense of wonder and adventure, but the real standout, probably not surprisingly, is Elle Fanning, who is given a few moments to lay down some dramatic chops. Overall, a wonderful effort.
The Video
Super 8 was originally shot on Arriflex 16 SR3, Arriflex 435, Bell & Howell Eyemo, Panavision Panaflex Millennium XL2, and Red One MX cameras in 16mm (Kodak Vision3 200T 7213, Vision3 500T 7219), 35mm (Kodak Vision3 200T 5213, Vision3 500T 5219), 8mm (Kodak Vision3 200T 5213, Vision3 500T 5219) and Redcode RAW (4.5K). Paramount has newly remastered the film in 4K with a 4K DI. This new 4K Ultra HD is taken from that 4K DI and encoded in HEVC 2160p (4K UHD) with Dolby Vision (compatible with HDR10). This has always been a quite grainy looking film that lingers in the darkness and tending towards some murkiness in the shadows, but the high contrast look and cinematography always looked brilliant, particularly with the accent of Abram's anamorphic lens flairs. This 4K release takes what was a brilliant 2011 Blu-ray HD release and turns it up. The film looks as it should with no issues like aliasing, jaggies, or haloing. The murkiness is still there, but shadows avoid collapsing into crush. Finer detail is sharp, stepping it up over the Blu-ray a touch and the Dolby Vision adds more 'pop' to the already high contrast look of the film so specular highlights in headlights, flashlights, the explosions, and fire really stand out even if the 4K transfer has some of the visual effects looking a little less believable than they did ten years ago.
The Audio
We don't get an Atmos or DTS:X remix for Super 8 but we do still get the awesome Dolby TrueHD 7.1 mix from the 2011 Blu-ray release that remains a reference quality audio track. When I reviewed this in 2011, I wrote "wow!" and my thoughts remain the same, from the booming train crash in Chapter 3 that resonates through the subs and pans through the surrounds to sound of the alien tearing through the top of the bus that almost sounds like it is coming from above you even without Atmos overhead channels. There is wide dynamic range, big low end, and very clear dialogue in this lossless mix.
The Supplements
Paramount ports over the same supplements that accompanied the film on their 2011 Blu-ray release of Super 8 for this 4K Ultra HD release and they also include a Digital Code. See below for details.
Digital Code
Commentary by J.J. Abrams, Bryan Burk, and Larry Fong
Featurettes (1.78:1;1080p; 01:37:15):

The Dream Behind Super 8 – Abrams talks about his time as a kid making Super 8 movies.
The Search for New Faces – Casting the child stars for Super 8.
Meet Joel Courtney – A look at the young star of Super 8.
Rediscovering Steel Town – A look at the location in West Virginia where Super 8 filmed.
The Visitor Lives – Designing the alien visitor for the film.
Scoring Super 8 – Composer Michael Giacchino talks about scoring the music for Super 8.
Do You Believe in Magic? – Cinematographer Larry Fong shows off some of his magic tricks.
The 8mm Revolution – Steven Spielberg, J.J. Abrams, Larry Fong and others talk about growing up and making movies on Super 8mm.

Deconstructing the Train Crash – This interactive map allows you to select interview segments with J.J. Abrams, Larry Fong and others, see production footage, find out about the special effects from folks at ILM (Industrial Light and Magic) and even view early storyboards of this pivotal train crash scene.
Deleted Scenes (2.35:1; 1080p; 00:12:47):

Inside the 7-Eleven
Joe Writes New Pages
Joe Gives Charles New Pages
Jack Searches the Gas Station
Inside the Car Dealership
Joe gets in Trouble
Lucy Goes Missing
Dry Brush Technique
Army Navy Store
Joe Watches Home Movies
Saying Goodnight
Cube Shakes the Red Trucks
Jack Finds Joe's Backpack
Joe and Cary Discover the Coffins
The Final Assessment
This film lends itself well to 4K and HDR even as the added resolution exposes a few more warts in the varied film sources and more of the graininess. The contrast, nuance, 'pop' and definitely the awesome lossless 7.1 mix are wonderful home theater fare. Recommended.
---
If you found this article useful please consider clicking the button below and donating to help keep TheaterByte funded, which will allow us to continue posting great content.
---
Super 8 is out on 4K Ultra HD + Digital Code May 25, 2021 from Paramount
---
Rating Certificate: PG-13 (for intense sequences of sci-fi action and violence, language and some drug use)
Studios & Distributors: Paramount Pictures | Amblin Entertainment | Bad Robot | K/O Camera Toys | Paramount Home Entertainment
Director: J.J. Abrams
Written By: J.J. Abrams
Run Time: 111 Mins.
Street Date: 25 May 2021
Aspect Ratio: 2.35:1
Video Format: HEVC 2160p (4K UHD)
HDR Format: Dolby Vision (HDR10 compatible)
Primary Audio: English Dolby TrueHD 7.1
Secondary Audio: English Audio Description | German DD 5.1 |Spanish (Castilian) DD 5.1 | French DD 5.1 | French (Canadien) DD 5.1 | Italian (DD 5.1) | Japanese DD 5.1
Subtitles: English | English SDH | German | Spanish (Castilian) | French | French (Canadien) | Italian | Japanese | Dutch