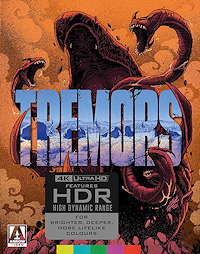 Tremors is the quirky 1990 cult horror/comedy film from director Ron Underwood and co-writers S.S. Wilson and Brent Maddock (Short Circuit). Coming out shortly before the boom in CGI visual effects, this now-cult film which is one of the rare horror films set nearly entirely during the daytime follows a pair of working-class buddies, Val (Kevin Bacon) and Earl (Fred Ward) trying to make it out of their tiny town of Perfection, Nevada (population: 14) when strange gruesome deaths start occurring and trapping them.
As Val and Earl make try to make their way out of town, bodies start turning up dead and mutilated and earthquake-like tremors begin occurring. They discover there are giant, wormlike creatures underground. Scientist Rhonda LeBeck (Finn Carter) in town studying the seismic activity joins the fray as the three and soon the whole town find themselves battling these crazy and dangerous creatures.
Tremors is pretty much nonstop action and Underwood keeps it going from beginning to end. It's a mixture of western, B-grade horror, and comedy, with gorgeous cinematography from Alexander Gruszynski. Underwood uses the Stephen Spielberg technique from Jaws to keep the practical effect of the monsters or Graboids in this relatively low budget film partially visible to aid with the impact, and it works.
This is an excellent throwback to the creature features of the Universal creature features of 1950s, the second such film I have reviewed this week, the other being the 2020 film Love and Monsters. This will be an excellent companion to that film.


The Video
Tremors was originally shot on Arriflex Cameras and lenses on 35mm film stock and this new 4K Ultra HD Blu-ray is taken from a new 4K restoration undertaken by Arrow from the original 35mm camera negative and approved by director Ron Underwood and director of photography Alexander Gruszynski. It arrives framed at 1.85:1 in HEVC 2160p (4K) with Dolby Vision HDR taken from a 4K DI.
The first thing you notice in Tremors and what seems to be a signature of Arrow's restorations is the film's grain structure is preserved beautifully even as the film looks quite clean and free of issues with dirt or scratches. There's so much detail in the close-ups and midrange shots and only an occasional issue with some frames that look out of focus or soft.
The Dolby Vision is used very subtly. If you are looking for highlights with a lot of 'pop' you won't find it here. Just check out the scene starting at 40:39 when it changes from twilight to nighttime. If ever there was a time to see some real 'pop' that would be it, but the stars don't really standout much, even though the shadow detail is superb still. Comparing the same scene on the Blu-ray, there is very little difference. The Dolby Vision on the 4K seems to add more color gradations than on the Blu-ray. Things look more vibrant. For instance, Rhonda's red shirt in the opening looks really red on the 4K, and the red on the Blu-ray is a little more subtle. The same goes for the color of the dirt and sand where on the 4K there are little hints of terracotta and other colors and on the Blu-ray it looks flatter, like just tans or light browns.
The Audio
Arrow provides Tremors with a restored version of the original theatrical stereo mix in DTS-HD Master Audio 2.0 as well as DTS-HD Master Audio 4.0 Surround and remixed DTS-HD Master Audio 5.1. There's really no way to go wrong with any of these three mixes. The dialogue is the clearest and fullest in the new 5.1 mix, but the 4.0 and 5.1 are quite similar and engaging with wide separation, placement of sound effects, and the spread of the musical score. The stereo mix is also no slouch for anyone wanting to stick with authenticity, offering up great dynamics, wide stereo imaging, and clean dialogue.
The Supplements
This is what five-star, premium, collector's edition special features looks like. All credit to Arrow for not only gathering together hours of new and archival featurettes, documentaries, and commentaries that are worth sitting down and watching or listening to, but also including lots of collectibles.
60-page perfect-bound book featuring new writing by Kim Newman and Jonathan Melville and selected archive materials.
Large fold-out double-sided poster featuring original and newly commissioned artwork by Matt Frank.
Small fold-out double-sides poster featuring new Graboid X-ray art by Matt Frank.
Six double-sided, post-card-sized lobby card reproduction artcards.
Limited Edition packaging with reversible sleeve featuring original and newly commissioned artwork by Matt Frank.
Disc 1 – Feature & Bonus Features (4K Ultra HD)
Commentary by Ron Underwood, Brent Maddock, & S.S. Wilson
Commentary by Jonathan Melville
Making Perfection (1080p; 00:31:06) – This new documentary by Universal Pictures looks at the making of the film and its enduring legacy, featuring newly filmed interviews with then cast and crew including Kevin Bacon, Michael Gross, Ariana Richards, Ron Underwood, S.S. Wilson, Brent Maddock, and many others.
The Truth About Tremors (1080p; 00:22:02) – A newly filmed interview with co-producer Nancy Roberts looking back at the film's rocky road to the screen.
Bad Vibrations (1080p; 00:10:46) – A newly filmed interview with director of photography Alexander Gruszynski
Aftershocks and Other Rumblings (1080p; 00:12:37) – A newly filmed interview with associate producer and second unit producer Ellen Collett.
Digging in the Dirt: The Visual Effects of Tremors (1080p; 00:20:59) – A new featurette about the film's extensive visual effects, with the former crews of Fantasy II Film VFX and 4-Ward Productions VFX.
Music for Graboids (1080p; 00:13:35) – A new featurette about the film's music score, with composers Ernest Troost and Robert Folk.
The Making of Tremors (1080i upscaled; 00:44:15) – An archival documentary from 1996, directed by Laurent Bouzereau, tracing the production of the film through interviews with the filmmakers and special effects teams.
Creature Featurette (1080i upscaled; 00:10:26) – A compilation of on-set camcorder footage showing the making of the Graboids.
Deleted Scenes (1080p; 00:05:02) – Four deleted scenes (formerly released as "Outtakes"), including the original opening scene of the film.
Pardon My French! (1080p; 00:16:17) – A newly assembled compilation of overdubs recorded for the network television version of the film.
Electronic Press Kit – These short featurettes were produced by Universal Pictures to promote the film on its theatrical release in 1990:

Featurette
Kevin Bacon Profile
Michael Gross Profile
Reba McEntire Profile

Trailer Gallery:

Theatrical Trailer 1
Theatrical Trailer 2
TV Spots
VHS Promo
Tremors Franchise Trailers
Radio Spots

Image Galleries (1080p)

Production Stills
Behind the Scenes
Laserdisc Image Gallery
Screenplay Draft (draft 6, 1988)
Screenplay Draft (draft 8b, 1989)
Storyboards
Posters & Video Artwork
Disc 2 – Interviews & Short Films (Blu-ray – Limited Edition Exclusive)
Extended Interviews from Making Perfection (1080p)

Ron Underwood (00:47:44)
S. Wilson (01:21:43)
Brent Maddock (01:03:05)
Nancy Roberts (00:50:36)
Alec Gillis (00:59:31)

Arclight Hollywood 2015 Q&A (1080p; 01:11:09) – These 25th anniversary Q&As, hosted at the ArcLight Hollywood 2015 and featuring sixteen cast and crew members, were filmed from the audience by Tremors expert Jonathan Melville.

Pre-Film Q&A (Cast)
Post-Film Q&A (Crew)

Gag Reel (1080i upscaled; 00:09:52) – The original gag reel assembled for the film's wrap party, with optional partial commentary and introduction by co-writer/producer S.S. Wilson.
Early Short Films:

Recorded Live (1080p; 00:08:11) – S.S. Wilson's horror-comedy student film, presented courtesy of USC School of Cinematic Arts
Dictionary: The Adventure of Words (1080p; 00:16:26) – An educational film directed by Brent Maddock, produced by Ron Underwood, and featuring stop motion animation by S.S. Wilson.
Library Report (1080p; 00:24:31) – An educational film directed by Ron Underwood featuring stop motion animation by S.S. Wilson. The animated robot character would later inspire Maddock and Wilson's screenplay for Short Circuit.
The Final Assessment
A gorgeous, bonus-packed release for this fun, cult horror/comedy film out on 4K from Arrow. Recommended for horror fans or comedy fans.
---
If you found this review useful please consider clicking the button below and donating to help keep TheaterByte funded and to allow us to continue posting great content.
---
Tremors (2-disc Limited Edition) is out on December 15, 2020 from Arrow Video
---
Rating Certificate: PG-13
Studios & Distributors: Universal Pictures | No Frills Film Production | Wilson-Maddock Production | Arrow Video
Director: Ron Underwood
Written By: S.S. Wilson (story & screenplay) | Brent Maddock (story & screenplay) | Ron Underwood (story)
Run Time: 96 Mins.
Original MSRP: $59.95
Aspect Ratio: 1.85:1
Video Format: HEVC 2160p (4K)
HDR Format: Dolby Vision (compatible with HDR10)
Primary Audio: English DTS-HD MA 5.1
Secondary Audio: English DTS-HD MA 2.0 Stereo | English DTS-HD MA 4.0
Subtitles: English SDH