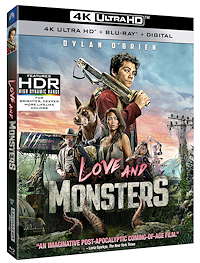 In only his second feature film, director Michael Matthews gives us Love and Monsters, a 2020 entry that in many ways is the perfect film for what is a difficult, stressful year.
This post-apocalyptic creature feature follows Joel (Dylan O'Brien) a lonely survivor of the results of humanity's attempt to save the Earth from an asteroid. The asteroid was heading toward the planet and the Earth's governments all aimed nuclear weapons at it and blew it up. A success! Wrong. The fallout from the bombs fell back to Earth and caused all the creatures and critters to mutate, resulting in monsters like giant man-eating frogs, giant ants, massive snails, and all sorts of other mutated beasts. We first meet Joel seven years earlier with his then sweetheart Aimee (Jessica Henwick), making out in a car, a typical teenage scene, but this is no ordinary make out session. The teens have apparently been stealing a moment alone before complete disaster breaks out. We soon see missiles launching on what comes into focus in the background – a giant insect of some sort. Joel and Aimee must rush away to get back home to their parents, Aimee leaves Joel and the two say their goodbyes and I love yous.
Seven years later, the few people left have been split up into colonies in underground bunkers. In Joel's colony he is the only one still single. Everyone has paired off, but he still dreams of finding Aimee and picking up where they left off. He manages to find her colony on the CB radio and has been speaking with her, which inspires him to leave and brave the danger of the outside world to travel the 85 miles to get to where she is. The only problem is, he has never even been able to help his own colony on their scavenging expeditions. Ever since witnessing his parents die as they tried to evacuate when he was a teenager, he just freezes in the face of danger. He has just been the colony cook known especially for a mean minestrone. But love spurs him on.
On the outside he meets a friendly dog named Boy and older man named Clyde (Michael Rooker) travelling with a young girl named Minnow (Ariana Greenblatt). Boy becomes his permanent travelling partner and Clyde and Minnow travel with him partway, teaching him many survival skills and also rescuing him more than once.
Love and Monsters is a fantastic journey that is not unlike the old 1950s and 1960s creature features, an animated film like Fantastic Planet comes to mind or The War of the Worlds (1953), but it is much more lighthearted, and free from any political undercurrent, which is exactly what we need in the current climate to work as pure escapism. It is a romantic adventure and full of heart while also being funny. The visual effects don't disappoint either. The creatures are quite inventive, scary, but not completely horrifying or nightmarish.
This is the sort of film that will really surprise you with how fun it is and even though the ending is not exactly a surprise and maybe even a bit too outlandish even for this film, it cannot take away from the overall enjoyment of this wonderful popcorn film, and the excellent performances from the entire cast.
The Video
Love and Monsters appears in an HEVC 2160p (4K) encodement with Dolby Vision on this 4K release. I initially spotted some banding in the fade from the opening credits and I was worried, but that would be the last of that. The image settled in to a clean, crisp, colorful, and filmic picture that also made fantastic use of the highlights, which you can really see when Joel sees the flying jellyfish at night with MAV1S. It's a scene that also showcases the superb use of the Wide Color Gamut, which is not crayon-like, but definitely noticeable in comparison to the Blu-ray that is also quite well done but has less nuance and color gradients. Look at the greenery on the Blu-ray in comparison to the 4K and you see how it is less verdant in appearance compared to the 4K.
The Audio
Love and Monsters forgoes the usual Atmos or DTS:X audio mix we get on most 4K releases these days for a DTS-HD Master Audio 7.1 mix. Given my 7.4.2 Atmos/DTS:X configuration, the audio is downmixed to 5.1 for me, but I hardly miss the surround back channels or the lack of immersive audio proving once again that it's not just the format that counts, but how you use it. This mix is awesome, to put it in a word. Growling monsters come from all around, whizzing arrows fly by us, the score fills the channels with good balance and low end is deep.
The Supplements
The deleted scenes are the main attraction of the bonus features, but the brief 'making of' featurettes are also cool to have.
Digital Code
Blu-ray w/ Feature and Bonus Features
Deleted Scenes (1080p; 00:11:50):

Hopeless Romantic
Without Love, What's the Point?
Car Critter
Good Luck Charm
You Guys Are Safe Now
Back at the Bunker

Bottom of the Food Chain: The Cast of Love and Monsters (1080p; 00:07:43)
It's a Monster's World: Creating a Post-Apocalyptic Landscape (1080p; 00:07:03)
The Final Assessment
Buckle up and enjoy the ride with this pure fun, full of heart, and superbly rendered adventure on 4K from Paramount. Highly recommended.
---
If you found this review useful please consider clicking the button below and donating to help keep TheaterByte funded and to allow us to continue posting great content.
---
Love and Monsters is out on 4K Ultra HD Combo, Blu-ray, & DVD January 5, 2021 from Paramount.
---
Rating Certificate: PG-13 (for action/violence, language and some suggestive material)
Studios & Distributors: Paramount Pictures | Entertainment One | 21 Laps Entertainment
Director: Michael Matthews
Written By: Brian Duffield (screenplay by) | Matthew Robinson (screenplay by) | Brian Duffield (story by)
Run Time: 108 Mins.
Street Date: 5 January 2021
Aspect Ratio: 2.39:1
Video Format: HEVC 2160p (4K)
HDR Format: Dolby Vision (Compatible w/ HDR10)
Primary Audio: English DTS-MA HD 7.1
Secondary Audio: English Descriptive Audio
Subtitles: English | English SDH | Spanish