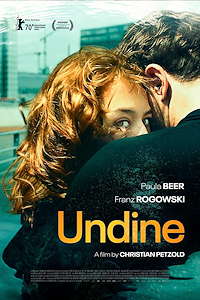 German writer-director Christian Petzold reunites three members of the cast from his 2018 film Transit—Paula Beer, Franz Rogowski, and Maryam Zaree—in this quasi-fairytale that bears the name of a mythological water nymph. If the myth holds true to form, once Undine has bonded with a human, the only way that bond can be broken is with his death.
Undine opens at a coffee bar where the title character is threatening to kill her boyfriend Johannes (Jacob Matschenz) if he leaves her. Undine (Beer) returns to Berlin's urban development museum where, as an historian, she shows visitors some model layouts that display the post-Berlin Wall transformation of a now-united city. After the tour finishes, she is met at the same coffee bar by Christoph (Rogowski), an industrial diver who services the turbines at a large dam. He tells Undine that he was impressed by her talk but then suddenly loses his balance and sends the bar's large fish tank crashing to the floor. Completely doused in water from the broken tank, the pair begin to bond and eventually enter into a steamy relationship.
What might have become an intimate love story takes an unusual twist when Undine and Christoph go for a free dive in the reservoir where Christoph works. As they pass a sunken arch with "UNDINE" carved into it, Undine disappears, removes her scuba gear, and briefly catches a ride on a huge catfish. When her unconscious body rises to the surface, Christoph revives her and begins to suspect that Undine might not be the woman that she appears to be when they are together in his bed.
Johannes is about to break up with his new girlfriend Nora (Julia Franz Richter) and tries unsuccessfully to renew his relationship with Undine. Thinking that Undine loves another man, Christoph abruptly ceases all contact with her. The following day, things take a turn for the worse when, during his next dive, Christoph gets trapped underwater without oxygen for twelve minutes. After being pulled up to the surface, an unconscious Christoph is placed in an intensive care unit.  A frantic Undine rushes to the hospital only to find out from Christoph's diving assistant Monika (Zaree) that he has been declared brain-dead.  Undine does arrive at a sort of fairytale ending—just not the happily-ever-after one that we might have imagined.
Petzold and cinematographer Hans Fromm, who also worked with him on Transit, create a wet world of beautiful imagery that conjures up a bit of The Shape of Water vibe.  Undine's visual techniques also recall some of beautifully shot films of the French New Wave like Last Year at Marienbad in which the storyline is frequently yet effectively subordinated to the pictures on the screen. There is also good use of the surround channels to envelop viewers with the bubbling sounds of a watery environment. I particularly liked the recurrent use of a Bach transcription for piano that enhanced the otherworldly nature of what is happening between Undine and those around her. Whether Paula Beer's character is a real woman in search of an enduring love or a soulless water creature, her award-winning portrayal of Undine is absolutely stellar. The chemistry between her and Rogowski, in spite of his obvious speech impediment, is palpable and makes you hope for the best even though it is more likely than not that myth will triumph over reality. What I also appreciated in Petzold's masterful script is that not everything is completely spelled out for the audience. Really good fantasies like this one should always leave something to our imaginations and make us want to see this film a second time like I did. It is a pity that we are not given more films like Undine to reinforce the notion that motion pictures can be truly an art form and not simply vehicles to make money for the studios. Highest recommendation.
Undine is available now on various VOD & digital platforms.
---
Rating Certificate: Not Rated

Studios & Distributors: Schramm Film | Les Films du Losange | Zweites Deutsches Fernsehen | ARTE | Arte France Cinema | Canal+ | Cine+
Country: Germany | France
Language: German | English
Run Time: 91 Mins.
Aspect Ratio: 1.85:1
Director: Christian Petzold
Written By: Christian Petzold
Release Date: 4 June 2021