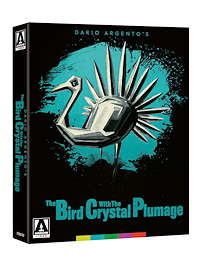 Dario Argento (Deep Red, Suspiria) made his debut in 1970 with The Bird with the Crystal Plumage, a stunning and self-assured first feature that helped to define the giallo genre.
An American writer living in Rome, Sam Dalmas (Tony Musante, We Own the Night), witnesses a brutal attack on a woman (Eva Renzi, Funeral in Berlin) in a modern art gallery, but he is unable to help her, only managing to see the dark figure of the attacker slipping out through the back. Obsessed with the crime and convinced that something he saw that night and a painting are somehow connected to the attack, Sam launches an investigation parallel to the police investigation into the incident to try to track down the maniacal serial killer that has been plaguing Rome with brutal murders of women. But he puts himself and his beautiful girlfriend Giulia (Suzy Kendall, Spasmo) in danger.
The Bird with the Crystal Plumage shows all the earmarks of the style that would come to define Argento's films. It has the strange plot twists, the lavish visuals, brutal violence, the exploitative sexuality. It also has the enticing cinematography of Vittorio Storaro (Apocalypse Now) and a score from Ennio Morricone (Once Upon a Time in the West).  Argento puts together a beautiful blend of the cosmopolitan, horrific, and shocking while using the camera, colors, and edits to obscure the gore rather than serve it right on your face. The film would spawn a wave of imitations out of Italy throughout the early 1970s.
The Bird with the Crystal Plumage (1970)
The Video
This is a new 4K restoration from the original negative by Arrow Films. Originally shot on 2-perf 35mm, the film comes to 4K Ultra HD Blu-ray framed at 2.35:1 in HEVC 2160p (4K UHD) Dolby Vision HDR. The Dolby Vision doesn't add too much brightness, but there is vibrancy in the primary colors, especially the reds and blues. There are moments where specular highlights have nice 'pop' and we see the glisten on the knife blade or when Sam is running through the dark lot near the bus, there's a lot of sheen coming off the metal or sparkle in the lights. There's also natural grain that doesn't look noisy, but a few places do show hints of source damage remaining, likely impossible to remove without deleterious effects.
The Audio
Arrow brings The Bird with the Crystal Plumage to 4K Ultra HD Blu-ray with the original Italian monaural soundtrack and English dub fully restored and presented in DTS-HD Master Audio 1.0. Both soundtracks sound good given the age and limitations of the recording technology and single channel format. Dialogue is clean and intelligible and there is good midrange punch and dynamics.
The Supplements
Arrow has delivered a set packed with bonus features and collectibles, which has become expected from them. The wonderful audio commentary by Troy Howarth is like a running audio trivia track, not that his commentary is trivial, but that he is so well informed on such many of the little details it makes the film that much more interesting. There are also multiple interviews and video essays, and more that should all be watched.
Limited edition packaging with reversible sleeve featuring originally and newly commissioned artwork by Obviously Creative
Illustrated collector's booklet featuring writing on the film by Howard Hughes and Jack Seabrook, and a new essay by Rachael Nisbet
Fold-out double-sided poster featuring original and newly commissioned artwork by Obviously Creative
Six double-sided, postcard-sized lobby card reproduction art cards
Audio commentary by Troy Howarth, author of So Deadly, So Perverse: 50 Years of Italian Giallo Films
Black Gloves and Screaming Mimis (1080p; DV; 00:31:54) – An exclusive interview with critic Kat Ellinger, exploring the film's themes and its relationship to both the giallo and Fredric Brown's novel The Screaming Mimi.
The Power of Perception (1080p; DV; 00:20:57) – An exclusive visual essay by author Alexandra Heller-Nicholas, reflecting on the recurring theme of perception and the role of art in Dario Argento's filmography.
Crystal Nightmare – An exclusive interview with writer/director Dario Argento, recorded for Arrow Video in 2017 (1080p; DV; 00:31:24)
An Argento Icon (1080p; DV; 00:22:05) – An exclusive interview with actor Gildo Di Marco, recorded for Arrow Video in 2017.
Eva's Talking (1080p/60; DV; 00:11:26) – An archival discussion with the late Eva Renzi, originally recorded in 2005.
Trailers (1080p; DV):

Italian trailer
International trailer
2017 Texas Frightmare trailer

Image Galleries (1080p):

Posters
Italian lobby cards
Spanish lobby cards
German promotional materials
US publicity stills
The Final Assessment
A magnificent debut with a shocking twist that showed Argento in full command of the camera. It has never looked as good as it has here with the nuanced shadows, vibrant colors and natural grain. Highly recommended.
---
If you found this article useful please consider clicking the button below and donating to help keep TheaterByte funded, which will allow us to continue posting great content.
---
The Bird with the Crystal Plumage (Limited Edition) is out on 4K Ultra HD July 27, 2021 from Arrow Video
---
Rating Certificate: GP
Studios & Distributors: Seda Spettacoli | Central Cinema Company Film (CCC) | Arrow Video
Director: Dario Argento
Written By: Dario Argento | Fredric Brown
Run Time: 96 Mins.
Original MSRP: $59.95
Street Date: 27 July 2021
Aspect Ratio: 2.35:1
Video Format: HEVC 2160p (4K UHD)
HDR Format: Dolby Vision (HDR10 Compatible)
Primary Audio: Italian DTS-HD MA 1.0
Secondary Audio: English DTS-HD MA 1.0
Subtitles: English for Original Language | English SDH