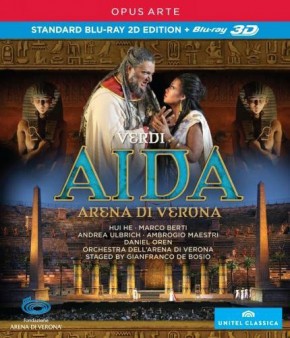 – –

The Performance
[Rating:3/5]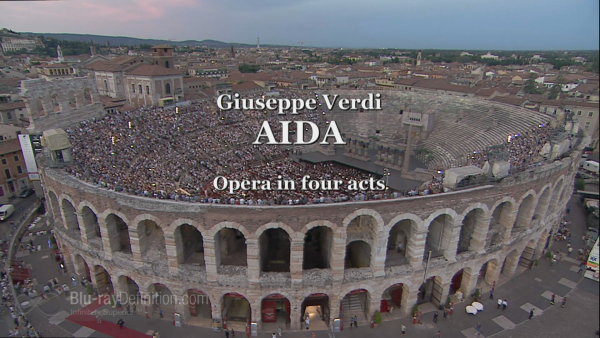 As one of the most popular of Giuseppe Verdi's operas, and certainly one of the grandest, Aida was always intended to be played on a huge stage and this is exactly what we get in the 2012 Arena di Verona production that recreates the original 1913 staging.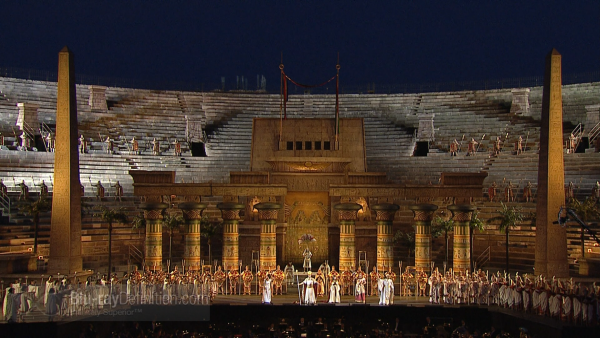 Aida is an intense love triangle involving Radames (Marco Berti), an Egyptian Army officer, Amneris (Andrea Ulbrich), Princess of Egypt, and Aida (Hui He), Amneris's servant but actually Princess of Ethiopia. Amneris suspects that her lover Radames is unfaithful and resolves to reveal her rival (which she eventually accomplishes).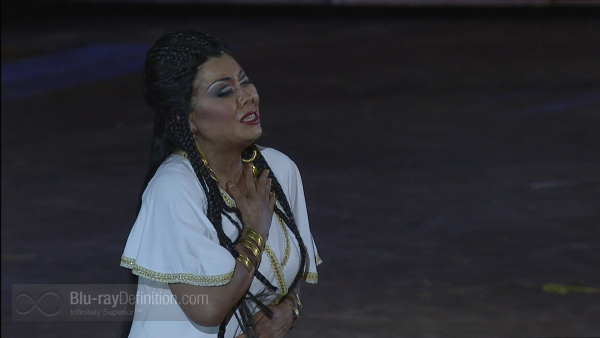 Radames is given command of the Egyptian army to wage war against Ethiopia to Aida's distress.  When Radames returns victorious, he unwittingly has brought Aida's father, the disguised King Amonasro (Ambrogio Maestri) as a prisoner. Later, Amonasro gets Aida to trick Radames into revealing the Egyptian troop routes, as the King plans to escape and regroup his forces.  Radames, having divulged this military secret, is then arrested by Amneris and Ramfis, the High Priest (Francesco Ellero d'Artegna). Radames is condemned to death but Amneris offers to pardon him if he will recant and marry her. When Radames refuses, he is entombed alive but discovers that Aida has secreted herself in his fatal chamber and both face death together.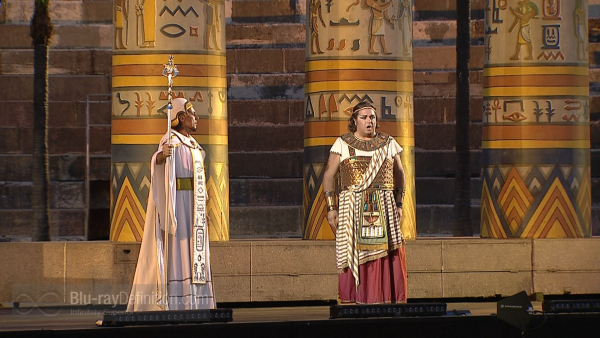 Aida depends on the strengths of its three principals and, on this occasion, we get one out of three. Soprano He is the real deal, always in character and even better than in her previous Blu-ray Maggio Musicale Fiorentino performance. Unfortunately, she is also paired with same tenor, Marco Berti who offers a stentorian delivery with little shading or subtlety and  weakness in his lower register. Mezzo-soprano Ulbricht is simply unpleasant with a thick vibrato and little sense of characterization. Baritone Maestri (also in the MMF Blu-ray) gives us another strong performance as the Ethiopian King. Both principal basses, Ramfis and the Egyptian King (Roberto Tagliavini) lack the requisite gravitas for their respective parts. Maestro Daniel Oren does a good job of keeping his players in line but one can readily hear that the undersized Veronese orchestra is not a top-tier band.
Video Quality
[Rating:2.5/5]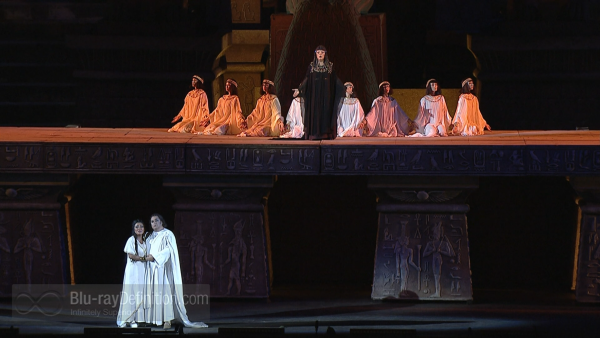 Director Tiziano Mancini is usually a trusted hand at giving us good visuals but this time the master misses the mark. The Good: sensational sets and costumes are that do full justice to the drama. The Act II Triumphal Scene is a truly spectacular with the largest onstage cast that I have ever seen for this opera. The Bad: A puzzling Act IV Tomb Scene as Aida and Radames appear to be out in the open and a 2D version (the 3D option was not possible with my display) laden with motion artifact and some edge-blurring. More Bad: frequent overhead shots with poor contrast and focus.
Audio Quality
[Rating:3.5/5]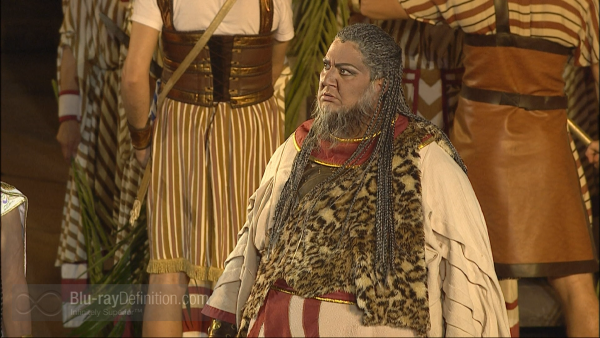 The voices are favored over the pit orchestra, possibly due to the smallish number of players in the pit, but more likely due to mike balance. On occasion, however, the voices seem very distant, particularly in the big chorus moments. There is relatively little ambience in the surround channels of the DTS-HD Master Audio 5.1 soundtrack. The LPCM 2-channel version sounds nearly as good.
Supplemental Materials
[Rating:1.5/5]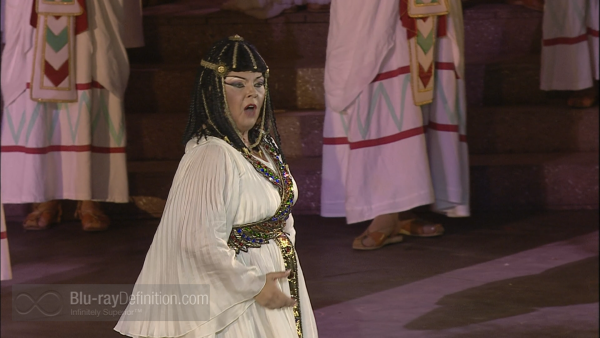 We get a slim program booklet with cast details and a plot synopsis. Besides that, just a cast gallery.
The Definitive Word
Overall:
[Rating:3/5]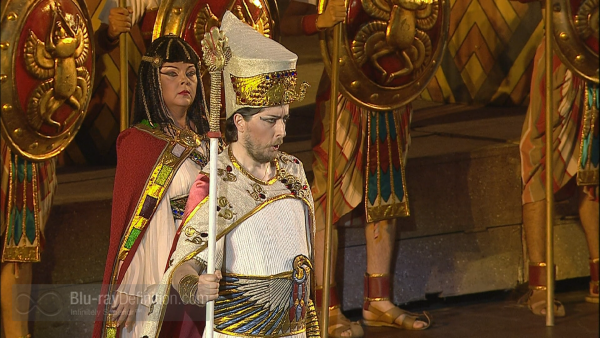 This is the fourth Blu-ray Aida that I have now reviewed. In most performance respects, this Blu-ray is not noticeably better than any of the previous three from Bregenz, Florence, or Parma. Rather disappointing, since those productions set the bar so low that it could literally be walked over. The main (and only) reasons for seeing this Blu-ray is Hui He's moving performance in the title role, Maestri's magisterial Amonasro, and the mammoth Triumphal Scene. Given the popularity of Aida, I keep hoping that another production will appear and give us the performance that we truly deserve.  The Met Opera DVD with Placido Domingo, Aprile Millo, Dolora Zaijck, and led by James Levine remains my go-to version for the present.
Additional Screen Captures
[amazon-product region="uk" tracking_id="B00EWT1824″]B00EWT1824[/amazon-product]
[amazon-product region="ca" tracking_id="bluraydefinit-20″]B00EWT1824[/amazon-product]
[amazon-product]B00EWT1824[/amazon-product]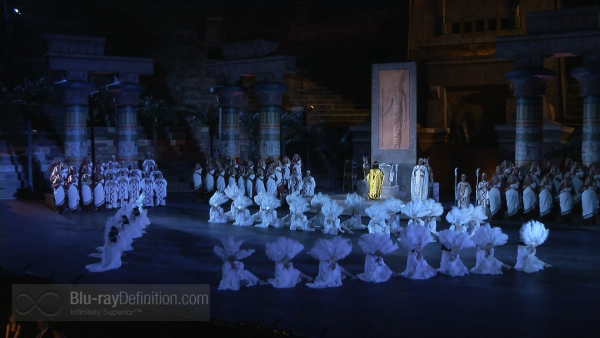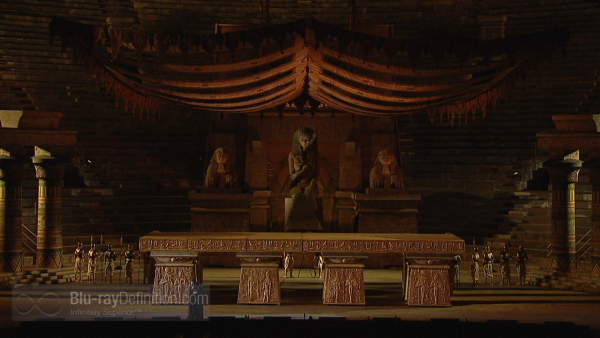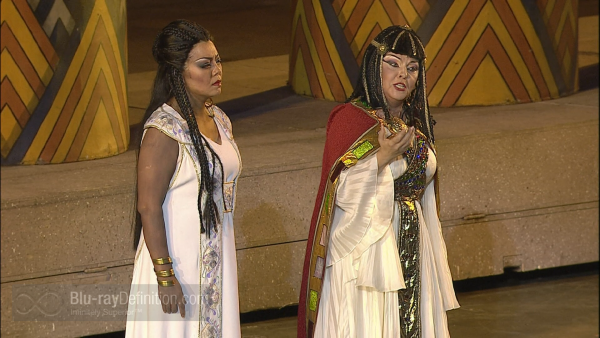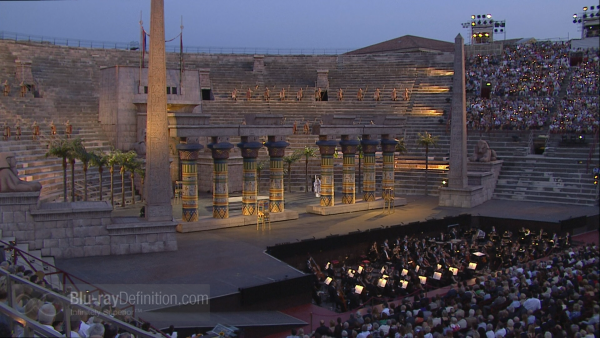 [amazon-product region="uk" tracking_id="B00EWT1824″]B00EWT1824[/amazon-product]
[amazon-product region="ca" tracking_id="bluraydefinit-20″]B00EWT1824[/amazon-product]
[amazon-product]B00EWT1824[/amazon-product]