– (scroll to bottom if musing mobile OS)

The Performance
[Rating:3.5/5]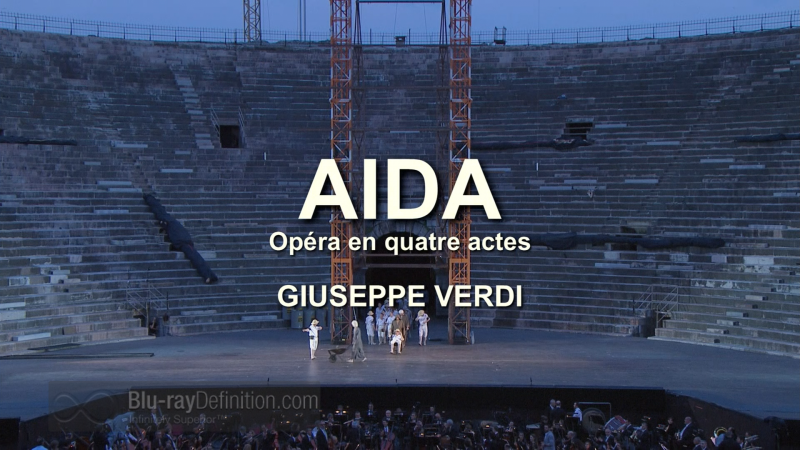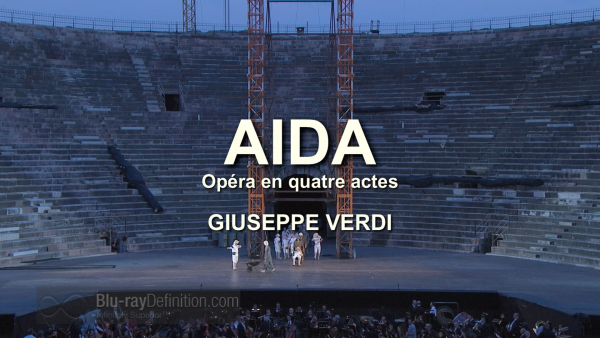 Aida  is the quintessential grand opera in every sense of the term and this 2013 Arena di Verona production is the second from the same venue in the past two years and, staged by Carlos Padrissa's Fura del Baus, could not be more different from its traditional predecessor. The common elements in these two performances are the King (Roberto Tagliavini), Amonasro (Ambrogio Maestri) and soprano Hui He who assumes her third Aida on Blu-ray.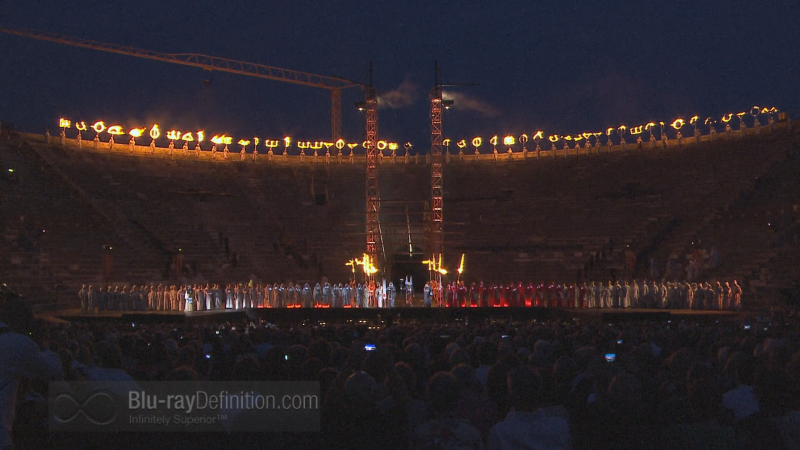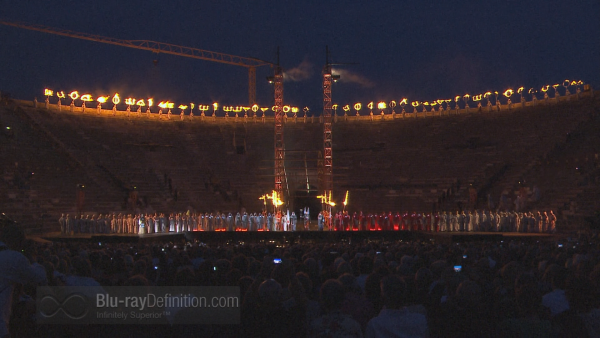 In contrast with many of Verdi's operas, Aida's plot is rather straightforward. Radames (Fabio Sartori) is the love object of two women, Egyptian Princess Amneris (Giovanna Casolla) and her handmaiden Aida (who is really the captured Princcess of Ethiopia).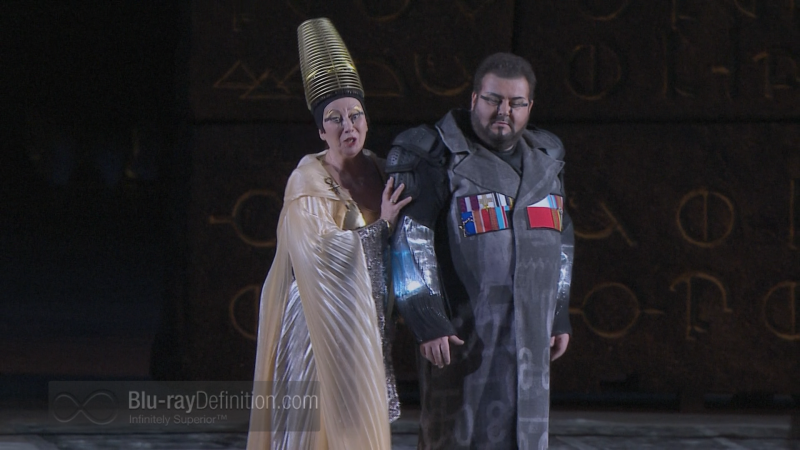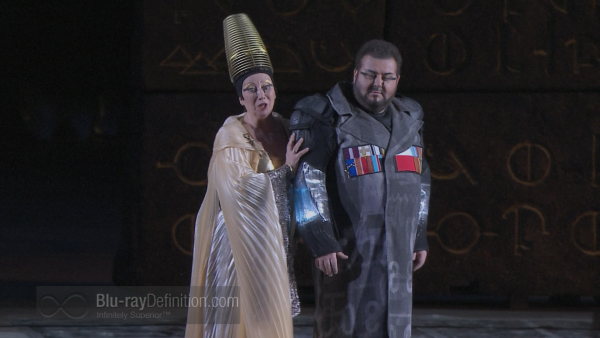 Although Amneris suspects that Radames is in love with another woman, she exults when he is chosen to lead the army against the Ethiopians. The Ethiopians are defeated and their King Amonasro (in disguise) has been captured.  When Amonasro reunites with his daughter, Aida, he compels her to get Radames to reveal his troops' movements so that the King can escape to lead his army  once again into battle. Radames has now betrayed his country and is imprisoned by Amneris and High Priest Ramfis (Adrian Sampetrean). He is condemned to death, and, to Amneris's dismay, refuses to recant and marry her. At the opera's conclusion, Radames is entombed and when he finds Aida hiding there as well, the pair determine to share their fatal outcome.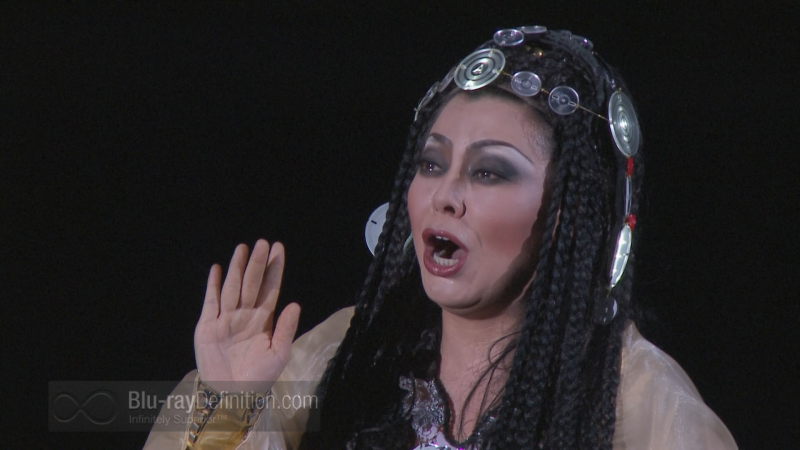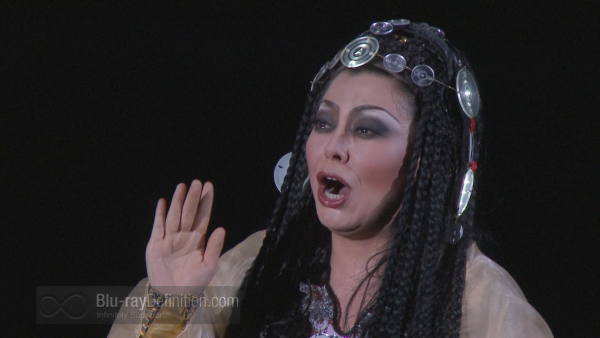 As she has demonstrated in her previous incarnations of this iconic role,  Soprano He has really gotten inside Aida's skin with her best recorded performance to date. We are also fortunate to get a tenor like Sartori who delivers a tasteful and a generally well sung Radames. Masestri, an accomplished comic baritone, seems to own the highly dramatic role of Amonasro. The major weak link in this production is Cassola's Amneris. Nearing 70 years of age and not a true mezzo-soprano to boot, Cassola is clearly overparted for this role.  Young Israeli conductor, Omer Meir Wellber seems to have Verdi in his blood and paces the Veronese players and chorus quite nicely.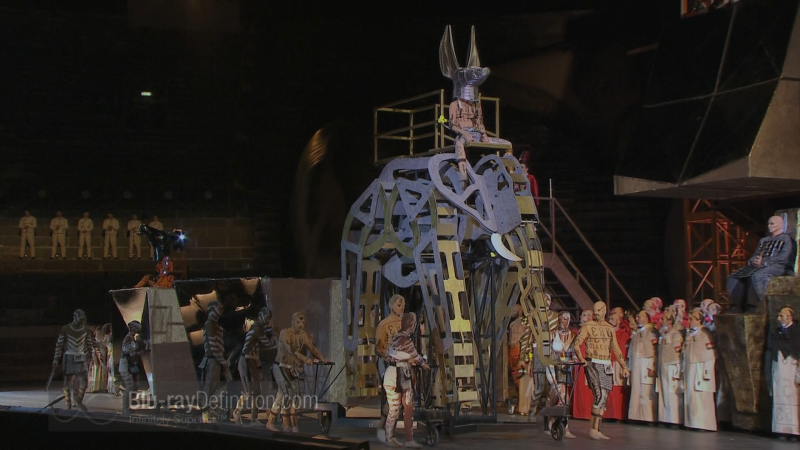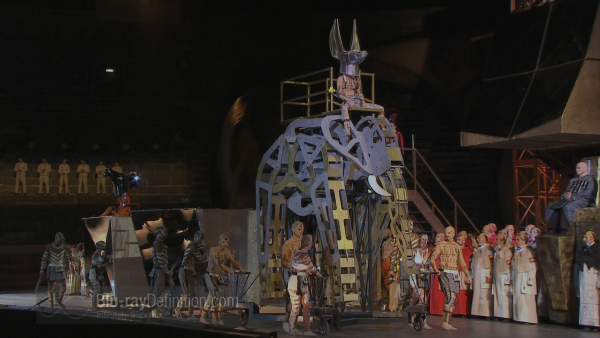 Carlos Padrissa and Àlex Ollé, the Fura del Baus directors, with Roland Olbeter's often over-the-top sets, create a quite unique stage picture for this spectacular opera, complete with projections, shadow presentations, and space-age garbed performers.
Video Quality
[Rating:4/5]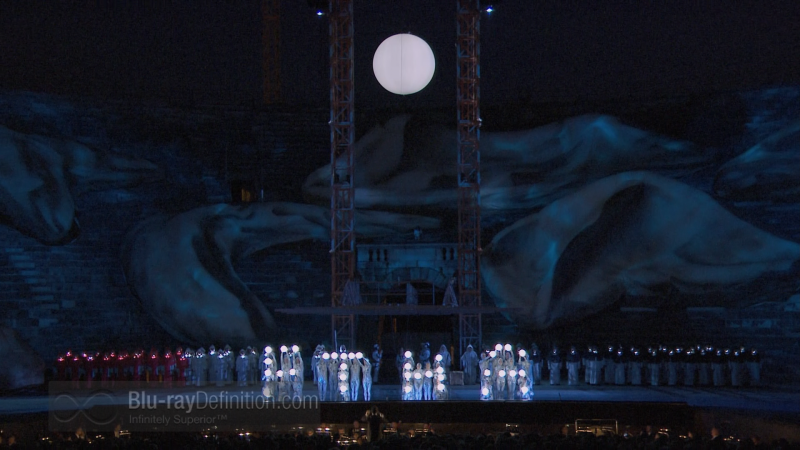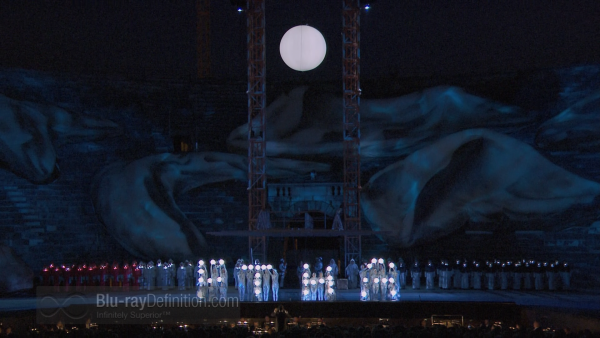 An outdoor production that begins in the early evening and that becomes progressively darker challenges the camera team who deliver a generally good color and details, with only a few shaky moments in the shadows. There is a lot of unusual stage business with some notable hits and misses. The Fura del Baus concepts work quite well in the large choral scenes but the crocodiles in the Nile (complete with water on the stage) during Aida's big Act III aria proved a distraction. The triumphal scene, the visual high water mark this opera,  gets a fairly industrial presentation, complete with soldiers rappelling down the two giant girders that dominate a fairly stark but huge stage. The parade of animal-headed figures in motor scooters and a mechanical camel and elephant add a lighter than usual circus-like touch to the proceedings.
Audio Quality
[Rating:4/5]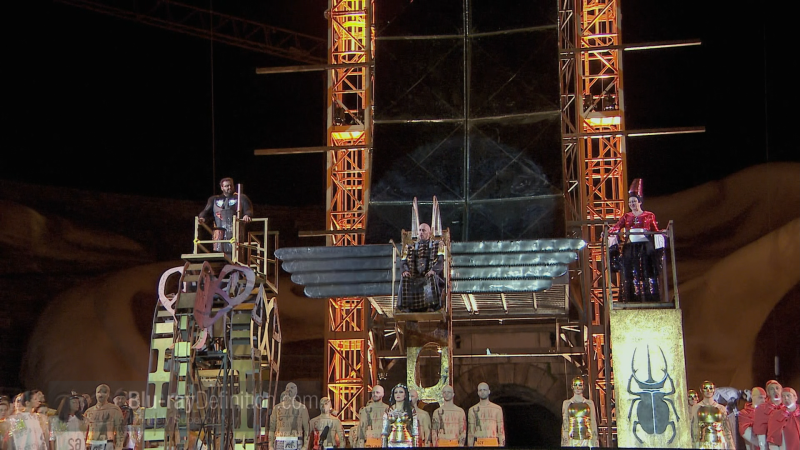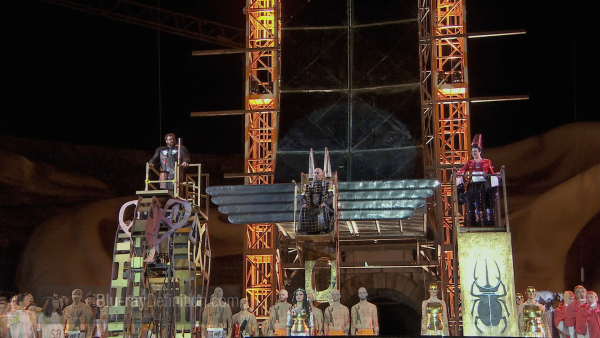 For an outdoor recording, the sound from the exposed pit is excellent and the voices reasonably well balanced if just a bit distant on the stage. The 5.1 DTS-HD Master Audio soundtrack produces more than the usual amount of audience noise in the surround channels that enhances the "live" quality of this recording. The stereo version is fine but just not as compelling.
Supplemental Materials
[Rating:1.5/5]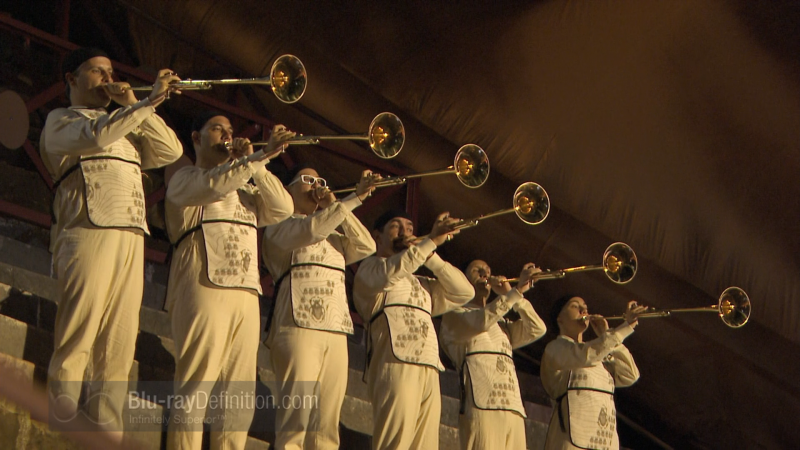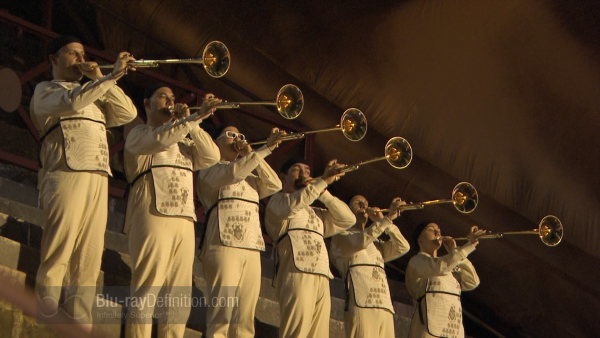 BelAir Classiques is not noted for generous extras, and, sorry to report, that is still the case with this Blu-ray. There is booklet with cast listing and credits as well as a very detailed (and longish) plot synopsis.
The Definitive Word
Overall:
[Rating:3.5/5]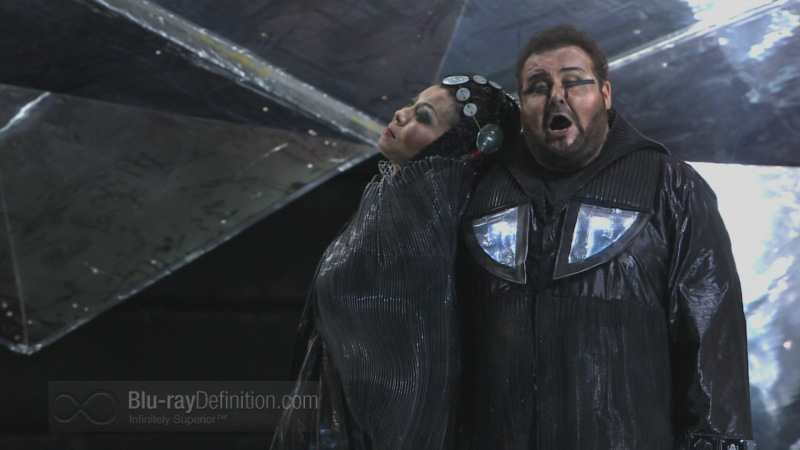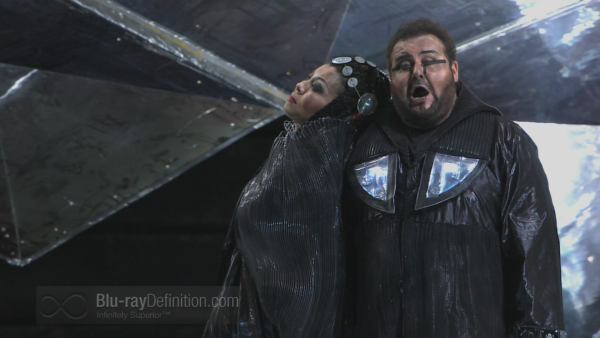 Aida seems to be a Blu-ray favorite child as this is the fifth version that I have reviewed in the past four years.. Unfortunately, each of the preceding four has had some serious flaws, with the previous Arena di Verona version being the best of the lot. The question concerning this most recent release is whether the idiosyncratic Fura del Baus staging will be off-putting for viewers who are more accustomed to more traditional productions like the Franco Zeffirelli version beloved by Metropolitan Opera goers and captured on Blu-ray with Johan Botha, Dolora Zajick and Violeta Urmana as the love-triangle. Unfortunately, the Urmana assumption of the title role is a major drawback, taking this one out of contention. While this Aida will not displace my old James Levine-led Met Opera DVD with Placido Domingo and Aprile Millo, it is the most consistently well sung of the current Blu-rays and certainly worth getting for Hui He's riveting Aida and, with the vocal exception previously noted, a strong supporting cast and excellent musical direction.
Additional Screen Captures
[amazon-product region="uk" tracking_id="bluraydefinit-21″]B00J587L6E[/amazon-product]
[amazon-product region="ca" tracking_id="bluraydefinit-20″]B00J587L6E[/amazon-product]
[amazon-product]B00J587L6E[/amazon-product]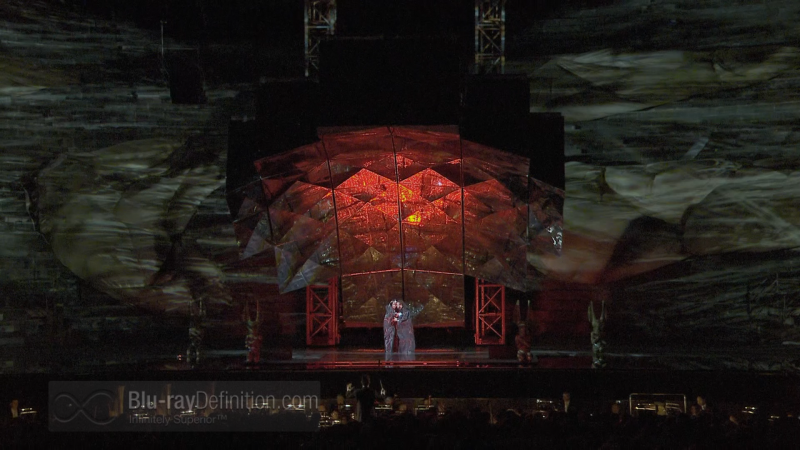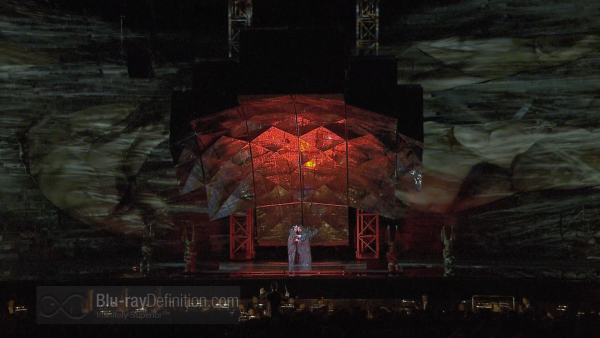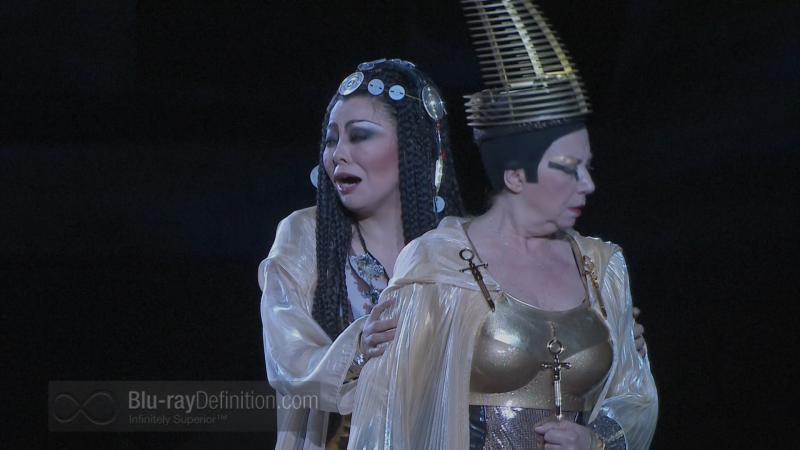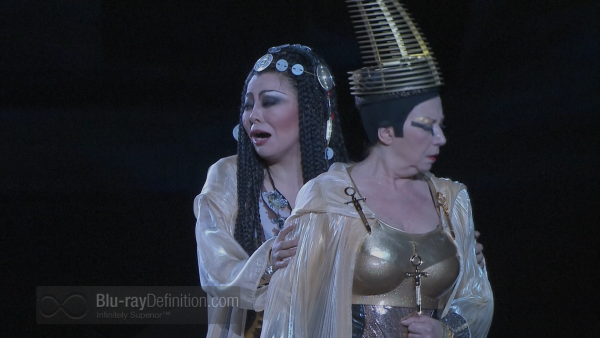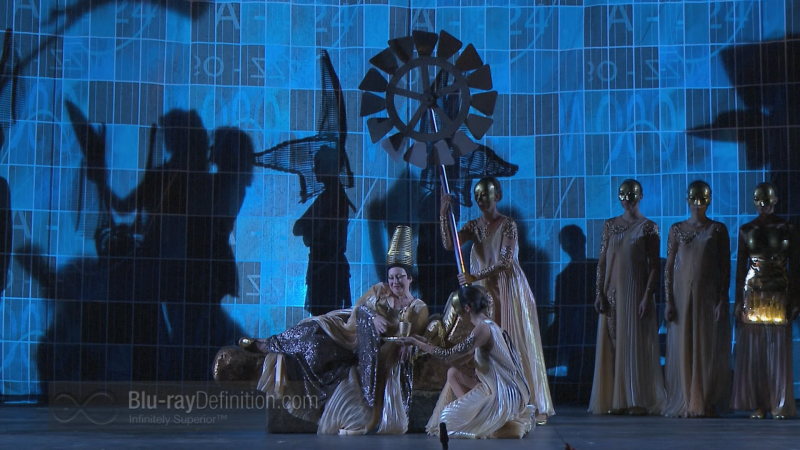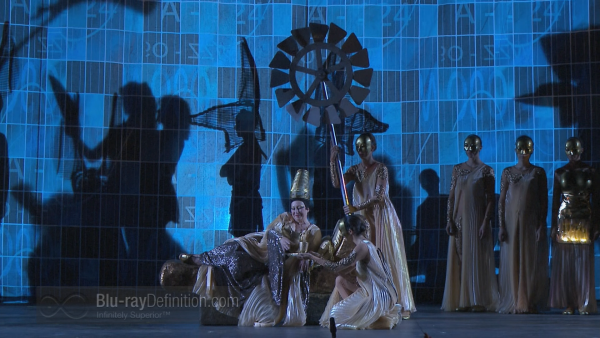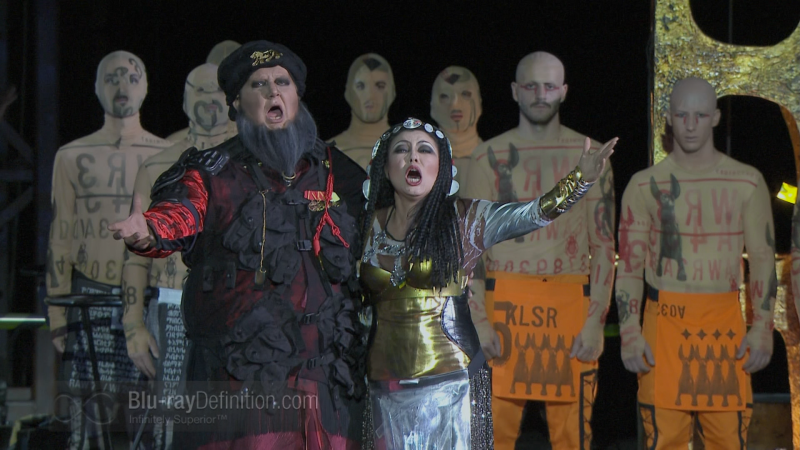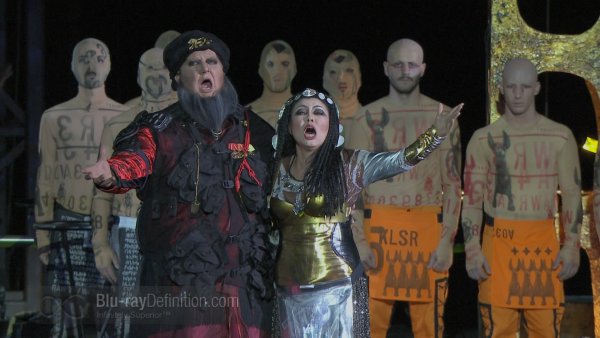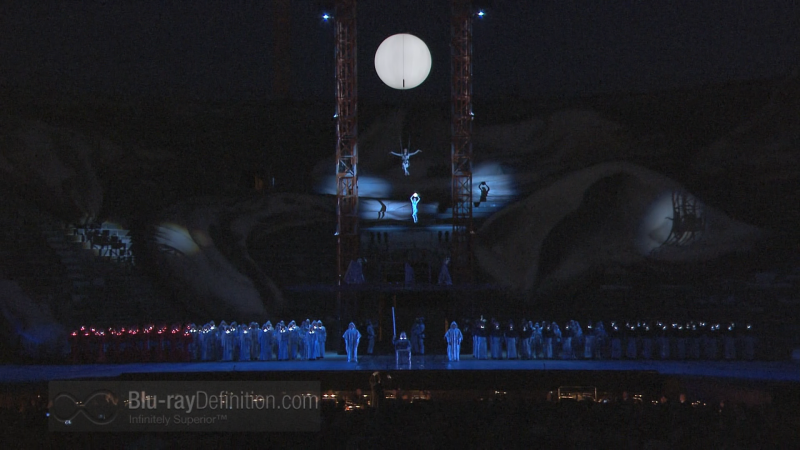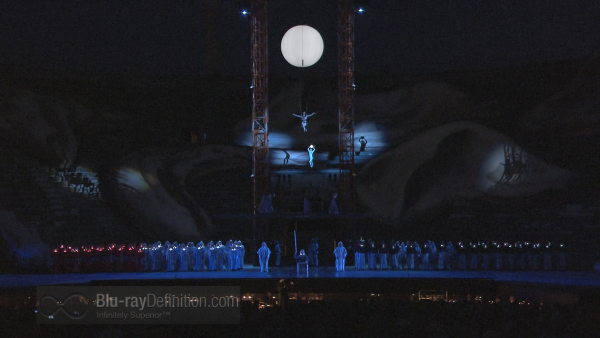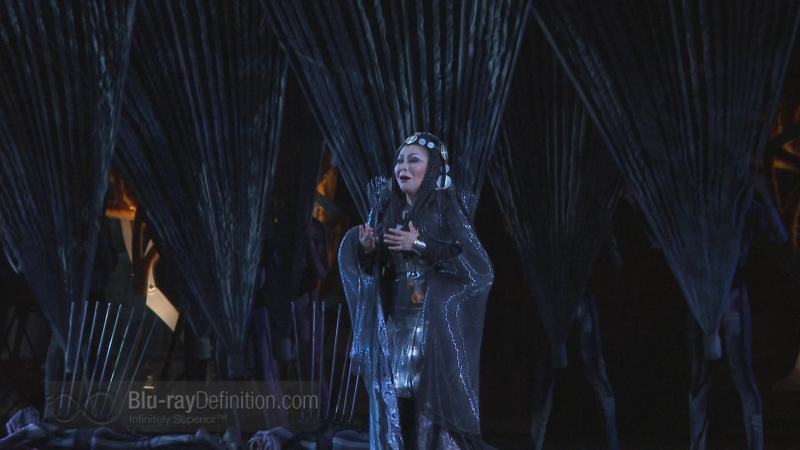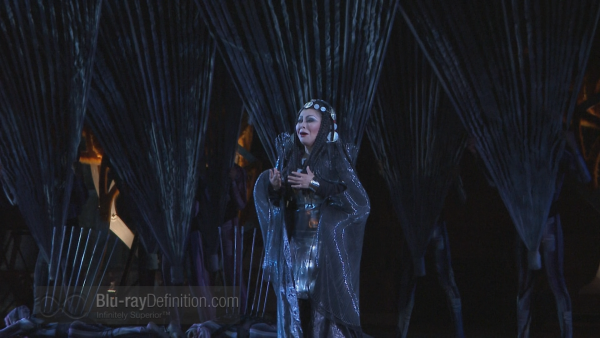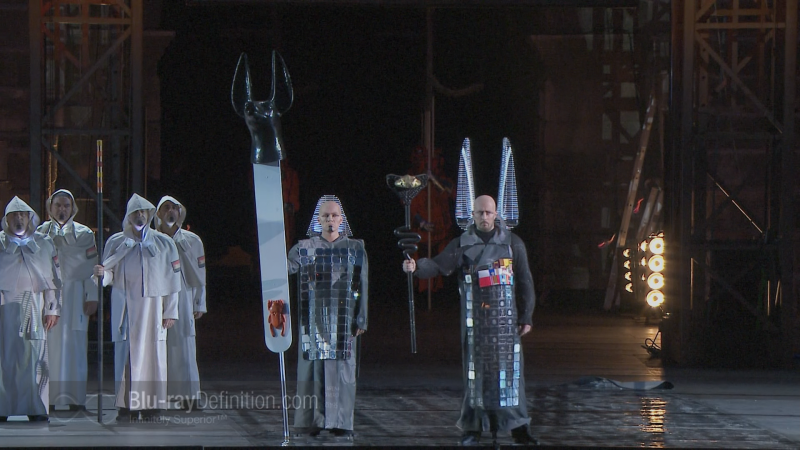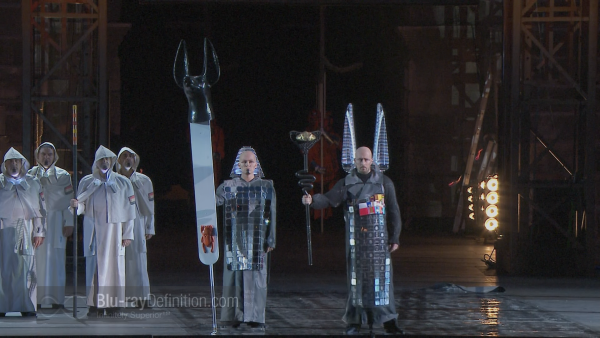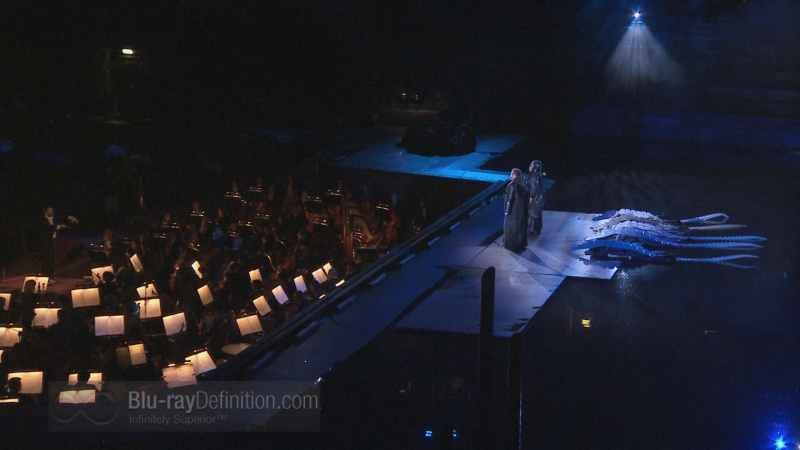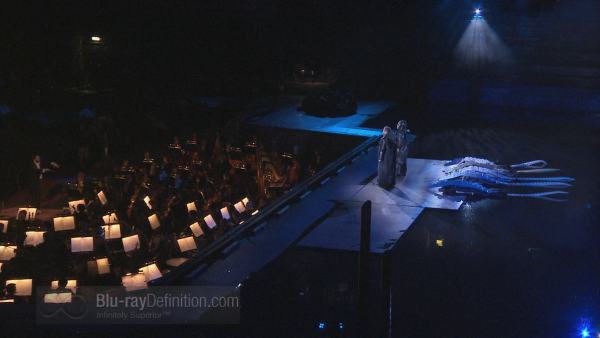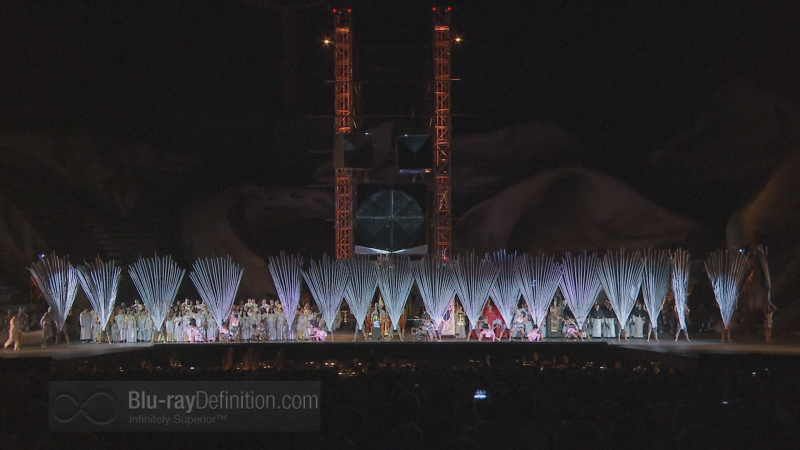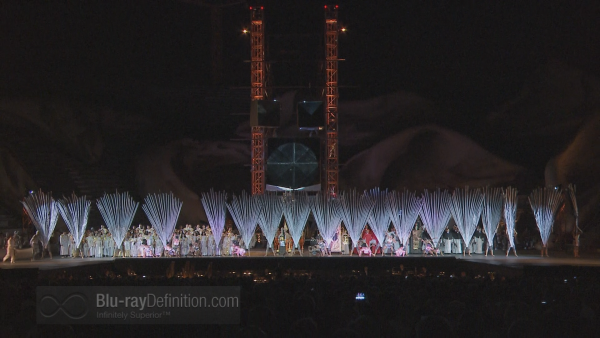 [amazon-product region="uk" tracking_id="bluraydefinit-21″]B00J587L6E[/amazon-product]
[amazon-product region="ca" tracking_id="bluraydefinit-20″]B00J587L6E[/amazon-product]
[amazon-product]B00J587L6E[/amazon-product]