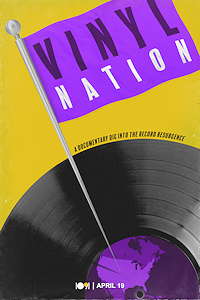 Vinyl Nation comes in at a time where the consumption of music is available on several formats to the consumer. Compact discs, streaming, and vinyl records. Vinyl Nation focuses on the resurgence of the vinyl format.
We are taken from vinyl's original run more than 80 years ago to the present and everywhere in between. There are many interviews featuring the producers, manufacturers, purveyors, and the consumers of the format. One of the main components of Vinyl Nation is that it focuses on RSD aka Record Store Day, which is a multi-annual event in which record labels, musicians, etc., put out limited edition vinyl records for the fans of vinyl in record shops worldwide.
I am a fan of physical media when it comes to 4K UHD Blu-ray, Blu-ray, DVD, etc., since I review it here sometimes. I started spinning vinyl almost 10 years ago. I started out with a basic turntable and bought a few records and I was hooked. I eventually upgraded to a nicer turntable, pre-amp, accessories, and even more records. I have a couple hundred LPs now and as much as I like listening to music instantly via digital means, I love the ritual that comes with spinning vinyl. There's the awesome artwork, and inserts in larger than life ephemera. Not to mention the fact that when listening to a vinyl record you have to sit there and listen to the entire side you're playing. It isn't an a-la-carte menu. What the documentary does really well is that there are various points of view from people of various backgrounds and the value they have assigned to vinyl records. You will get a different answer from everyone profiled.
Purchase on Amazon.com
Vinyl Nation also takes you behind the scenes at the record plants that manufacture the records themselves. It's like getting a tour of the record plant itself without leaving the house. It's a fun romp.
I mentioned that the documentary focuses on Record Store Day, which to its credit, did sort of bring folks together for the love of vinyl…at least in the beginning. Personally, I am not a fan of RSD simply because of the flipping/scalper part of it. I've only ever been to RSD once back when I first started and it was so much fun. I was a beginner and you could talk to anyone for tips on how to navigate it. Now, it's a secondary market all on its own, which is a hassle unto itself. No thanks.
Topping off Vinyl Nation, are the stories by the hobbyists. Chords are struck when the inevitable question is placed upon them: What will happen to your record collection when you die? This part of the documentary was very revealing, because like the hobby itself, there's no one answer-fits-all. Vinyl collecting/listening is more than just a hobby to some.
Vinyl Nation has a brisk running time, so it can be knocked out in a short amount of time. It's not boring at all. It is independently produced, which is why you don't necessarily have major artists being interviewed. This is a grassroots effort – by the fans and for fans, so it hits on a more personal and accessible level. Vinyl Nation is recommended!
Vinyl Nation is out on VOD in the US April 19, 2022. Available for purchase or rental now on Amazon.com
---
Rating Certificate: TV-14
Studios & Distributors: Gilman Hall Pictures | 1091 Pictures
Country: USA
Language: English
Run Time: 93 Mins.
Aspect Ratio: 1.78:1
Directors: Kevin Smokler | Christopher Boone
Release Date: 19 April 2022 (VOD) (US)