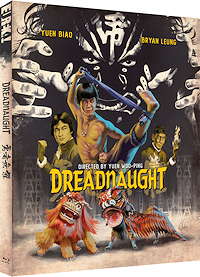 Dreadnaught from director and master action choreographer Yuen Woo-ping, action choreographer of The Matrix Trilogy and Crouching Tiger, Hidden Dragon, is a kung fu thriller that shakes up the genre. Unlike most films in the genre that may be good and offer great fun and entertainment but ultimately stick to the same game plan, this one catches you off guard.
Serial killer White Tiger (Yuen Shun-yee) flees from the authorities in rural China and hides in a small-town opera troupe hiding his face under a thick layer of paint. He's on the hunt for revenge and murdering anyone who discovers his identity. He crosses paths with the shy and retiring Mousey (Yuen), who, like his name suggests, scares easily. Mousey's friend Foon (Leung Kar-yan) decides to help him with his timidy by getting him to train in kung fu under under the master Wong Fei-hung (Kwan Tak-hing). This skill will come in handy when Mousey comes into direct confrontation with the bloodthirsty White Tiger.
Yuen's film was a gamechanger and features some of Hong Kong cinema's most influential action sequences. Apart from that, Yuen manages to successfully blend genres effortlessly, mixing a traditional martial arts film with horror, slasher, and thriller while using some innovative camera techniques. The final showdown is one of the brilliant moments in Hing Kong cinema.
The Video
Dreadnaught comes from a 2K restoration of the 35mm anamorphic film source and is presented in an AVC 1080p encodement framed at 2.35:1 on Blu-ray by Eureka Entertainment's Eureka Classics label. While this is not flawless, the image is indeed a revelation in comparison to what many of these kung fu films have looked in the past. Here we have a relatively clean presentation with consistent and natural looking grain structure, and more than enough detail carried across that shows up nice textures in the intricate patterns in the costumes and the man with the painted face or the dancing lions. Colors have plenty of moments to 'pop' as well, like reds and golds.
The Audio
There are three audio options provided for Dreadnaught, the original Cantonese mono and the two classic English dubs, the original mono and alternate home video mono mix. All three are provided in LPCM 2.0 and mostly are acceptable, but not great sounding. The home video mix is the worst sounding of the three, with a muffled, veiled sound.
The Supplements
Eureka includes two excellent audio commentaries. As usual Frank Djeng brings the knowledge and cultural savvy in the commentary he provides alongside Michael Worth, while the commentary with Mike Leeder & Arne Venema is a fun, conversational listen that also includes plenty of Hong Kong film tidbits.
Limited Edition O-Card slipcase featuring new artwork by Darren Wheeling [First Print Run of 2000 copies only]
Reversible sleeve design featuring original poster artwork
Audio Commentary with Frank Djeng & Michael Worth
Audio Commentary with Mike Leeder & Arne Venema
Archival Interview with Lily Li (1080p; 00:21:44)
Original Trailer (Hong Kong Theatrical) (1080p)
US Home Video Trailer (1080p)
The Final Assessment
An innovative martial arts classic that forgoes the usual paint-by-numbers feel that so many in this genre tend to succumb to and instead offers something refreshing. Eureka's Eureka Classics release is a wonderful package for fans and consistent with the quality we've come to expect for these releases from them.
Dreadnaught (Special Edition) is out on Blu-ray in the UK 25 April 2022 from Eureka Entertainment
---
Rating Certificate: UK: 15
Studios & Distributors: Golden Harvest | Eureka Entertainment
Director: Yuen Woo-Ping
Written By: Wong Jing
Run Time: 95 Mins.
Street Date: 25 April 2022
Aspect Ratio: 2.35:1
Video Format: AVC 1080p
Primary Audio: Original Cantonese LPCM 2.0 Mono
Secondary Audio: Classic English Dub LPCM 2.0 Mono (original mix) | Classic English Dub LPCM 2.0 Mono (alternate home video mix)
Subtitles: English