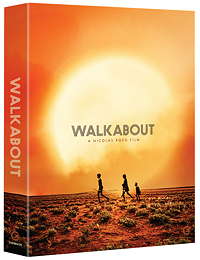 Walkabout is the 1971 cult classic from director Nicolas Roeg based on the novel of the same name by James Vance Marshall AKA Donald G. Payne. Set in the Australian outback and filled with gorgeous widescreen vistas, it's a quiet coming of age story and one that is subversively sensual.
Departing immediately from the source novel which begins with a plane crash, Nicolas Roeg's film, from an Edward Bond screenplay, begins with a father who commits suicide and leaves his children, sixteen-year-old Mary (Jenny Agutter, Call the Midwife, Logan's Run) and her younger six-year-old brother Peter (Roeg's son Luc Roeg) stranded in the oppressive heat of the Australian outback. Mary decides to leave the scene with her brother and start walking through the bush to find a town, but things don't go too well for the siblings. They are soon facing starvation, exhaustion, and dehydration. They are only saved when they happen to cross paths with an Aboriginal boy (David Gulpilil, The Leftovers, Cargo) who is on 'walkabout' – a traditional ceremony where a boy must leave his village when he comes of age and go out into the wilderness and live off of the land. He teaches Mary and her brother how to survive as Mary, Peter, and the Boy begin to develop a rapport.
There's an underlying sexual tension that remains unspoken between Mary and the Aboriginal boy, whose name we never really learn since he continues to speak in his dialect, and communication between the three is strained but becomes easier as the film goes on. That is until the growing sexual awakening in the two teenagers – as is often the case at that age – gets in the way and complicates cultural misunderstandings even further, leading to tragic consequences.
[envira-album id="124409″]
Was Roeg making a statement with Walkabout? In 1971 when he was making this film Australia was basically an apartheid state and would remain as such right up to around 1980. The idea of a white English girl and a black Aboriginal boy having an unspoken sexual attraction to each other and swimming together naked must have been shocking both in Australia and in the United States where the film also screened and where Jim Crow, redlining, and other racial issues were (and are) still a considerable social issue. Roeg's film manages to engage these subjects without ever having to overtly mention anything that's going on. As writing professors will often say, it is better to show than to say, and Roeg shows with an unmatched potency and sensuality.
Roeg also shows the splendor of the Australian outback. Whether it's the danger of a scorpion about to bite or the brilliant orange sun setting on the dry horizon, we are given a beautiful look at the sun-soaked land down under. His camera transports us to the desert with lots of wide lens deep focus shots, long lens close-ups, a virtual film class on how to shoot nature. The result is nature as a metaphor for the underlying sensuality and sexual awakening of the two older kids and the wide-eyed wonderment of young Peter.
Walkabout is a film that is full of surprises and watchable on many different levels. Young Jenny Agutter and David Gulpilil have incredible chemistry together on the screen while the young Luc Roeg is am charming young lad. This one is a film that should be on the radar of all cinephiles.
The Video
The film was shot on a medium speed 35mm Eastman 100T 5254 film stock and arrives in a new 4K restoration on Blu-ray in a 1.85:1 AVC 1080p encodement from Second Sight Films. The last Blu-ray release in the US was from Criterion Collection in 2010 as far as I know, so this UK release is a very welcome addition and it looks absolutely stunning. The imagery, colors, and textures of the Australian outback absolutely 'pop' in this transfer. The grain structure is fine through most of the film, though due to the film speed and lighting we do see some frames where the grain coarsens, but never tilts over into noise. In short, this is a fantastic, filmic transfer rich in color and detail, free from noise and edge enhancement. I would also add that, if ever a classic film was in need of a 4K Ultra HD Blu-ray release, this is one.
The Audio
The original mono audio mix for Walkabout is included in LPCM 1.0. It is a strong presentation of what is an inherently limited format. Dynamics are narrow, but the sound effects and dialogue are clear and there is little hiss or clipping.
The Supplements
This release is packed with superb bonus content. The limited-edition comes with lots of collectibles including the original source novel with exclusive cover artwork, and a softcover book with a facsimile of the original First Draft Script, and more. On-disc there are lots of new interviews with the cast, and an excellent audio commentary that features Luc Roeg, who starred in the film, and David Thompson.
Limited Edition Contents:
Limited Edition Box Set of only 3,000 copies
Rigid slipcase with new artwork by Michael Boland
The source novel Walkabout with cover artwork exclusive to this release
Softcover book featuring facsimile copy of the original 65-page First Draft Script with preface by Daniel Bird
Softcover book with new essays by Sophie Monks Kaufman, Simon Abrams, and Daniel Bird, plus stills and lobby card images
Standard Bonus Contents:
Audio Commentary with Luc Roeg and David Thompson
Producing Walkabout: An interview with Si Litvinoff (1080p; 00:10:15)
Luc's Walkabout: An interview with Luc Roeg (1080p; 00:11:08)
Jenny and the Outback: An interview with Jenny Agutter (1080p; 00:19:20)
Remembering Roeg: An interview with Danny Boyle (1080p; 00:18:30)
2011 BFI Q&A with Nicolas Roeg, Jenny Agutter and Luc Roeg (1080p; 00:16:55)
Archive introduction by Nicolas Roeg (1080p; 00:03:54)
The Final Assessment
A fantastic restoration from Second Sight of this 1971 classic, packed with bonus features and collectibles. If you've never seen this film, then what are you waiting for? Pick up this UK release ASAP. Ah, heck, pick this up even if you have seen it.
Walkabout (Limited Edition) Blu-ray is out 31 August 2020 in the UK from Second Sight Films
---
The Creative Content: 4.5/5
The Video: 4.5/5
The Audio: 3.5/5
The Supplements: 5/5
Rating Certificate: UK:12
Studios & Distributors: Max L. Raab Productions | Si Litvinoff Film Production
Director: Nicolas Roeg
Writers: Edward Bond (screenplay) | Donald G. Payne (novel) (as James Vance Marshall)
Run Time: 100 Mins.
Street Date: 31 August 2020
Aspect Ratio: 1.85:1
Video Format: AVC 1080p
Primary Audio: English LPCM 1.0
Subtitles: English HOH