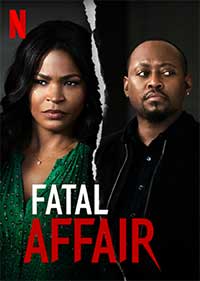 With a title reminiscent of the 1987 hit film Fatal Attraction and given the leads of Nia Long and Omar Epps, I fully expected a suspenseful reversed-gender thriller with Fatal Affair in which it is the happily married (or is she?) wife who attracts a disturbed male suitor. Were my expectations met? Well, read on but the answer is mostly no.
Fatal Affair opens in the recent past as Deborah (KJ Smith) gets it on in a cozy living room with Travis (Jason-Shane Scott). When he leaves the room and does not return, Deborah searches for him only to find his dead body in a blood-soaked bathtub and then gets done in by an unseen intruder. This double homicide will eventually be linked to one of the protagonists before the film is over, although the surprise factor will be minimal at best.
Successful San Francisco lawyer Ellie Warren (Long) has just moved into her dream beach-front house with husband Marcus (Stephen C. Bishop), a gifted architect who is still recovering from a serious biking accident. Ellie has one more patent infringement case to go before she leaves her downtown law firm to strike out on her own. The Warrens' daughter Brittany (Aubrey Cleland) will soon be returning from college for the summer. Ellie's life seems perfect, but it is clear from the array of pill bottles on Marcus's night table that something is missing, i.e. sex, in their 20-year marriage.
At the final meeting with her firm, Ellie encounters expert network hacker David Hammond (Epps) whose illicit "uncovering" of the defendant's emails will get this lawsuit settled.  Ellie and David had been college acquaintances and it seems that he is obsessed with her.  This becomes even more obvious when Ellie's best friend Courtney (Maya Stojan) conveniently bails on their girls' night out, leaving Ellie alone with David at a bar.  After considerable alcohol consumption, the pair nearly has sex in the women's restroom until Ellie recovers her senses and abruptly leaves. Thinking that this act of near infidelity is over and done with, Ellie does not realize that David who is undergoing anger management therapy never takes no for answer.
[envira-album id="124369″]
After a barrage of David's text messages that go unanswered, his subsequent ruse of getting Courtney to be his dinner date at the Warrens' house, makes Ellie realize that David presents a clear and present danger to her and her family.  What follows is a cat-and-mouse game between a psychopath and his love object that could end quite badly.
What made Fatal Attraction such a scary psychological thriller was how effectively it made nearly every married man in America think twice before putting the move on that beautiful single woman in the bar. Fatal Affair receives a script by Peter Sullivan and Rasheeda Garner in which the only fatal items are its flaws.  Omar Epps's David fails to evince anything like the thinly veiled mania of Glenn Close's unhinged Alexandra "Alex" Forrest. His calculating, should I say nerdy, efforts to keep the Warren household under CCTV surveillance show a restraint that takes the edge off any potential horror and the photos of the Warrens are so easily discovered by Ellie that this device is laughable. The rest of the film simply devolves into a paint-by-numbers stalker story with an ending that you will see coming from miles away. Fatal Affair's sole redeeming feature is the gorgeous beachfront scenery that could make viewers envy the good life on the California coastline, a life which probably few of them could afford. My advice is to just skip this one and revisit the original femme fatale flick that three decades later still has the power to disturb its audience.
Fatal Affair is streaming now on Netflix
---
The Film: 2.0/5
Studios & Distributors: Hybrid | Netflix
Rating Certificate: TV-14
Country: USA
Language: English
Run Time: 89 Mins.
Aspect Ratio: 2.35:1
Director: Peter Sullivan
Writer: Peter Sullivan | Rasheeda Garner
Release Date: 16 July 2020