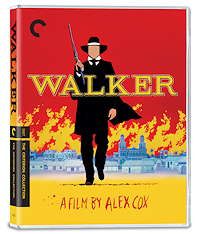 The 1987 historical drama Walker from director Alex Cox fell flat with moviegoers and critics at the time due to a combination of factors. The studio, Universal, thought Cox' almost surreal and anachronistic, comedic take on the story was more suited to arthouse audiences than wider release. Then there's arguably the biggest point and that's that this film takes on American imperialism in a not unsubtle way. Cue the relentless bad reviews from almost every mainstream media outlet.
Ed Harris stars as the 19th-century American imperialist William Walker, who failed in numerous careers from law to journalism before taking on the role of mercenary. Before his deaf wife (Marlee Matlin) dies from cholera, she tells him him, using sign language, "to hell with manifest destiny." Her death seems to strip him of any sense of feeling or humanity. In 1855 Walker takes on the task of making Nicaragua safe for American capitalist and millionaire banker Cornelius Vanderbilt's (Peter Boyle) steamships. Heading down to Nicaragua with a band of mercenaries called The Immortals, Walker manages to overthrow the Nicaraguan government, secure passage for Vanderbilt's ships, and eventually set himself up as a brutal dictator until the Nicaraguans revolt against him.
Walker doesn't shy away from taking on the issue of imperialism head-on, even making very blatant and anachronistic reference to then contemporary Reagan-era U.S. policy in the region. The comedic, often slapstick overtones can seem out of place for a historical drama like this, but this is a film that merits rewatching and only gets better each time thanks to its beautiful cinematography and incredible performances from the cast which also includes Rene Auberjonois and Richard Masur.
The Video
The high-definition digital transfer of Walker was approved by director Alex Cox and created on a Spirit DataCine from a 35mm interpositive made from the original camera negative. It comes to Blu-ray in an AVC 1080p encodement framed at the original 1.85:1 aspect ratio. While it doesn't look quite as clear or crisp as it would have if it were taken directly from the original camera negative rather than an interpositive. For example, in chapter 9 at the 00:46:20 mark you can see where the curtains in the background lose detail and even in the foreground, her bejeweled necklace has just slight delineation between each gem. Otherwise, this is a satisfying transfer, but I wouldn't list it as reference.
The Audio
The original soundtrack for Walker was mastered from a 35mm magnetic track and is provided in LPCM 1.0. It sounds almost miraculously dynamic, punchy in the mids and lows, and provides very clear dialogue and sound effects.
The Supplements
While this release doesn't offer any new bonus features, there is from Alex Cox including an insightful, easy flowing audio commentary, a wonderful 50-minute-long collection of archival behind-the-scenes footage from the production and more.
Audio commentary featuring director Alex Cox and screenwriter Rudy Wurlitzer recorded for the Criterion Collection in 2007.
Dispatches from Nicaragua (1080i; 00:50:40) – Behind-the-scenes footage of the production of Walker shot on video.
On Moviemaking and the Revolution (1080p; 00:11:13) – An audio monologue delivered by an extra on Walker as he watches the film twenty years later, in 2007.
Walker 2008: A Film by Alex Cox (1080i; 00:06:26) – Cox discusses the issues faced with marketing Walker and the critics' responses.
On the Origins of "Walker" (2016) (1080p; 00:16:07)
The Immortals (1080p; 00:08:41)
Trailer (1080i)
Booklet with essays by film critic Graham Fuller, Rudy Wurlitzer, and actor Linda Sandoval, production stills, information on the transfer and more.
The Final Assessment
A cult classic comes to Blu-ray from Criterion with a satisfying transfer, a thick booklet full of essays, and a decent collection of bonus features on disc even if none are brand new.
Walker is out on Blu-ray April 12, 2022 from the Criterion Collection

---
Rating Certificate: R
Studios & Distributors: In-Cine Compañía Industrial Cinematográfica | Northern | Walker Films Limited | Universal Pictures | The Criterion Collection
Director: Alex Cox
Written By: Rudy Wurlitzer
Run Time: 94 Mins.
Street Date: 12 April 2022
Aspect Ratio: 1.85:1
Video Format: AVC 1080p
Primary Audio: English LPCM 1.0
Subtitles: English SDH