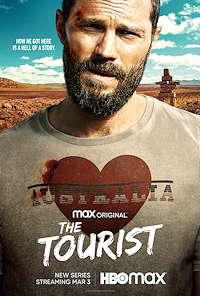 Jamie Dornan has had his share of big screen exposure this past year with Belfast and now appears in this Aussie series penned by brothers Harry and Jack Williams (The Widow), The Tourist.
In the Australian Outback, an unnamed Irishman (Dornan) tries to outrun an eighteen-wheeler but when his car is hit, he loses consciousness and wakes up in the Cooper Springs Hospital. He awakens to questions about the accident from Probationary Constable Helen Chambers (Danielle Macdonald). The man has total amnesia, but later finds a piece of paper with the date for a meeting the following day at Ronny's Diner in Burnt Ridge. He sneaks out of the hospital and goes to the diner and meets Luci (Shalom Brune-Franklin) who seems to know him. The pair leaves just before a bomb explosion jumpstarts this neo-noir tale of dogged pursuit by drug dealers, and the search for a stolen bag containing one million dollars.
This twisted storyline continues when Luci and the man whom she now identifies as her ex-boyfriend Elliot Stanley visit the town shelter run by Sue (Genevieve Lemon).  There they encounter a hitman for drug lord Kostas Panigiris (Alex Dimitriades), Billy Nixon (Olafur Darri Olafson),who was driving the truck that nearly killed Elliot. After trying to kill everyone in sight, Billy gets stabbed by Luci, conked on the head by Elliot, and falls into an open well. He makes an amazing recovery only to have Luci kill him in her trailer home.
Detective Lachlan Rogers (Damon Herriman) and Sergeant Rodney Lammon (Kamil Ellis) go to Burnt Ridge searching for Elliot whom they suspect bombed the diner. Helen tries to convince Elliot to surrender but, instead, he takes her hostage. Many drinks later, they cozy up in the bridal suite of the Dusty Moon motel, even though Helen is engaged to Ethan Krum (Greg Larsen).
Kosta and his cousin Dmitri (Alex Andreas) arrive at Burnt Ridge. They kidnap Rogers' wife Marnie (Renee Lim) and will release her when the detective brings them Elliot whom he finds at the Dusty Moon. Rogers shoots Lammon when the latter tries to contact the police station. Kosta threatens to kill Elliot whose search efforts for the money get detoured after he inadvertently consumes some LSD. Luci arrives to save her former boyfriend, but a shootout leaves her mortally wounded and Kosta and Dmitri lying dead.  Upon escaping, Elliot meets Helen only to discover that Detective Rogers has framed them for  killing Sergeant Lammon.
As the eight-episode series races to its stunning conclusion, Helen and Elliot must prove themselves innocent of Lammon's murder and a mysterious woman from Elliot's past, Lena Pascal (Victoria Haralabidou), makes a shocking revelation about who he really is.
While the trope of a lead character with amnesia has been often used, the device of having memories emerge from imaginary hospital rooms is an effective demonstration of how  recovery from a traumatic brain injury can be compartmentalized, even if memories like those of a smiling Lena can be misleading. Whether he is conscious or laboring with LSD-induced hallucinations, Jamie Dornan gives a worthy account of a bloke who takes a licking and keeps on ticking. Danielle Macdonald's Helen is the show's most completely realized character as she tries to prove herself to her male police colleagues and overcome body shaming by her control-freak fiancé. Sexy Shalom Brune-Franklin is as smooth a grifter as was Angelica Huston in The Grifters. Massive Olafsson who  worked with the Anderson brothers on The Widow channels his best M. Emmett Walsh impersonation from Blood Simple. The diner hostage scene with Elliot and Helen is reminiscent of a segment in Pulp Fiction. As with most Aussie series I have seen, the unsung hero becomes the vast panoramas of the Outback. The Tourist is a binge-worthy gem of a limited series with a dangling finale that suggests a second season may be in order. Highly recommended.
The Tourist is streaming now HBO Max
---
Rating Certificate: TV-MA
Show Creators: Harry Williams | Jack Williams
Original Release Date: 3 March 2022
Streaming Network: HBO Max
Episode Run Time: 58 Mins.
Num. Episodes: 6
Studios & Distributors: Two Brothers Pictures | Highview Productions | All3Media | South Australian Film Corporation | BBC Studios | HBO Max | ZDF | Stan
Rating Certificate: TV-MA