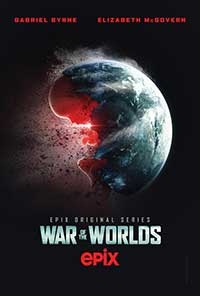 The Epix network presents a completely new version of the H.G. Wells classic sci-fi novel in which extraterrestrial beings invade our planet. The action begins in an astronomical observatory in the French Alps and shifts between London and Paris.  Astronomer Catherine Durand (Lea Drucker) detects a recurring sonar pattern from the red dwarf Ross 128. Without warning, huge spacecraft begin raining down on all of Earth's major urban areas and emit a massive electromagnetic wave that wipes out all unsheltered human beings. Sarah Gresham (Natasha Little), her son Tom (Ty Tennant) and daughter Emily (Daisy Edgar-Jones) barely make it into an underground tube station while her husband Jonathan (Stephen Campbell Moore) gets trapped in Paris.
Three groups of survivors eventually assemble. In the observatory are Catherine, her estranged younger sister Sophia (Emilie de Pressiac), her security chief Colonel Mustafa Mokrani (Adel Bencherif), and his troops. In London, neurosciences professor Bill Ward (Gabriel Byrne) shelters with his ex-wife Helen Brown (Elizabeth McGovern), Sudanese refugee Kariem Machar (Bayo Gbadamosi), Sarah and her children, and Ash Daniel (Aaron Heffernan). On the outskirts of Paris, Jonathan meets another survivor Chloe Dumont (Stephanie Caillard) and the pair picks up her son Sacha (Matheiu Torloting).
As the series progresses, these groups will be tracked by killer robots that resemble sniffer dogs and fire deadly bullets.  We discover that Emily who had lost her eyesight briefly recovers it when she hears the same low-frequency alien signal as Sacha does. This signal protects them whenever they encounter the dog-bots. As a byproduct of their togetherness, two couples are formed—Emily with Kariem, Catherine with Mokrani— and each partner gives the other a brief moment of sexual healing as the situation outside of their refuges deteriorates.
In spite of frequent encounters with these mechanical beasts, virtually no information about their makers is provided.  The only clue about the nature of these still unseen aliens turns up when Catherine and Mokrani find a wrecked spacecraft, the original source of the extra-terrestrial signal, but its dead pilot has been reduced to a pile of goo.  We do learn that the dog-bots seem to be programmed to abduct newborn infants and pregnant women.
[envira-album id="123044″]
These survivors struggle to stay alive and dodge the dog-bots' whistling bullets that take down troops and unsuspecting bystanders. As the series winds down, numerous unfinished storylines remain: Jonathan, Chloe, and Sacha set out for London, while a mysterious alien craft floating in the Thames River gets Emily's attention.
Those expecting a traditional retelling of Wells's story will find an entirely different account here. The trope of invisible invaders reminded me of a similar device used in the sci-fi series The Colony and one that heightens the plot's suspense.  Directors Gilles Coulier and Richard Clark pace the action extremely well with enough breaks between the violence to focus more on the developing relationships between the characters than on massive battles with an unseen enemy.
Speaking of the show's characters, there are no weak links in this cast led by screen veterans Byrne, McGovern, Drucker, and Little with its younger members, particularly Edgar-Jones and Caillard, more than holding their own.  Another of the many stars in this production are cinematographers David Williamson and Anton Mertens who maintain graphic violence, blood, and gore on a modest level, letting their occasional panoramic views of roads littered with abandoned vehicles and dead bodies serve as reminders that something apocalyptic has just happened.  A second season was supposed to start filming this spring in the UK but along came COVID-19, so viewers like myself who were left dangling at the end of Season One will just have to be patient. A binge-worthy series that streams its first three episodes on Amazon Prime Video, but if you want all the episodes, and like me, you probably will, an Epix subscription is required. Highly recommended.
War of the Worlds is running now on Epix and streaming in the Epix app 
[youtube https://www.youtube.com/watch?v=XeYmeGyQKuM&w=784&h=441]
---
The Creative Content: 4.0/5
Show Creator: Howard Overman
Original Release Date: 16 February 2020
Network: Epix
Ep. Run Time: 50-55 Mins.
No. Eps.: 8
Studios & Distributors: AGC Television | Canal+ | Urban Myth Films | Epix
Rating Certificate: TV-MA