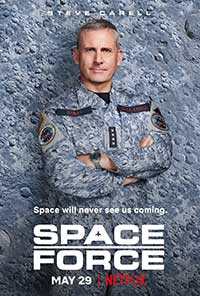 Coming across as a thinly veiled attempt at political satire, writer/lead actor Steve Carell has taken his storyline from the current POTUS's creation of a special branch of the United States Military intended to protect our country's extraterrestrial interests from international threats. Carell portrays Mark Naird (pronounced "nerd) who has just been promoted to an Air Force four-star general. Instead of wresting away control of the Air Force from his arch-rival General Kirk Grabaston (name pun intended!) (Noah Emmerich), Naird is given the command of the newly created US Space Force to put "boots on the moon" by 2024.
All is not well in the Naird household: wife Maggie (Lisa Kudrow) and daughter Erin (Diana Silvers) are unhappy with the tradeoff of DC's sophisticated Beltway for Colorado's "cowboy belt-way" where an abandoned NORAD facility will house this new branch. Maggie soon receives a 40-year prison sentence for unspecified crimes while Erin keeps late-night hours with handsome Russian "visitor" Captain Yuri "Bobby" Telatovitch (Alex Sparrow).
Mark acquires a totally inept aide-de-camp, General Brad Gregory (Don Lake), a self-serving social media director F. Tony "F**k Tony" Scarapiducci (Ben Schwartz), and a nitpicking scientist colleague Dr. Adrian Mallory (John Malkovich). The Space Force team gets charged with launching the Epsilon 6 satellite into orbit with minimal preparation. Miraculously, the launch succeeds only to have the E6's solar panels clipped off by a passing Chinese satellite. A ludicrous attempt to repair the damaged satellite by chimpanzee Marcus who spacewalks from his abandoned orbiter utterly fails.
A Congressional review of the Space Force budget is conducted by House Speaker Pitosi (Concetta Tomei) and mouthy junior rep Anastasia Ysidro-Campos "AYC" (Ginger Gonzaga). Mallory saves the day for the Space Force while General Grabaston gets his ass handed to him when his extravagant Air Force budget gets torched.
More perils await General Naird, including the Indian launch of a rocket that looks amazingly like the U.S. Pegasus model and alarming pictures sent by the Prospector satellite showing a Chinese lunar base on the Sea of Tranquility, the proposed landing site for Space Force's own craft. The Space Force lunar habitat project is shifted into high gear. Naird places novice astronaut Captain Angela Ali (Tawny Newsome) in charge of the spacecraft and rocket scientist Dr. Chan Kaifang (Jimmy O. Yang), her new beau, in charge of the ground crew. A shortage of skilled trades personnel forces Naird to assemble a motley support crew completely unprepared for the challenges of space travel. Could matters get any worse? You will have to watch the final episodes to find out.
[envira-album id="123459″]
Although we never see POTUS, there is little doubt that Space Force is taking direct aim at our current "tweeter-in-chief." The brief spoofs of Nancy Pelosi and Alexandra Ocasio-Cortez also hit pretty close to home while the collective Chiefs of Staff come across as a true confederacy of dunces. Sad to report, Space Force proceeds in fits (but not of laughter) and in starts (but mostly false ones) as the creative team was clearly undecided about whether this would be a Space Balls-style absurdist sci-fi series or something edgier like Galaxy Quest. This series fails on both counts. There is no shortage of silliness like the "war games" waged between the Space Force and Air Force clad in ridiculous exoskeletons or Naird's awkwardly crashing the party at the simulated lunar habitat.
Steve Carell gets saddled with yet another lame comedy, and, as he sprints from one meaningless meeting to another, his persona resembles the many losers he has portrayed on big and small screens. The few redeeming features of this 10-episode series are the touching cameo by the late Fred Willard as Naird's senile father, Malkovich's prissy scientist, Ben Schwartz's introduction of internet dinosaur Carell to the wonders of Instagram, and Diane Silver's free-spirited teenager. At least the special effects are reasonably credible like the Chinese moon rover mowing down the Apollo 11 Mission American flag. To rub more salt in the viewers' already open wounds, there is a dangling finale that leaves the door open for a second season. Save yourself five hours and shuttle past this one.
Space Force is streaming now in its entirety on Netflix

[youtube https://www.youtube.com/watch?v=l4mY2asIjWk&w=640&h=360]
---
The Creative Content: 2.5/5
Show Creators: Steve Carell | Greg Daniels
Original Release Date: 29 May 2020
Streaming Service: Netflix
Ep. Run Time: 27-36 Mins.
No. Eps. 10
Studios & Distributors: Deedle-Dee Productions | Flim Flam | Three Arts Entertainment | Netflix
Rating Certificate: TV-MA