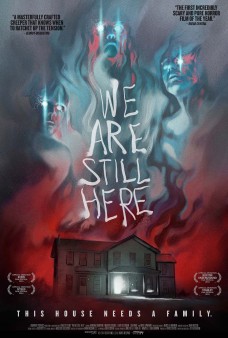 –
The Film

It seems every several years in horror we get a reinvention of the genre alongside the obligatory crop of films that are a throwback to the genre's so-called golden age, sometime around the early '70s through early '80s. We Are Still Here definitely falls into the latter category of throwback films. From writer/director Ted Geoghegan, here making his directorial debut, offers up his own take on the classic haunted house genre, with a unique twist that incorporates some veteran genre actors to help dd to its authenticity and a tongue-in-cheek sense of humor to help alleviate some of intensely, icy cold horror.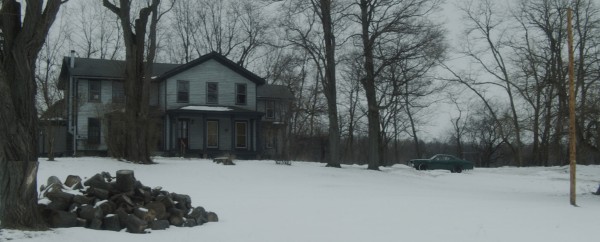 Set in the snow covered timberlands of New England, We Are Still Here follows a couple, Anne (genre staple Barbara Crampton; Re-Animator; From Beyond) and Paul Sacchetti (Andrew Sensenig) who move into former funeral home in the small town of Aylesbury, Massachusetts after their college aged son dies in a car crash. As they begin unpacking their boxes, Anne begins to believe that the spirit of their son has followed them to their new home when strange things begin occurring. So the couple invite their longtime friends, the pot smoking hippie psychics May and Jacob Lewis (Lisa Marie and Larry Fessenden), May and Jacob's son Harry (Michael Patrick Nicholson), and his girlfriend to spend time with them, perhaps even perform a séance.
Things begin to turn deadly in a hurry. They discover the dark secret behind their new house. After a neighbor stops by and tells them the history about the original owner, an horrific slaughter, and deaths took place in their house, the Sacchettis have some concern, but that's not the whole story. They will eventually come to find out that every thirty years, an evil awakens in their house and demands new blood, and the Sarcchetti's just may be the new sacrifice it requires to be sated.
There is a definite level of absurdity to We Are Still Here that is unavoidable and is certainly reminiscent of 80s B horror. In particular, during one scene when a séance goes wrong and Jacob Lewis begins channeling a malevolent spirit. It conjures up something out of both The Exorcist and From Beyond. The screenplay is a bit scattershot as well, straining to explain why this 'dark force' in the house needs a particular family to satiate itself, but then, as you will soon see in the film's final act, begins to pick off bodies rather indiscriminately.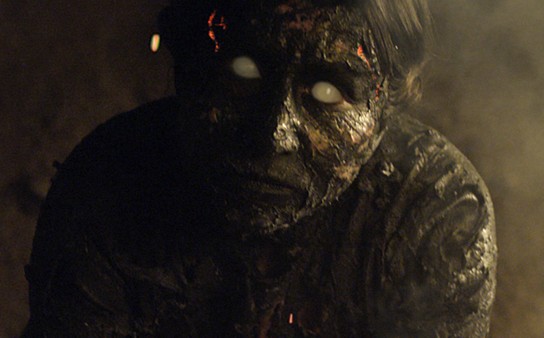 Still, Geoghegan does create a good balance between the classically atmospheric horror of something like The Innocents or Halloween and the over-the-top monster/slasher of something like A Nightmare on Elm Street, but he tends to overuse a lot of shots, such as an old birdhouse swaying in the bare branches of a tree that is constantly returned to and the 'monsters' become a little less scary every time they reappear. They are better left as an ominous presence, something looming out of the corner of the eye, which Geoghegan does pull off wonderfully for the better part of the film — a shadow in the background here, a flitting object there; it's terrifying right up until the reveal, which is anticlimactic.
One of the best parts of the film is its sense of humor. When the Sarcchettis and Lewises walk into a local tavern and all the patrons halt what they are doing to stare at them like something out of an 80s John Hughes flick, one can't help but chuckle; the film is filled with moments like that. Not to mention the seemingly bottomless bottle of Scotch our protagonists seem very keen on swilling straight through the film.
Ultimately, We Are Still Here has enough in it to possibly become a bit of a cult classic and make it onto some horror marathon lists around the Halloween festivities, but it will not rank as either the scariest nor the most inventive in its genre.

Our Movie Rating
[Rating:3/5]