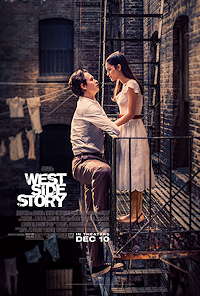 Sixty years ago, the original film version of the Leonard Bernstein-Stephen Sondheim film West Side Story, a retelling of William Shakespeare's Romeo and Juliet and a smash 1957 Broadway musical, hit America's big screens. Ten Academy Awards later, including the one for Best Picture, the rest is history. So why did famous filmmaker Steven Spielberg attempt a remake of a Hollywood legend? In a November 24, 2021 interview, Spielberg explains "the story of those racial divides – not just territorial divides – are more relevant to today's audience than perhaps it even was in 1957."  In this new West Side Story Spielberg and acclaimed playwright Tony Kushner adhered more closely to the stage play than did its 1961 predecessor although there are some noteworthy changes that will be mentioned later.
Wrecking balls are clearing out a seedy section of the upper west side of 1957 Manhattan to make way for Lincoln Center. Two gangs—the white Jets and the Puerto Rican Sharks– battle for control of the San Juan Hill neighborhood. Riff (Mike Faist), the Jets' leader, wants a "rumble" with the Sharks led by Bernardo (David Alvarez) to settle their conflict. Riff tries unsuccessfully to get the recently paroled Tony (Ansel Elgort), the Jets' co-founder, involved. Tony looks to Valentina (Rita Moreno), the widow who owns the late Doc's convenience store, to help him start his new life. Maria (Rachel Zegler) is Bernardo's sister and her best friend Anita (Ariana DeBose) is Bernardo's girlfriend. Bernado's buddy Chino (Josh Andres Rivera) takes Maria to the "big dance" where she meets Tony and the pair fall in love at first sight. As news of these young lovers reaches Bernardo, the seeds of what will become a tragic outcome are being sown.
Police Lieutenant Schrank (Corey Stoll) and Officer Krupke (Brian D'Arcy James) fail to stop the impending rumble between the Sharks and Jets during which Riff is killed by Bernardo who is then fatally stabbed by Tony. Chino takes Riff's gun and tells Maria about her brother's murder but when the lovers meet, she forgives Tony, and they make plans to elope. Anita later tells Valentina that Chino has killed Maria. Valentina informs Tony of Anita's claim, and, distraught, he runs into the street calling out for Chino to kill him as well. To his relief, a very much alive Maria arrives with her suitcase but Chino suddenly appears and shoots him. Tony dies in Maria's arms as the rival gang members come to terms around the dead man's body.
This new West Side Story is not a line-by-line remake of the original version which I fondly remembered as an impressionable teenager. While all the original musical numbers have been retained, the order in which they are performed has been slightly changed. Unlike the 1961 film, the principal actors here are also accomplished singers and dancers who deliver excellent accounts of their big numbers. Towering Ansel Elgort portrays a Tony far more compelling than did Richard Beymer who like his co-stars had another vocalist performer his songs. Petite Rachel Zegler appears more vulnerable than Natalie Wood and has a more authentic Spanish accent. But the new film's breakout performance belongs to singer-dancer Ariana DeBose, a sexy beast, who makes Rita Moreno's Anita look tame by comparison. Spielberg wisely chose a mostly Latinx cast for the assorted Sharks–I still cringe when I see spray-tanned George Chakiris as the 1961 Bernardo–and their novias (girlfriends). A more controversial decision was having patches of Spanish dialogue without subtitles, a move Spielberg defended as he felt English subtitles would now be considered demeaning in a country where one in five inhabitants is of Hispanic or Latinx descent. What became a bit tiresome was the frequent refrain issued to some of the Spanish-speaking characters to "speak in English."
Cinematographer Janusz Kaminski, a frequent Spielberg collaborator, provided a visual knockout. Inevitably, several scenes were similar to those in the earlier film, but having Tony and Maria meet behind the bleachers in the gymnasium or using The Cloisters as the "One Hand, One Heart" wedding setting were among his brilliant alternative offerings. Another change that mostly worked for me was the sentimental return of 90-year-old Rita Moreno, replacing Ned Glass's crusty old Doc, but I did question making "Somewhere" her swan song–it really belongs to Maria and Tony. Maestro Gustavo Dudamel paced his large orchestras—New York Philharmonic and Los Angeles Philharmonic—to perfection and let Bernstein's brilliant score speak for itself. New York City Ballet's resident choreographer Justin Peck pays homage to the legendary dance designer Jerome Robbins in some of the more intimate numbers but the large groups of dancers, particularly in the school gym dance or out on the street are exciting examples of this 34-year-old's creative genius. I certainly would not want to give up my 50th anniversary Blu-ray of the 1961 West Side Story but this 2021 version is just as wonderful and, when it comes to the performance of its principals, exceeds its predecessor. West Side Story 2021 surely bears repeated watches and will be a sought-after 4K UHD video disc when it is released next year. Highest recommendation.
West Side Story is now screening in movie theaters worldwide
---
Rating Certificate: PG-13 (for some strong violence and strong language, thematic content, and suggestive material and brief smoking)
Studios & Distributors: 20th Century Studios | Amblin Entertainment | Amblin Partners | TSG Entertainment | Walt Disney Studios Motion Pictures
Country: USA
Language: English | Spanish
Run Time: 156 Mins.
Aspect Ratio: 2.39:1
Director: Steven Spielberg
Written By: Tony Kushner
Release Date: 10 December 2021