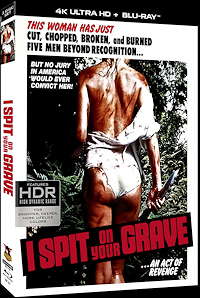 Here it is folks, writer/director Meir Zarchi's 1978 original, I Spit on Your Grave (originally titled, "Day of the Woman"). This infamous exploitation film is and was so vivid in its depiction of gang rape and the subsequent "rape revenge" that it was banned in many countries around the world. Is it worth all the hype? Not by a long shot.
Surely, the movie itself is quite vivid in its depiction of a woman (Camille Keaton) being brutally raped by four men, one of them seemingly mentally challenged, but in all honesty, how this could ever have been called "Day of the Woman" is beyond me. The first hour is nothing but this poor, helpless writer from New York being raped in a secluded town in Connecticut by a few townies so indistinctly defined as characters it's not even worth it to run through them individually by name. She's dragged through the woods, beaten, raped, sodomized, then, when she finally escapes back to her summer house, they are there again, to rape and beat her. Then there is a brief respite from the incredible assault on this woman, in which she rests, recuperates, and plots her revenge. The second half of the film, she takes out her revenge on these dummies, who, apparently, are so numb in the brain, that she can seduce them into believing she doesn't mind that they brutalized her and that she wants to have sex with them. Queue the hanging, emasculation, disembowelment, and axing.
I Spit on Your Grave is so horrendously written, filmed, and recorded, that what you are left with is nothing more than a series of violent crime scenes with no interconnecting plot. Any pretense that this is a feminist empowerment film is lost in the, oh, I don't know, hour or so of its heroine being raped and nearly constant screen time in the nude. The fact that her revenge amounts to nothing more than elaborate seductions in which she willingly performs sexual acts with at least two of her rapists before she kills them doesn't help either.
With that being said, I have over the years shifted my opinion on whether this qualifies as a horror film. I Spit on Your Grave obviously qualifies as horror. In fact, it may be one of the most horrifying of the genre there is. This outdoes many of the testosterone-heavy slasher films from this golden age era on that front. It is a difficult film to get through and there is no way it glorifies rape. There have been some comments to that extent over the years, but anyone who can sit through this brutal, realistic depiction of a horrifying gang rape and think it is glorifying it may have to examine their own thought processes. Given this, I have raised the rating I originally gave this film a point.
I Spit on Your Grave (1978)
The Video
This new 4K Ultra HD Blu-ray of I Spit on Your Grave is taken from a 4K scan of the original camera negative. It comes to disc in a 1.85:1 HEVC 2160p (4K UHD) HDR10+ encodement. In the HDR metadata it has a MaxLL of 1000 nits and a MaxFALL of 216 nits. I must admit that this film looked way better than I was expecting. Ronin Flix has done a great job with this 1978 indie horror film. The opening title sequence looks a bit rough, which isn't unusual for a lot of films, but after the titles the film grain settles down and we see a rather clean, organic-looking transfer. The wide color gamut makes the colors 'pop' nicely, such as the red paint on the walls in Jennifer's summer house or the verdant vegetation of the lakeside and woods, whereas on the included Blu-ray, which features the 2020 4K scan restoration, these colors look flatter. There are also good specular highlights, such as the sheen on Matthew's eyeglasses or the sparkle if sunlight off the water. There are some scenes, particularly in the dark, where the image looks a bit murky and loses some detail, but one must remember this was a very low budget horror film shot circa 1976. The transfer looks quite faithful and better than some other low budget films from the same era.
The Audio
Ronin Flix provides the original mono mix in DTS-HD Master Audio 2.0 as well as a DTS-HD Master Audio 5.1 mix and a DTS-HD master Audio 2.0 stereo mix. To be honest, there is very little stereo or surround activity in the remixes, but both the surround and stereo mix, which sound very similar, sound cleaner and fuller than the original mono mix.
The Supplements
Many of the supplements are carryovers but it's still a collection of excellent bonus features. The two audio commentaries would be enough, especially the Joe Bob Briggs commentary, who gives a funny and insightful commentary as opposed to the rather dry and to the point commentary from the director, but the included documentary feature (on bonus third Blu-ray Disc) by Terry Zarchi, Meir's son, is a must watch of you like or are remotely interested in this film.
Audio commentary with director Meir Zarchi
Audio commentary with Joe Bob Briggs
The Values of Vengeance: Meir Zarchi Remembers I Spit on Your Grave (SD; 00:29:01)
Locations of I Spit on Your Grave (1080p; 00:11:08)
Alternate Opening Title – Day of the Woman (1080p; 00:00:16)
Theatrical Trailers (1080p; 00:06:22)
TV Spots (1080p; 00:01:39)
Radio Spots (1080p; 00:01:15)
Rare Photos from Set (1080i; 00:09:32)
Still Gallery (1080p; 00:01:51)
Bonus Blu-ray
Growing up with I Spit on Your Grave – A Documentary by Terry Zarchi (1080i; 01:42:05)
Bonus Features:
Deleted Scenes (1080i; 00:09:26)
Terry Zarchi's 8mm film Starring Camille (1080i; 00:02:50)
Home Movies – Camille and Meir's Wedding (1080i; 00:01:53)
Trailer (1080i)
The Final Assessment
The classic and controversial cult horror, rape/revenge film that, despite what one may think of it, hate it or love it, did in fact help to pave the way for a lot of other films to come, such as 2017's Revenge. This brand new 4K Ultra HD restoration is a beautiful new transfer that has this film looking way better than it ever has looked.
I Spit on Your Grave is out on 3-Disc Limited Edition 4K Ultra HD Combo March 8, 2022 from Ronin Flix
---
Rating Certificate: R | Unrated
Studios & Distributor: Barquel Creations | Ronin Flix
Director: Meir Zarchi
Written By: Meir Zarchi
Run Time: 101 Mins. (1978) | 2019 (103 Mins)
Street Date: 8 March 2022
Aspect Ratio: 1.85:1
Video Format: HEVC 2160p (4K UHD)
HDR Format: HDR10+ (HDR10 Compatible)
Primary Audio: English DTS-HD MA 2.0 Mono
Secondary Audio: English DTS-HD MA 5.1 | English DTS-HD 2.0 Stereo
Subtitles: English SDH