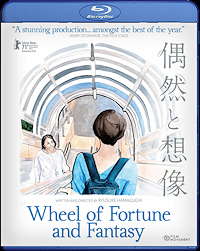 Quiet, poignant, often sensual, and sometimes perplexing, Wheel of Fortune and Fantasy, the anthology triptych from director/writer Ryûsuke Hamaguchi is a fascinating slice-of-life feature film that tells three separate stories loosely linked thematically about three different women. The first is a model who discovers a shocking fact about her best friend's boyfriend, the second about a mature, married woman who has returned to college and end up having an affair with a fellow student before winding up in a precarious situation with her French professor, and the final story is of a 30-year-old woman who attends her high school reunion and makes an unexpected acquaintance.
Each of Hamaguchi's short stories takes an unexpected yet pivotal turn which will have major implications in these women's lives. The stories each tie together by the women's search for meaning in finding love, sex, or a simple relationship they have been denied for years. Hamaguchi is careful to linger just long enough with each story and allow us enough time in their lives, so we care, careful not to pile too much extraneous dialogue or settings on the setup that would interfere with the main event, the intimate conversations between people. This is the sort of film that lingers with you after the final credits roll.
Wheel of Fortune and Fantasy (2021)
The Video
Wheel of Fortune and Wonder is provided in a 1.85:1 AVC 1080p encodement on Blu-ray from Film Movement. The film is not one that uses a lot of strong tonal variances or visual effects to provide eye-popping visuals, and there tends to be a bent towards a softer, slightly diffuse look, but still, this looks solid, cinematic, and satisfying. While there aren't any inky blacks or bright colors, the shadow details standout and Tokyo at night does still dazzle.
The Audio
The original Japanese-language audio mix is provided in both lossless DTS-HD Master Audio 5.1 and Dolby Digital 5.1. Lossless track is a subtle, dialogue-driven mix that is front-heavy with very low-level ambience and atmospheric sound effects in the surround channels, but it is all that is really needed given the sort of film that this is.
The Supplements
Interview with Director Ryusuke Hamaguchi (1080p; 00:13:57; Japanese w/subtitles)
Bonus Short Film: The Chicken (1080p; 1.85:1; 00:13:13)
Wheel of Fortune and Fantasy Trailer (1080p)
The Final Assessment
A fascinating look into the daily lives, longing, and passions of modern Japanese women that is universal. Presented beautifully here on Blu-ray from Film Movement, this is highly recommended.
Wheel of Fortune and Fantasy is out 18 January 2022 on Blu-ray & DVD from Film Movement
---
Rating Certificate: Not Rated
Studios & Distributors: Fictive | NEOPA | Film Movement
Director: Ryûsuke Hamaguchi
Written By: Ryûsuke Hamaguchi
Run Time: 121 Mins.
Street Date: 18 January 2022
Aspect Ratio: 1.85:1
Video Format: AVC 1080p
Primary Audio: Japanese DTS-HD MA 5.1
Secondary Audio: Japanese DD 5.1
Subtitles: English