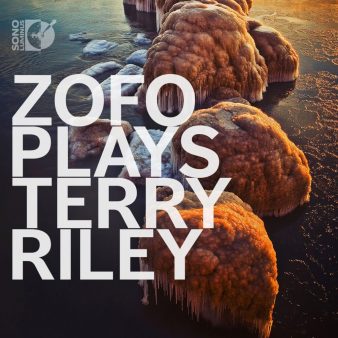 –
The Album
[Rating:4.5/5]
Fans of avant-garde duo pianists Eva-Marie Zimmerman and Keisuke Nakagoshi, better known as ZOFO or 20-finger orchestra, should have expected that this talented twosome would eventually discover American minimalist composer Terry Riley. Riley first hit the musical scene with his groundbreaking 1964 composition In C and changed the future landscape of American music. . This composer has had commissioned works for a number of contemporary music groups like the Kronos String Quartet. Now, Riley has hooked up with ZOFO and this Pure Audio Blu-ray disc is the culmination of a collaboration that coincided with Riley's 80th birthday.  ZOFO performs some of Riley's best-known works for piano four-hands as well as transcriptions for G Song and Half-Wolf Dances Mad in Moonlight that were originally written for the Kronos ensemble. Simone's Lullaby was originally a solo piano work that ZOFO transforms into a sentimental yet clearly modern composition.  The surprise here is Praying Mantis Rag that Riley wrote specifically for ZOFO. The complete playlist follows:
Etude From the Old Country (12:45)
Jaztine (8:53)
Tango Doble Ladiado  (8:54)
Half-Wolf Dances Mad in Moonlight (7:08)
Simone's Lullaby (5:43)
G Song (9:30)
Praying Mantis Rag  (3:28)
Waltz for Charismas (4:32)
Cinco de Mayo  (12:26)
As will become obvious from the incredible variety of styles and moods, Riley and ZOFO have established a synergy that works equally well with jazz, Latin, minimalism, and other musical genres. Each of these pieces is engaging in its own way and demonstrates what happens when great artists encounter a great composer.

Audio Quality
[Rating:4.5/5]
This Pure Audio Blu-ray Disc presents a piano like many have never heard it before. The acoustics of the keys, pedals and harmonic overhangs is simply astonishing, and suddenly the pianists are in your room. The program notes mention that the original recording was in DXD format at 352.8kHz/24-bit and in 7.1 surround sound. The 7.1 surround version has been down sampled to 96kHz/24-bit and while it sounds quite compelling, I preferred the other two highest resolution versions (192kHz/24-bit) in DTS-HD Master Audio 5.1 and LPCM 2.0 formats, demonstration quality recordings that will challenge even the best sound systems.

Supplemental Materials
[Rating:4/5]
Sono Luminus always supplies fantastic program booklets and this is what we get here. The booklet provides an insightful interview of Ms. Zimmermann and Mr. Nakagoshi that indicates the rationale for their innovative program. A standard resolution audio CD is included and it is a stunner as well, if not at the level of the Pure Audio Blu-ray disc. Additional bonuses are the mp3 and FLAC versions of this program that can be downloaded via mShuttle.

The Definitive Word
Overall:
[Rating:4.5/5]
ZOFO is one of the most exciting groups currently performing on today's concert stages. Their willingness to choose unconventional repertory makes each of their releases very much anticipated. Terry Riley, the subject of this Blu-ray disc, waxes enthusiastically about how two pianists with open minds approached his body of work. In the composer's own words: "They think and play as if guided by a Universal mind. Not only are they dazzling in their interactive virtuosity but also mesmerizing in the vast scope of their musicality." I can think of no way better to express my own appreciation of what happens when the master of minimalism meets the masters of duo-pianism. ZOFO Plays Terry Riley is a truly phenomenal recital that will enhance everyone's musical libraries.
[amazon-product region="uk" tracking_id="bluraydefinit-21″]B00V872FDY[/amazon-product]
[amazon-product region="ca" tracking_id="bluraydefinit-20″]B00V872FDY[/amazon-product]
[amazon-product]B00V872FDY[/amazon-product]