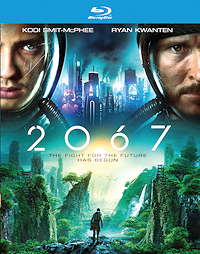 In this indie Aussie sci-fi thriller from writer/director Seth Larney, 2067, it's the dystopian future year of the title and humanity has deforested the planet to the point of causing major climate change and depleting the world's oxygen supply. People are forced to use synthetic oxygen which causes a deadly disease in some people. Now humanity is on the brink of extinction, but hope comes in a secret project involving a time machine and a message sent back from the future reading "send Ethan Whyte." Soon, the unassuming underground tunnel worker finds himself caught up in a mission to save the world.


Telling more of the plot would give a lot of the plot points and twists away. Let's say that Ryan Kwanten (True Blood) makes an appearance and Ethan Whyte mission turns out to be something completely different from what he thinks it is. Larney is successful at keeping a sense of tension and suspense. Visually, the film owes a lot to the cyberpunk genre, starting off with visions of a world that very much looks like Ridley Scott's world in Blade Runner. Unfortunately, budget constraints keep this Larney from following through on that vision consistently so much of the film takes place in bare, claustrophobic settings with only a flourish of sci-fi VFX.
Ultimately, 2067 is meant as a cerebral sci-fi thriller and it does work to an extent, though it does by the final act begin to trip over itself and start to feel longer than it is. It's a good time waster, but not likely one that will be revisited many times.
The Video
2067 arrives on Blu-ray in an AVC 1080p encodement framed at 2.39:1 (incorrectly labeled on the packaging as 1.85:1) from RLJE Films. There is a 4K version available digitally, but it honestly doesn't look as good as this HD version on disc even with my Gigabit broadband internet connected via Ethernet streaming from Apple TV 4K. This Blu-ray is top notch with lots of high frequency detail, vibrant colors and excellent shadow details. There's no banding, edge enhancement, or noise.
The Audio
2067 comes to Blu-ray with an excellent English DTS-HD Master Audio 5.1 mix. This mix makes a strong showing for the old 5.1 format and dare I say is superior to a lot of the Atmos mixes floating around out there. This one places "system warning" voices off to the far sides and what sounds like overhead, but it doesn't use overhead speakers to do it, just effectively uses all of the channels for that faux- 'voice of God' effect. It works. We also get really clean and clear dialogue and a natural sense of dynamic range.
The Supplements
RLJE includes a slate of brief 'behind-the-scenes' making of featurettes for every aspect of the film and a commentary by the director. The audio commentary is the best feature included because it at least avoids the sense of just being a promo.
Director Commentary
Behind the Scenes of 2067

The Story (1080p; 03:39)
The Cast (1080p; 00:07:37)
The Director (1080p; 00:06:17)
The Look (1080p; 00:06:31)
The Costumes & Make-Up (1080p; 00:03:30)
The Time Machine (1080p; 00:04:09)
The Editing & VFX (1080p; 00:04:24)
The Music (1080p; 00:14:11)
The Final Assessment
2067 on Blu-ray looks and sounds great. The film has some weaknesses but overall is good indie sci-fi fodder.
2067 is out on Blu-ray November 17, 2020 from RLJE Films
---
Rating Certificate: Not Rated
Studios & Distributors: Arcadia | Elevate Production Finance (financed by) | Futurism Studios | Rocketboy | RLJE Films
Director: Seth Larney
Written By: Seth Larney | Dave Paterson (additional material)
Run Time: 114 Mins.
Street Date: 17 November 2020
Aspect Ratio: 2.39:1
Video Format: AVC 1080p
Primary Audio: English DTS-HD MA 5.1
Subtitles: English SDH | Spanish