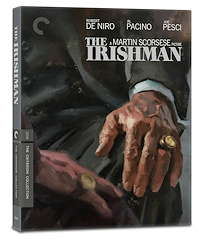 The Netflix Original, which streamed on the service in 2019, The Irishman, is Martin Scorsese's return to a subject that often brings out some of his best filmmaking, the mafia crime underworld. This biographical film follows the story of Frank Sheeran (Robert De Niro) who, now an old man, recounts his days working for the Bufalino crime family. As he recounts his story, he gets around to telling how he met who would become a good friend of his, Russell Bufalino (Joe Pesci), and eventually his involvement with famed union boss Jimmy Hoffa (Al Pacino).
Scorsese pulls out all the stops of his filmmaking techniques in this entry into his canon. This can in many ways be seen as the end coda to his small yet outsized grouping of mafia films Mean Streets, Goodfellas, Casino, and now this one. In Irishman the protagonist has reached the end of a long and hard life. He's seen and done all the terrible deeds that go along with the lifestyle and he has landed at the end, still living and now looking back, spinning tales of his deeds from a wheelchair in a nursing home. This is an unusual perspective for Scorsese in these films.
Scorsese also extracts spectacular acting from this group of veterans. These are actors he has worked with for years so that no doubt made things easier. They all slide into these roles like they have been playing them every day for years. De Niro is brilliant even behind the CGI de-aging façade, which looks much better than you expect to before going in.
Based on the novel I Heard You Paint Houses by by Charles Brandt with a screenplay adaptation by Steven Zaillian, The Irishman is an over-three-hour-long epic that goes by like a ninety-minute-long popcorn flick, it is so layered and engaging. This may not be the greatest of all Scorsese's films, but it certainly makes a compelling case for being one of his best.
The Video
The Irishman is taken from a 4K DI and was shot on both digital cameras (at 3.4K and 8K respectively) and Super 35 (3-perf) film stock. The color grading was overseen by Martin Scorsese, cinematographer Rodrigo Prieto, and editor Thelma Schoonmaker from a combination of digital-camera footage and original camera negative. The film is streaming in 4K Ultra HD with Dolby Vision on Netflix (it is a Netflix Original) and that HDR is definitely missed here, but what isn't missed is the compression noise and banding that still exists even on my hardwired Ethernet connection with 1 Gigabit broadband. This is a clean and filmic transfer on Blu-ray framed at 1.85:1 encoded in AVC 1080p. This has deep blacks, nuanced shadows, and excellent color reproduction and range even without Dolby Vision.


The Audio
The original Dolby Atmos soundtrack was remastered from the digital audio files using Avid's Pro Tools. It sounds good to hear this film with a lossless Dolby Atmos soundtrack versus the lossy Atmos stream that appears with it on Netflix. That said, I have never found the Atmos mix for this film to be that engaging given it is mostly front-heavy and dialogue driven with minimal atmospherics most of the time. It could have been just as effective with a 5.1 mix to be honest. Still, everything here sounds good, with full, round dialogue, tight low end when music or explosions or punches kick in and there is good motion of sound as well as listenable high frequencies.
The Supplements
This release includes a strong slate of new (and some previously seen on Netflix) extras on a separate bonus disc plus an excellent essay in a booklet.
Booklet featuring an essay by film critic Geoffrey O'Brien
Bonus Features Blu-ray Disc
Making "The Irishman" (1080p; 00:36:10) – Assembled by the Criterion Collection in 2020, this offers a behind-the-scenes look at the production of The Irishman, and features interviews with director Martin Scorsese and numerous members of the cast and crew.
Scorsese, De Niro, Pacino, and Pesci (1080p; 00:18:59) – This roundtable conversation featuring director Martin Scorsese and actors Robert De Niro, Al Pacino, and Joe Pesci was recorded by Netflix in 2019 and edited by the Criterion Collection.
Gangsters' Requiem (1080p; 00:21:27) – In this video essay, produced by the Criterion Collection in 2020, film critic Farran Smith Nehme looks at The Irishman's synthesis of Scorsese's signature formal techniques and how he pushes them forward into a new landscape of loyalty, betrayal, and end-of-life reflection
Anatomy of a Scenes: "The Irishman" (1080i; 00:05:05) – In this program, director Martin Scorsese talks through the Frank Sheeran Appreciation Night scene of The Irishman. This single-scene commentary was produced in 2020 by Mekado Murphy for the New York Times' online series Anatomy of a Scene.
The Evolution of Digital De-Aging as Seen in "The Irishman" (1080p; 00:12:55) – In this promotional program, released by Netflix in 2020, director Martin Scorsese and visual effects supervisor Pablo Helman and his team at Industrial Light & Magic discuss the groundbreaking work of de-aging the main characters of The Irishman over the course of five decades.
Frank Sheeran and Jimmy Hoffa – A selection of excerpts from two archival videos used as references by director Martin Scorsese and his cast and crew in preparation for The Irishman.

Sheeran (1080i; 00:05:48)
Hoffa (1080i; 00:17:21)

Trailer and Teaser (1080p; 00:04:28)
The Final Assessment
A late career classic from Martin Scorsese issued in a strong release from the Criterion Collection on Blu-ray, but another release that makes a strong case for the distributor to finally get onboard with 4K releases given this is available as a 4K Ultra HD Dolby Vision stream on Netflix and taken from a 4K DI.
The Irishman is out on Blu-ray November 24, 2020 from the Criterion Collection
---
Rating Certificate: R (for pervasive language and strong violence)
Studios & Distributors: Tribeca Productions | Sikelia Productions | Winkler Films | Netflix | Criterion Collection
Director: Martin Scorsese
Written By: Steven Zaillian (screenplay by) | Charles Brandt (based upon the book by)
Run Time: 209 Mins.
Street Date: 24 November 2020
Aspect Ratio: 1.85:1
Video Format: AVC 1080p
Primary Audio: English Dolby Atmos
Subtitles: English SDH