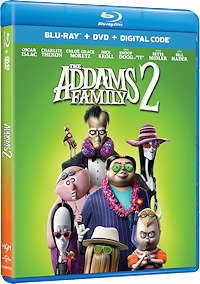 The Addams Family 2, the sequel to the 2019 animated film, find the kooky family taking a cross-country road trip in their haunted camper to bring their family unit closer together. Morticia (voiced once again by Charlize Theron) and Gomez (Oscar Isaac) also spend their time trying to avoid a lawyer trying to hunt their family down to get a DNA test from their daughter Wednesday (Chloë Grace Moretz), claiming she is not really an Addams, but the child of his client who was mistakenly switched at birth. This also comes as Wednesday herself is questioning her place in the family and why she is so different.
This being an Addams family movie, of course plenty of hijinks ensue as the family caravan makes its way across the country, including a musical number featuring Lurch singing "I Will Survive" in a biker bar, numerous times that Wednesday 'kills' her favorite target, younger brother Pugsley (Javon Walton) and more. The film is fun, it's kinetic, and this is from 2021, now being released in 2022, so, of course, the animation is top notch. But great 3DCG can't carry a film anymore, and this sequel, as fun and quirky as it may be, ultimately cannot hold one's attention because the story is razor thin and it is too hyperactive to allow for focus on the strongest subplot, which is Wednesday's questioning of her personal identity.
The Addams Family 2 (2021)
The Video
The Addams Family 2 comes with a 1.85:1 AVC 1080p encodement on Blu-ray and the 3DCG animation looks clean, crisp, and colorful with no banding or noise. This is a top tier, reference quality animated title that is only missing the added benefit of HDR you would get had Universal released this on 4K.
The Audio
The Addams Family 2 gets an English DTS-HD Master Audio 7.1 audio mix rather than Atmos or DTS:X. Since my audio rig is setup for Atmos/DTS:X 7.4.2, a DTS-HD Master Audio 7.1 mix plays back in 5.1 for me, but it does up-mix nicely to Auro2D with the front height channels engaged. Even in straight 5.1 this mix is very nice, aggressive, and dynamic with lots of solid effects panned through the surrounds. Low end provides lots 'oomph'. This is most definitely a reference quality mix.
The Supplements
On-disc bonus features include a look at the voice cast and brief interviews with the crew.
'With the purchase of THE ADDAMS FAMILY 2 on disc, fans are eligible to earn points towards special rewards via the Universal All-Access Rewards program. Members can redeem their points for digital movies, signed collectables, box sets, win exclusive prizes and more! For FREE registration and details please visit www.MyUniversalRewards.com'
iTunes Digital Code (redeems in 4K w/Dolby Vision HDR & Atmos
DVD
We're Altogether Addams (1080p; 00:08:51)
Courage to be Kooky (1080p; 00:02:41)
The Addams Family Road Trip (1080p; 00:04:04)
The Final Assessment
A film that has lots of laughs, eye-popping animation, and good heart about family at its kooky core, but is too scattershot in its focus. Ultimately, however, this disc from Universal is reference quality and makes for great home theater.
The Addams Family 2 is out on Blu-ray Combo January 18, 2022 from Universal

---
Rating Certificate: PG (for macabre and rude humor, violence and language)
Studios & Distributors: BRON Studios | BermanBraun | Bron Creative | Cinesite Animation | Creative Wealth Media Finance | Glickmania | Metro-Goldwyn-Mayer (MGM) | The Jackal Group | Universal Pictures Home Entertainment
Directors: Greg Tiernan | Conrad Vernon | Laura Brousseau
Written By: Dan Hernandez (screenplay by) | Benji Samit (screenplay by) | Ben Queen (screenplay by)
Run Time: 93 Mins.
Street Date: 18 January 2022
Aspect Ratio: 1.85:1
Video Format: AVC 1080p
Audio Format: English DTS-HD MA 7.1
Secondary Audio: Spanish DTS-HD HR 7.1 | French DTS 5.1 | English DVS
Subtitles: English SDH | Spanish | French