– –

More screen captures (25 Total)
The Film
[Rating:4/5]
A day in the life of The Beatles, that's the basic premise of this fun, comedic romp written by Alun Owen and directed by Richard Lester (How I Won the War; The Bed Sitting Room).  Planned before Beatlemania was in full swing and released just as The Beatles had become a bona fide worldwide phenomenon, this quick-paced surrealist comedy that took cues from Lester's earlier film, The Running, Jumping and Standing Still Film, is often credited, deservedly so, for inventing the music video genre.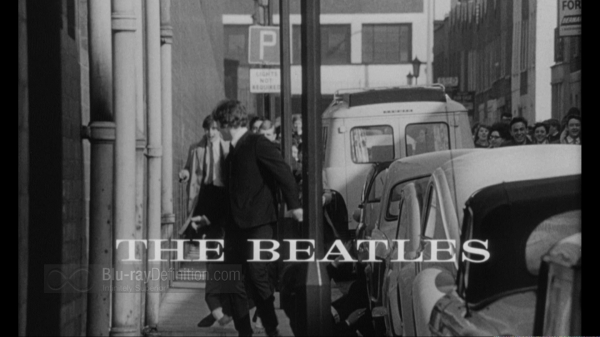 The "Can't Buy Me Love" sequence was innovative in the way it was edited in time to the music with many quick cuts, and the use of multiple cameras during the band's performances to focus in on them closely playing their instruments is a technique still in use today.
But that is not the extent of A Hard Day's Night. As with a large portion of Richard Lester's work, the film, thanks in big part to the brilliantly satiric screenplay from Alun Owen, poked fun at the stodgy upper class of British society as The Beatles wreaked havoc on London whilst making their way to a gig at an unspecified television variety show. Full of cheeky quips and classic one-liners, A Hard Day's Night is not only the birth of MTV, but one of the pre-natal forms of Monty Python, this coming three years before Lester's more obvious Python precursor, The Bed Sitting Room.
All these many years later, it would be difficult to not see the film as a document of the era as well. A record of a more innocent time, before the free love, psychedelic Beatles would come to the fore and the 1960s would derail into an era of turmoil, perhaps foretold in the pent up emotions of the screaming girls at those Beatles shows so skillfully reproduced in A Hard Day's Night.
Video Quality
[Rating:3/5]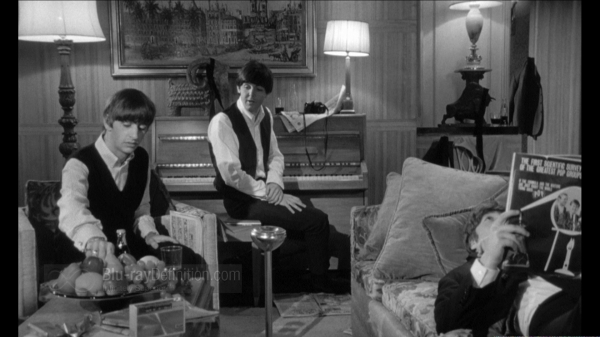 So far, I have found Alliance titles to be hit or miss and A Hard Day's Night is no exception. The film has bemusedly been transferred at 1080i/60 to Blu-ray. There are some ever so slight issues with combing apparent and video noise is also present, occasionally overwhelming the film-like look of the natural grain structure.
The film's detail is a bit on the soft side and there are some obvious specks of dust, dirt, and scratches that pop up from time to time. Black levels are not very deep and they tend towards inconsistency as well. Overall, although there are moments when this transfer of A Hard Day's Night looks very strong and film-like, I have no doubt that a new transfer from Miramax to Blu-ray Disc could easily surpass this.
Audio Quality
[Rating:4.5/5]
Although the English DTS-HD Master Audio 5.1 (48kHz/24-bit) soundtrack remains mostly monaural, and sounds a bit muffled during dialogue sequences, it absolutely excels during The Beatles' musical performances. Surround channels and front left/right channels are used for ambience, but the musical performances sound open, dynamic and lively.
Supplemental Materials
[Rating:4/5]
For the supplements it seems Alliance has done nothing more than transfer over all of the standard definition supplements from the previous Collector's Edition DVD. Even with that being the case, there are hours of interesting supplements here that will keep Beatles fans occupied and the included twelve-page photo fold-out is also a plus.
The supplements available on this release are:
Things They Said Today (1.33:1; 480i/60; 0:36.18) — A making of featurette on A Hard Day's Night.
Their Production Will Be Second to None: Interviews with the Filmmakers —

Look at My Direction: Richard Lester — Director (1.33:1; 480i/60; 0:12.07)
Then There Was Music: Sir George Martin — Musical Director (1.33:1; 480i/60; 0:07.09)
You Know His Name: Dennis O'Dell — Associate Producer (1.33:1; 480i/60; 0:09.46)
Better Hurry 'Cause it May Not Last: David Picker — Studio Executive (1.33:1; 0:03.01)

With The Beatles: The Cast

Shake it Up Baby: John Junkin — "Shake" (1.33:1; 480i/60; 0:04.03)
Happy Just to Dance: Lionel Blair — "TV Choreographer" (1.33:1; 480i/60; 0:02.44)
The Future Still Looks Good: Kenneth Haigh — "Simon Marshall" (1.33:1; 480i/60; 0:02.50)
That Boy: David Janson — "Young Boy" (1.33:1; 480i/60; 0:10.01)
Give Us a Wink: Anna Qualye — "Millie" (1.33:1; 480i/60; 0:02.43)
I Act Like a Clown: Jeremy Lloyd — "Club Dancer" (1.33:1; 480i/60; 0:04.42)
Well I'll Bet You: Terry Hooper — "Casino Croupier" (1.33:1; 480i/60; 0:03.47)

Working Like a Dog: The Production Crew

Here to Show Everybody the Light — Gilbert Taylor BSC, Director of Photography (1.33:1; 480i/60; 0:07.18)
Tell Us What You See — Paul Wilson, Camera Operator (1.33:1; 480i/60; 0:04.17)
Every Head She's Had The Pleasure to Know — Betty Glasgow, Hairdresser (1.33:1; 480i/60; 0:02.52)
We Shall Scrimp and Save — Barrie Melrose 2nd Assistant Director (1.33:1; 480i/60; 0:05.58)

Busy Working Overtime: The Post Production Crew

In the Thick of It — Pam Tomling & Roy Benson, Assistant Editors (1.33:1; 480i/60; 0:04.02)
Every Sound There Is — Gordon Daniels & Jim Roddan, Sound Editors (1.33:1; 480i/60; 0:02.45)

Listen to the Music Playing in Your Head (1.33:1; 480i/60; 0:11.43) — George Martin talks about working with The Beatles on their music.
Such a Clean Old Man! (1.33:1; 480i/60; 0:05.03) — Casting the part of Paul McCartney's grandfather.
I've Lost My Little Girl (1.33:1; 480i/60; 0:04.21) — Actress Isla Blair discusses working on a scene in A Hard Day's Night with Paul McCartney, which would eventually be cut from the film.
Taking Testimonial Pictures (1.33:1; 480i/60; 0:09.55) — Photographer Robert Freeman remembers working on the photographs for the album cover of A Hard Day's Night and traveling with The Beatles.
Dressed to the Hilt (1.33:1; 480i/60; 0:07.36) — A Look at the design patterns and original Beatles clothing from A Hard Day's Night.
Dealing with "The Men from the Press" (1.33:1; 480i/60; 0:17.50) — Beatles publicist, Tony Barrow, discusses working with The Beatles before and during the days of Beatlemania.
They and I Have Memories (1.33:1; 480i/60; 0:07.27) — Longtime Beatles friend Klaus Voorman reminisces on the early days of the band.
Hitting the Big Time in the USA (1.33:1; 480i/60; 0:03.53)
The Definitive Word
Overall:
[Rating:4/5]
Watching and listening to The Beatles right at the early days of Beatlemania is an interesting exercise in rock and roll history for sure. A Hard Day's Night set the bar for music videos and British comedy. This Blu-ray release, however good the sound may be, might not be worth jumping into just yet. I'm positive a better 1080p transfer can be made of this film, so if you're willing to have some patience then pass this one up, otherwise go right ahead, because it's certainly not the worst Blu-ray release out there either.
[amazon-product region="ca" tracking_id="bluraydefinit-20″]B002JI94J4[/amazon-product]