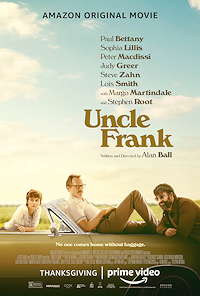 Uncle Frank is the third Southern coming-of-age film that has come my way in the past couple of months and another one that focuses on the social and cultural divide that existed nearly half a century ago between the American South and North.
Set in 1973, 18-year-old Beth Bledsoe (Sophia Lillis) has been accepted to a New York City college where her 40-something Uncle Frank Bledsoe (Paul Bettany) teaches. Compared to her rural Creekville, South Carolina family, Frank is far more urbane and well-educated. Beth arrives in New York and after connecting with her uncle, she later crashes a party at his apartment. She soon discovers that Frank is a closeted gay man who has lived with Walid "Wally" Nameed (Peter Macdissi) for the past ten years. Frank pleads with a tipsy Beth not to reveal his secret to their family.
The very next day, Daddy Mac (Stephen Root),  Frank's father and Beth's grandfather,  suddenly dies. Frank will drive Beth back to South Carolina for the funeral, but Wally must stay home—the Bledsoes are just not ready for the "big reveal." Uncle and niece take off and Wally follows them in a rented car.  When Wally catches up to the pair, Frank will allow him to continue on the trip but he must stay in a motel until the funeral is over.
Flashbacks reveal that a 16-year-old Frank (Cole Doman) was enjoying sexual relations with 16-year-old Sam Lassiter (Michael Perez). The two teens were found in the sack by Daddy Mac who angrily chastised Frank and drove off Sam. Later, a depressed Sam drowned himself in a nearby lake, a tragedy that has emotionally scarred Frank who has since turned to alcohol to help him cope with the loss of his young lover.
The film's dramatic crux occurs when the Bledsoe family—brother Mike (Steve Zahn),  sister Kitty (Judy Greer), Mammaw (Margo Martindale), Aunt Butch (Lois Smith), Beth and Frank–gather at home for the reading of Daddy Mac's will. When the lawyer informs everyone that Frank has been totally cut out of the will because he is gay, all hell breaks loose. A drunken Frank drives off, abandons his car, and heads for the lake where Sam had drowned thirty years before.  As the film literally speeds ahead, it looks like another tragic and senseless death may be about to occur, unless there is prompt intervention.
Critically acclaimed writer-director Alan Ball (American Beauty), as a gay man and a Southerner, is writing from a very personal perspective of what his main protagonist was about to experience. His heart-felt script pulls no punches and accurately describes how that era's rural Southerners treated the subject of homosexuality. Paul Bettany provides a brilliant portrayal of a conflicted character who must ultimately come to terms with himself  even if this risks estrangement from his family. Young Sophia Lillis has already compiled an impressive body of work on large and small screens and, being the same age as Beth, becomes a very credible coming-of-age woman during the film's 95-minute running time.  Peter Macdissi has previously worked with Ball, his real-life partner, in Six Feet Under and True Blood and it is clear that the role of the supportive Wally was tailor-made for him.  The remaining cast is superb as typical 1970s Southern country folk although only Martindale and Root actually come from that region of the United States. Khalid Mohtaseb's cameras take full advantage of the rural North Carolina setting to convey the vivid sense of place so essential to a film that tells a Southern story. Uncle Frank was well received at film festivals earlier this year and while the subject matter might not appeal to everyone, those willing to give this film a chance will be rewarded by an in-depth study of the mores and attitudes of an era that, fortunately, is now well behind us. Highly recommended.
---
If you found this review useful please consider clicking the button below and donating to help keep TheaterByte funded and to allow us to continue posting great content.
---
Uncle Frank is streaming now on Amazon Prime Video
---
Rating Certificate: R (Some language, sexual references and drug use)
Studios & DIstributors: Amazon Studios | Miramax | Your Face Goes Here Entertainment | Byblos Productions | COTA Films | Parts and Labor
Country: USA
Language: English
Run Time: 95 Mins.
Aspect Ratio: 2.39:1
Director: Alan Ball
Written By: Alan Ball
Release Date: 25 November 2020