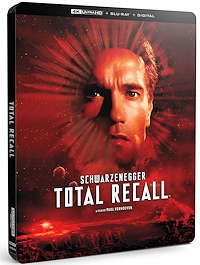 Hollywood seems to keep returning to the novels and short stories of science fiction writer Phillip K. Dick for inspiration, but the writer's complex themes seem quite elusive most of the time for directors and screenwriters to capture on the big screen. Arguably, the most successful attempt was the first, 1982's Blade Runner, based on his novel Do Androids Dream of Electric Sheep?. The 1990 Arnold Schwarzenegger (The Terminator) vehicle, Total Recall, inspired by Dick's short "We Can Remember it for You Wholesale" on the other hand, seems less successful at capturing the finer details of Dick's story and, rather, true to director Paul Verhoeven's (Starship Troopers; Showgirls; Basic Instinct; RoboCop) style plays like a more straightforward sci-fi actioner.
That's not to say that it doesn't have some of the philosophical questions inherent in Dick's work; excising those entirely would leave something entirely unwatchable and unrecognizable. Total Recall does include twists and turns that leave viewers questioning what is real and what is fantasy, and that is the enjoyment of this special effects extravaganza (even despite the usual thud one-liners from "Ahnuld").
At the crux of the story, which is set in a futuristic world where intra-solar travel is common, is Douglas Quaid (Schwarzenegger), a married construction worker who dreams of taking a vacation to Mars, but his wife (Sharon Stone) is against it. Despite the cautions from his co-worker, Quaid goes to a travel agency, the Rekall agency, where, rather than arranging actual travel, they implant memories of your dream vacation that seem just as real as if they actually occurred. Quaid, who chooses the memories of a vacation to Mars as a spy begins to undergo the procedure, but there is a glitch and he never gets the memories implanted because, as he's told, he's already been to Mars. He soon finds himself being hunted down by the powerful head of a mining corporation on Mars who wants him dead before he gets his memories back; it forces him to head to Mars for real – or does it? Is he really living through all of this in the real world, or did the memory implants actually take?
There's no doubt that Total Recall is full of great, non-stop action and, for its day, excellent visual effects. Outside of the Terminator films, it has to be one of Schwarzenegger's finest. Also, do yourself a favor and watch this 1990 original film and skip the 2012 remake starring Colin Farrell directed by Len Wiseman that is full of visual effects and grit but devoid of any sense of fun.
The Video
Total Recall was shot with Arriflex Cameras and Zeiss lenses on 35mm Eastman 125T 5247 and 400T 5295 film stock. This new 4K restoration was undertaken by StudioCanal and overseen by director Paul Verhoeven himself. Special attention was paid to preserving the special effects continuity as this was one of the earliest films to use computer generated images. A 4K DI was used in the remastering and the film arrives in a HEVC 2160p (4K) encodement on 4K Ultra HD with Dolby Vision. This new remaster really looks great. The film grain is preserved nicely, unlike the 2012 Ultimate Rekall Edition Blu-ray from StudioCanal, which was heavy handed at times on the DNR. Here, the image is obviously still nice and clean, but textural information is maintained, and flesh and clothing never look waxy or smooth. As for the Dolby Vision grading, it's brilliant. It is not overdone at all, there is some 'pop' in highlights, but mostly it is the color that stands out. The scenes of the Martian outdoors, for instance, really look a vermillion red. Compared to the also remastered Blu-ray, where the reds look more burnt sienna. Overall, this is a great remaster and transfer. The dynamic range is strong, the shadow detail is excellent, grain structure looks organic, detail is all there, and colors 'pop' nicely when they need to. The highlights don't leap out as much as some other HDR presentations, but then there are some moments where they do, such as when Quaid blows up the taxi; the flames there look absolutely awesome and bright orange.
The Audio
Total Recall gets a new Dolby Atmos audio mix for this 4K Ultra HD Blu-ray release. The mix does spread the sound effects and the hyperactive score through the various speakers quite well and there is a lot of ambience, but low end seems to be weak, even where there are explosions and gunshots. The stereo mix actually sounds good as well and maybe more concise, with really good, wide, stereo imaging.
The Supplements
Lionsgate provides three new special features including the new documentary Total Excess: How Carolco Changed Hollywood, which appears on both the feature disc Blu-ray and special features Blu-ray. It's the best bonus feature to watch and the audio commentary with Arnold Schwarzenegger and Paul Verhoeven isn't new, but is also a great and informative listen.
Digital Copy Code
Blu-ray with feature film and bonus features
Audio commentary with Arnold Schwarzenegger and Paul Verhoeven
(NEW) Total Excess: How Carolco Changed Hollywood (1080p; 00:59:21) (Also appears on the Bonus Features Blu-ray)
(NEW) Open Your Mind: Scoring Total Recall (1080p; 00:21:23)
(NEW) Dreamers within the Dream: Developing Total Recall (1080p; 00:08:25)
Trailer (1080p) – 30th Anniversary trailer. Appears on all three discs.
Bonus Features Blu-ray Disc
(NEW) Total Excess: How Carolco Changed Hollywood (1080p; 00:59:21)
Total Recall: The Special Effects (1080i; (00:23:14)
Making Of (SD; 00:08:03)
"Imagining Total Recall" Featurette (SD; 00:30:12)
Trailer (1080p)
The Final Assessment
This is an excellent release for a classic sci-fi film. It looks great, sound good, and is packed with some good bonus features. This is what 4K and Dolby Vision are all about. Highly recommended.
---
If you found this review useful please consider clicking the button below and donating to help keep TheaterByte funded and to allow us to continue posting great content.
---
Total Recall: 30th Anniversary is out on 4K Ultra HD Combo December 8, 2020 from Lionsgate
---
Rating Certificate: R
Studios & Distributors: Carolco Pictures | StudioCanal | Lionsgate
Director: Paul Verhoeven
Written By: Philip K. Dick (short story "We Can Remember It For You Wholesale") (as Phillip K. Dick) (inspiration) | Ronald Shusett (screen story & screenplay) | Dan O'Bannon (screen story & screenplay) | Jon Povill (screen story) | Gary Goldman (screenplay)
Run Time: 113 Mins.
Street Date: 8 December 2020
Aspect Ratio: 1.85:1
Video Format: HEVC 2160p (4K)
HDR Format: Dolby Vision
Primary Audio: English Dolby Atmos
Secondary Audio: English DTS 2.0 Stereo | French DTS-HD MA 5.1 | Spanish DTS 2.0 Stereo
Subtitles: English SDH | French | Spanish (Latin America)