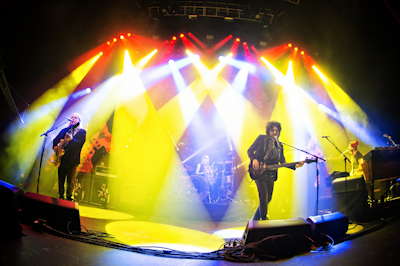 Ticket holders who were fortunate enough to have spent 2017 New Year's Eve at New York's Beacon Theater really got their money's worth in this four-hour concert by Gov't Mule and friends. Gov't Mule consists of Warren Haynes (guitar and vocals), Matt Abts (drums & percussion), Danny Louis (keyboards, guitar, backing vocals, trombone), and Jorgen Carlsson (Bass, backing vocals). As will become immediately apparent, Haynes brings an Allman Brothers Band vibe to the opening set, after all the big guy was a former Allman Brothers member. The second set has covers of well-traveled hits and includes a number of "friends": singer Jackie Greene, drummer Shawn Pelton, the Chronic Horns (Pam Felton on trumpet, Jenny Hill on tenor sax, and Sara Jacovino on trombone) and backing vocals by The Better Half Singers (Machan Taylor, Mini Carlsson, and Elaine Caswell). The encores features covers of classics by ABB and Neil Young. The wide range of familiar and perhaps not so familiar rock numbers is noted in the playlist below.
(Set 1)
1. Larger Than Life
2. The Man I Want To Be
3. Painted Silver Light
4. Lay Your Burden Down
5. About To Rage
6. Kind Of Bird
7. Dark Was The Night, Cold Was The Ground
(Set 2)
8. Daddy Don't Live In That New York City No More (Steely Dan cover)
9. Something In The Air (Thunderclap Newman cover)
10. Revolution (Dr. John cover)
11. Funky President (People It's Bad) (James Brown cover)
12. Children Of The Revolution (T. Rex cover)
13. Revolution Come, Revolution Go
14. Revolution (Bob Marley cover)
15. A Change Is Gonna Come (Sam Cooke cover)
16. The Times They Are A-Changin' (Bob Dylan cover)
17. Auld Lang Syne
18. The Revolution Will Not Be Televised (Gil Scott-Heron cover)
19. Reblow Your Revolution
20. Revolution Rock (Clash cover)
21. He Ain't Give You None (Van Morrison cover)
22. For What It's Worth (Buffalo Springfield cover)
23. Revolution Blues (Neil Young cover)
24. Ball Of Confusion (That's What The World Is Today) (Temptations cover)
25. Fortunate Son (CCR cover)
26. Changes (David Bowie cover)
(Encore)
27. Melissa (Allman Brothers Band cover)
28. Mountain Jam (Allman Brothers Band cover)
29. Melissa (Reprise)
30. Rockin' In The Free World (Neil Young cover)
31. Machine Gun (Jimi Hendrix/Band Of Gypsies cover)
32. Rockin' In The Free World (Reprise)
33. Mountain Jam (Reprise)
34. Thorns Of Life (Bonus Track/Rescue Mix)
From Haynes' opening guitar riffs on "Larger than Life" it is clear that this concert will be a no-holds-barred, balls-to-the-wall affair that immediately stirs up the nearly 3000 fans that have packed the Beacon Theatre. A brief break from the powerhouse vocals is provided by the jazzy "Kind of Bird" that gets the crowd bobbing its collective heads and tapping its collective toes in time to fifteen minutes of a freeform instrumental romp. The second set of covers goes from strength to strength as it bookends nine cuts all of which feature "revolution" themes that seem particularly appropriate for our current social turmoil. I really liked the cover of "Fortunate Son" blessed with great background singing and Shawn Pelton's terrific drum solo and the Chronic Horns' contribution to the Bob Marley anthem "Revolution." The four Allman Brothers Band numbers in the encores are perennial crowd pleasers and were a great way to close out an all-star program.
The Audio
Live rock concerts are among the most challenging recordings to bring off successfully—there are inevitable crowd noises, the balance of the amps with the loudspeakers, the positioning of performers on the stage, and the capture of the hall ambience. Warren Haynes's virtual liner notes detail some of the technical issues that Jorgen Carlsson had to overcome during his remix such as a digital malfunction during the encore set that needed blending of a soundboard recording with the audience recording, and multi-track issues with "Thorns of Life," placed as a bonus track at the end rather than as the opening number. The recurring popping sounds during the middle of the concert were the result of New Year's Eve balloons bursting. All of that aside, this is one terrific live recording that sounded great in the WAVE format with 44.1khz/16-bit resolution I was provided for review. With proper volume on your sound system (not cranked all the way to "11"), it will give you a realistic sense of what the Beacon Theatre audience heard three years ago. The bass is full, the guitars well-articulated, the percussion palpable, and the voices, for the most part, faithfully reproduced. If you subscribe to a streaming service that offers CD-quality (or higher) lossless audio streams, such as Qobuz or Tidal, then you really will not be dissapointed.
The Supplements
None
The Final Assessment
Listeners with sufficient stamina to stick nonstop with this four-hour concert will be riveted by these performances as a totality. Even if you break it up into separate listening sessions, this is powerhouse music at its best and well worth your attention. Given that New Year's Eve 2020 celebrations will be more sparsely attended affairs, you will make your shortlisted number of guests feel the spirit when you start to stream this concert on your sound system. Highly recommended.
Gov't Mule—Live at the Beacon Theatre New York City, December 31, 2017 is available for streaming on Amazon Music, Spotify and Apple Music Services
Artist: Gov't Mule
Label: 2017, 2020 & © 2010 Gov't Mule, Inc. Under exclusive license to Evil Teen Records, LLC, P.O. Box 651, New York, NY 10014