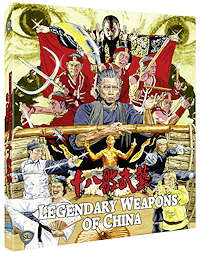 Released in 1982, the kung fu film Legendary Weapons of China by master choreographer Lau Kar-Leung, is now considered one of the finest films ever released by Shaw Brothers, even as it came right at the end of the studio's era of filmmaking, before they switched over to television production.
A trio of assassins is sent out to hunt down the Yim Ho sorcery clan's best fighter Lei Kung (played by the director Lau) after he renounces his loyalty to the clan. They want him silenced to protect their reputation.
Legendary Weapons of China is not the kung fu film for uninitiated. The film is a relentless onslaught of various allusions to many of the tropes of the genre, such as the indestructible warrior who fights on even after getting stabbed in the gut or possession of spirits that makes one gain superhuman strength.
The story with its almost convoluted levels of schemes and secret identities, and the over-the-top practical effects and gore may seem ridiculous to those unfamiliar with the genre, but the film really ramps up with its magnificent use of various martial arts techniques, quick-paced choreography, and awesome camerawork.
Pulling it all together are the superb performances from the cast who really feel correct in their roles:  Liang as the old master or Alexander Fu-Sheng inserting some comic relief. This is a big slice of fantastic kung fu fun for genre fans.
Legendary Weapons of China (1982)
The Video
The 2.35:1 AVC 1080p encodement for Legendary Weapons of China does not look particularly great. The high frequency detail is just not there. Overall, things look a little soft and there is some minor source damage that can be spotted here and there, so this doesn't seem like a new restoration or anything, but it is still a workable disc and far from the worst release on Blu-ray you'll ever see.
The Audio
Legendary Weapons of China comes with the original Cantonese mono mix and newly translated English subtitles in LPCM 2.0 as well as the English dub also in LPCM 2.0 mono. The sound is about what one would expect from a Hong Kong kung fu film of the era. Dynamics aren't great and clarity ca sometimes breakdown, but these are still workable mixes that have good punch in the mid and lower ranges to support the action.
The Supplements
The three audio commentaries, particularly the two including Frank Djeng, would make this well worth owning for the supplements alone, but 88 Films kick things up with gorgeous slipcover artwork, a booklet with essay, original HK poster foldout, and interviews. This will be a windfall for lovers of kung fu films.
Complete and Uncut
Slipcase with brand new artwork by Robert 'Kung Fu Bob' O'Brien
Reversible sleeve with brand new artwork by Robert 'Kung Fu Bob' O'Brien
Original Hong Kong poster artwork fold out
Booklet notes by Andrew Graves
Audio commentary with Asian cinema experts:

Mike Leeder and Arne Venema
Frank Djeng and Michael Worth
Frank Djeng

Eighteen Weapons: David West on Legendary Weapons of China (1080p; 00:13:18)
Gordon at Shaw: Interview with Actor Gordon Liu (1080p; 00:15:09)
Titus at Shaw: Interview with Producer Titus Ho (1080p; 00:24:33)
Original Trailer (1080p)
The Final Assessment
88 Films bring a genre classic to Blu-ray in an enticing collectible package that will be difficult to leave on the store shelf or the website page. Highly recommended.
Legendary Weapons of China (Special Edition) is out on Blu-ray February 8, 2022 from 88 Films
---
Rating Certificate: R
Studios & Distributors: Shaw Brothers | 88 Films
Director: Lau Kar-Leung
Written By: Lau Kar-Leung | Li Tai-Heng
Run Time: 105 Mins.
Aspect Ratio: 2.35:1
Video Format: AVC 1080p
Primary Audio: Cantonese LPCM 2.0 Mono
Secondary Audio: English LPCM 2.0 Mono
Subtitles: English