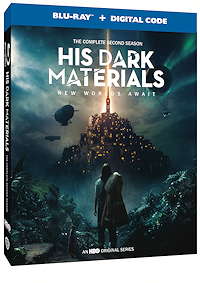 The second season of His Dark Materials improves the series and expands the already vast world of this epic fantasy series from HBO. Lyra (Dafne Keen) finds herself in a deserted city, Cittàgazze, and there she meets a boy from our world, Will (Amir Wilson). They soon find their fates are intertwined and dependent on them reuniting Will with his father, but Mrs. Coulter (Ruth Wilson) is still in pursuit of Lyra, her power growing, and a deadly war between witches and the Magesterium may stop Lyra and Will from fulfilling their destinies in this strong, heart-pounding second season of this dazzling fantasy series.

The Video
His Dark Materials is shot on the Arri Alexa LF and the Sony CineAlta Venice with Zeiss Supreme Prime lenses in ARRIRAW (4.5K) and X-OCN ST (6K) and uses a 4K DI. It has streamed in the UK in 4K UHD w/ HDR, but in the US we have only ever gotten an HD broadcast, stream, or disc release, which is a shame, because this Blu-ray release (and season one) looks stellar. This is reference quality high-definition imagery at its finest. Only the very slightest hint of some posterization in some shadows can be seen on my LG CX OLED, but that does not take away from what is an overwhelmingly pure, extra sharp, and vivid image. The red of Mrs. Coulter's hat and lipstick really 'pops,' and one can make out minute details on skin and clothing. Depth of field is nearly three-dimensional. This is a beautiful Blu-ray release nearly unrivaled for a TV series. It comes framed at 2.00:1 and encoded at AVC 1080p.
The Audio
The English DTS-HD Master Audio 5.1 mix for His Dark Materials continues to impress, carrying on the masterful mixing for an HBO/Warner Bros. fantasy series that began with season one. The balance is superb, dialogue is clean and full, the blend and spread of the score with the main sounds is handled excellently, putting us in an engulfing soundcape. Solid effects are mixed into the surround channels and low end is also nicely extended into the lower frequencies.
The Supplements
There's over an hour's worth of featurettes delving into the series production and its vast world that contain a multitude of behind-the-scenes snippets and interview segments with the cast and crew.
Digital Copy Code
Featurettes (1080p; 01:10:06):

Noble Rogue: The Legend of Lee Scoresby
Exploring His Dark Materials: Daemons
Exploring His Dark Materials: Panserbjørne
Exploring His Dark Materials: Portals & The Multiverse
Exploring His Dark Materials: Witches
His Dark Materials: Bringing Daemons and Bears to Life
His Dark Materials: Exploring Cittàgazze
His Dark Materials: Worlds Collide
The Powerful Mrs. Coulter
Lyra
The Subtle Knife
The Final Assessment
Hold onto your hats, warm the seat cushions, and pop the corn, this is a great second season and this Blu-ray set is bingeable material. Highly recommended.
His Dark Materials: The Complete Second Season is out on Blu-ray June 29, 2021 from Warner Bros. Home Entertainment
---
Rating Certificate: TV-14
Studios & Distributors: Anton | Bad Wolf | British Broadcasting Corporation (BBC) | Home Box Office (HBO) | New Line Cinema | Scholastic | Warner Bros. Home Entertainment
Run Time: 345 Mins.
Street Date: 29 June 2021
Aspect Ratio: 2.00:1
Video Format: AVC 1080p
Primary Audio: English DTS-HD MA 5.1
Secondary Audio: French DD 5.1 | German DD 5.1
Subtitles: English SDH | French | German SDH | Dutch | Spanish | Portuguese | Danish | Finnish | Norwegian | Swedish