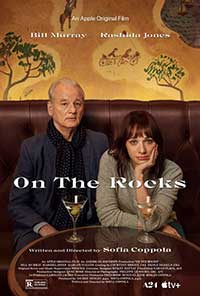 With a title that is an obvious double entendre, with On the Rocks, writer-director Sofia Coppola gives us a comedy drama that focuses on a nearly 40-year-old married woman, Laura (Rashida Jones) and her 70-ish wealthy playboy father Felix (Bill Murray) who rekindle their apparently strained relationship over cocktails.
Laura is married to Dean (Marlon Wayans) and has two young girls, Maya (Liyanna Muscat) and Theo (Anna/Alexandra Reimer). Dean is a successful businessman who travels a lot while Laura is trying to raise her children almost single-handedly and become a successful novelist. Filled with growing self-doubts about her life and marriage, Laura reaches out to Felix who takes her to lunch and drinks at an upscale NYC restaurant. Laura raises her concerns about Dean's relationship with his attractive coworker Fiona (Jessica Henwick) and his lack of quality time at home.  Felix launches an "investigation" into Dean's current behavior that turns up nothing suspicious until his detective reports that he saw Dean shopping at Cartier's jewelry store. When Laura has an upcoming 40th birthday, Felix asks her what Dean has given her and the birthday present is not a piece of jewelry but an unromantic kitchen appliance. Dean next books a business trip with Fiona to a Mexican resort and fails to inform Laura until the day he is leaving. When Felix finds this out, he takes Laura to the same hotel and this father-daughter trip jump starts a day of reckoning that will impact the lives of our three protagonists.
[envira-album id="125619″]
Viewers expecting to see something like Sofia Coppola's quirky dramedy Lost in Translation that also starred Bill Murray will quickly realize that this new film is based on a much weaker premise—a married woman getting convinced, on shaky evidence supplied by her philandering father that she is married to another philanderer—a classic example of it takes one to know one. The only reason to give this film a tumble is the comedic performance of Bill Murray whose outrageous behavior is the main laugh-getter here.  Whether flirting with strange women, giving his daughter history lessons about female evolution or slipping into his SNL "Nick the lounge singer" persona, Murray's deadpan delivery never fails to amuse us.
Outside of that, there is precious little to tickle our funny bones. Rashida Jones is dealt a bland one-dimensional character who makes a point of looking dowdy in sharp contrast to the women in Dean's office. Speaking of Dean, Marlon Wayans could have simply phoned in the very brief part that he received.  I did enjoy getting a virtual visit to Bemelmans's Bar (one of my favorite watering holes in the Big Apple) but there was very little attention paid to some of New York's iconic scenery. While not Sofia Coppola's finest hour-and-a-half, On the Rocks will at least provide a modicum of diversion for these troubled times.
On the Rocks is streaming now exclusively on Apple TV+
[youtube https://www.youtube.com/watch?v=w4p0vjj_C8s&w=866&h=487]
---
The Film: 3.0/5
Studios & Distributors: A24 | American Zoetrope | Apple TV+
Rating Certificate: R (Some language and sexual references)
Country: USA
Language: English
Run Time: 96 Mins.
Aspect Ratio: 1.85:1
Director: Sofia Coppola
Written By: Sofia Coppola
Release Date: 23 October 2020