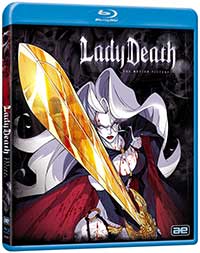 Lady Death is a fictional goddess that appears comic books published by Coffin Comics. This motion picture from 2004 is an adaptation of that comic book character and directed by Andy Orjuela with a screenplay by the original comic book creator Brian Pulido.
Set in 15th century Sweden, Hope is the beautiful and innocent daughter of Matthias who in fact turns out to be Lucifer. When that fact is uncovered and Lucifer finally reveals himself to the local clergy, killing many in the process while making his escape back to Hell, he leaves behind Hope, who is then accused of being the Devil's consort and burned at the stake. Before she dies, she is offered an opportunity to live if she offers herself up to him. So, Hope calls out for his help and her badly burned body is whisked away to Hell by two flying demons. In Hell she rejects her father's attempts to have her join him by her side, realizing that he lied to her when he told her that she would be reunited with her lover whose soul he had taken. Instead, she meets up with Cremator, the master blacksmith and escaped slave of Lucifer and they team up to lead a horde of hellspawn to overthrow Lucifer.
This eighty-minute-long animated feature has some great, horror graphics and character designs. Lady Death, a sultry, pallid-skinned seductress who is very well endowed and – ahem – has nipples that poke out like eraser heads – looks the part of the scorned demon woman out for devil blood. The downside of this film is it is too truncated to allow the story to develop. We have no time to really care about any of these characters or to even understand why any of this is happening. Unless you're already a devout reader of Coffin Comic you may be lost or wondering why you should care about Hope or the character she becomes, Lady Death.
That said, this may not be a perfect film, but it's a fun watch with mind-blowing action and edgy graphics, and just the right mix of horror elements arriving just in time for the spooky season.
[envira-album id="125586″]
The Video
Lady Death comes in an AVC 1080p encodement on Blu-ray. This 2004 film definitely shows its age in this release, not in the form of source damage given the digital source, but that it is digitally sourced. It looks to be upscaled and one can see the aliasing around the edges and some haloing, but there are also some frames here and there that look very blurry and full of stairstepping and some macroblocking. Overall, however, this is a very passable transfer that still improves on a DVD or streamed version.
The Audio
Lady Death arrives with the English audio mix in DTS-HD Master Audio 5.1 and a German dub also in DTS-HD Master Audio 5.1. The English mix is awesome (I did not sample the German mix) with lots of solid sound effects in the surround channels following action on and off the screen, superb dynamic range from whisper quiet to booming and deep low end, and high frequencies are clear and very listenable. The dialogue is also clear, full, and natural sounding.
The Supplements
Although the packaging labels them "featurettes" the two Visions of Hell inclusions are actually galleries, as labeled below. There's one featurette, the archival making of Animating Lady Death, and then the director's commentary.
Galleries:

Visions of Hell: Hellscapes
Visions of Hell: Minions

Animating Lady Death (SD; 00:21:20) – The making of the Lady Death movie based on the Coffin Comic.
Director's Commentary
The Final Assessment
This is a super cool animated film visually. It lacks an extra ten or twenty minutes to really flesh out the story and characters, but it's still a good pastime for the spooky season. The Blu-ray offers the 2004 upscaled visuals in a more than passable package.
Lady Death: The Motion Picture is out on Blu-ray September 29, 2020 from ADV Films
---
The Animation: 4.5/5
The Story: 2.5/5
The Video: 3.0/5
The Audio: 4.5/5
The Supplements: 2.0/5
TV Rating: TV-14 (VSL)
Animation Studio: A.D. Vision
Distributor: ADV Films | Section 23 Films
Director: Andy Orjuela
Written By: Brian Pulido (screenplay) | Carl Macek (story by)
Run Time: 80 Mins.
Original Street Date: 29 September 2020
Aspect Ratio: 1.78:1
Video Format: AVC 1080p
Primary Audio: English DTS-HD MA 5.1
Secondary Audio: German DTS-HD MA 5.1
Subtitles: English